In this article, we will look at three types of non-retail stock owners, and what positions they have taken on Costco Wholesale Corporation (NASDAQ:COST). In analyzing these major players, we have an opportunity to get other, expert perspectives. I think of this as an initial process, not an end in itself; a company that scores well in ownership analysis is one that's worth the time and effort to investigate further.
Our analysis involves three types of non-retail investors: institutional investors, insiders, and short interests.
Institutional investors provide the big money in the stock market; collectively, these pension funds, mutual funds, insurance companies, and other investment vehicles own the majority of shares in most big corporations.
Insiders refers to the officers and directors of companies, people who receive stock options as part of their compensation. Since they know their companies so well, we want to know what they're doing with those options.
Short interests bet the other side of the market; they search out weaknesses in financial statements and elsewhere to get an edge. They profit only if the stock price loses ground, so their activity provides another important perspective.
We'll take a look at what each of these groups has done recently, but first we'll quickly review the company's history and capitalization.
Costco: Background and History
Sol and Robert Price introduced Price Club, the small business, warehouse club in San Diego, California in 1976 (as reported on the company's website). Seven years later, Jeff Brotman and Jim Sinegal opened the first Costco warehouse store in Seattle, Wash. Subsequently, the companies merged in 1993 to form Price/Costco, Inc. Another reorganization occurred in 1997 when non-warehouse assets were spun off Price Enterprises, Inc.; two years later, the company reincorporated from Delaware to Washington state and changed its name to Costco Wholesale Corporation. That's the entity that now trades on the Nasdaq exchange as COST.
The company describes itself this way:
Costco Wholesale Corporation operates an international chain of membership warehouses, under the 'Costco Wholesale' name, that carry quality, brand name merchandise at substantially lower prices than are typically found at conventional wholesale or retail sources. The warehouses are designed to help small- to medium-sized businesses reduce costs in purchasing for resale and for everyday business use. Individuals may also purchase for their personal needs.
As of April 10, 2014, COST had a market cap of $49.7 billion, based on 439.88 million outstanding shares at $113.00. The float is slightly smaller at 435.59 million shares. It reached a 52-week low of $103.20 on April 19, 2013, while the 52-week high was 126.12, on Nov. 26, 2013, as the following YChart shows:
Click to enlarge images.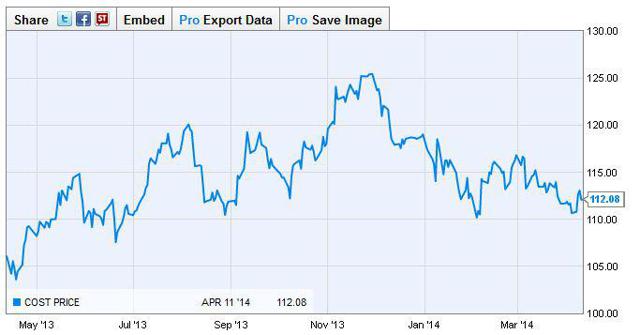 Currently, it pays an annual dividend of $1.24, which works out to a 1.10% yield; the payout ratio is 28% (data courtesy of Yahoo Finance). According to the DRiP Investing Resource Center, COST has increased its dividend every year for the past 10 years, making it a Dividend Contender.
In its annual report published on Dec. 18, 2013, Costco had this information about share buybacks (data in millions):
In April 2011, our Board of Directors authorized a stock repurchase program in the amount of $4,000, expiring in April 2015, bringing total authorizations by our Board of Directors since inception of the program in 2001 to $10,800... During 2013 and 2012, we repurchased 357,000 and 7,272,000 shares of common stock, at an average price of $96.41 and $84.75, totaling approximately $34 and $617, respectively... Purchases are made from time-to-time, as conditions warrant, in the open market or in block purchases and pursuant to plans under SEC Rule 10b5-1. Repurchased shares are retired, in accordance with the Washington Business Corporation Act.
Institutional Investors Trim Slightly
These investors, acting for major money groups, including pension and mutual funds, insurance companies, banks, and hedge funds held 75.43% of Costco's shares, at closing on Dec, 31, 2013. That, from Nasdaq.com, which provides the following information about changes in institutional holdings:

The biggest buyer of shares was JPMorgan Chase, which added some 2.5 million shares, to take its total holdings to about 7.3 million shares. The biggest seller was Norges Bank (its mandates include managing investments for Norway's state pension plan); it sold about 1.3 million shares, leaving it with 3.2 million shares.
Insiders
Insiders refers to persons with exclusive access to company information, including officers, directors, and key staff. Many analysts watch insider buying and selling to make predictions about a company's future, on the assumption that insiders will be among the first to react to a change in a firm's prospects.
We'll review what Costco insiders have done over the past three and 12-month periods, using data from the SEC's Form 3 and Form 4. This information has been aggregated and presented in one place by Nasdaq.com. I've summarized it further in the following table:

As we can see, insiders sold about a quarter million more shares than they bought over the past 12 months. That's well below 1% of the outstanding shares. Officers and directors exercising options have accounted for all the purchases; officers and directors selling shares or exercising option rights account for the sales.
Short Interests
Shorts or short interests, refers to investors with a negative outlook on specific companies. By borrowing shares from their brokers and then selling those shares -- before buying them -- they short the company. If the price of the stock falls, as the shorts expect, then they can profit. If the shares go up in price, they take a loss.
Shorting is a high risk, high reward practice. For the professionals who do it, shorting comes only after careful study of a targeted company; with the stakes very high, they can't afford to get the direction wrong very often.
Looking at Costco specifically, GuruFocus tells us less than 1% -- 0.95% to be specific -- of the company's stock is in a short position. That's a low number by just about any reckoning; for example, Target's current rating stands at 3.87%.
More importantly, as the following chart from GuruFocus shows, short interest in COST has declined from above 5% when the markets were at their lowest ebb in 2008/09:
Whatever our opinions of COST, the low level of short interest makes a convincing case for the future of the stock price.
Conclusion
In this article, we've used ownership analysis as an initial screen for stock ownership. Before going long, it helps to know what non-retail investors think, and more importantly, what they do. We saw that institutional investors are relatively neutral, having reduced their holdings by one tenth of one percent in the past year. And, they own about three-quarters of Costco, a significant vote of confidence.
A relatively neutral reading comes out of our analysis of insider trading as well. Company officers and directors have sold about a quarter million more shares than they've received in the past year, which represents a decline of less than 1%. Where we see more convincing positive news is in the shorting category. At less than 1%, shorts apparently see little opportunity to sell before they buy.
Summing up, with some 75% of the company owned by institutional investors, neutral insider action, and lack of short interest, I will add Costco to my short list. This analysis provides only an initial screen, but one that assures me the further, necessary analysis will build on a good foundation.
Disclosure: I have no positions in any stocks mentioned, and no plans to initiate any positions within the next 72 hours. I wrote this article myself, and it expresses my own opinions. I am not receiving compensation for it (other than from Seeking Alpha). I have no business relationship with any company whose stock is mentioned in this article.