El Nino and Commodities
There is a lot of talk about El Nino and often, as is the case in commodities, some hype over which crops and futures contracts will be affected in coming weeks and months. It is important to look, not just at the timing of when El Nino forms and how strong it might be, but ocean temperatures in other parts of the globe.
El Nino "does not" always imply higher commodity prices and disasters around the world. In fact, a cooler U.S. summer and weak hurricane season would cap rallies in corn, soybeans and natural gas this summer. In addition, global ocean temperatures (see below) may bring about good early season weather for West Africa's cocoa crop. What traders will really be focused on is global coffee (NYSEARCA:JO) weather as crop issues in Indonesia and Vietnam could result in even higher coffee prices, months down the road. But all of this is premature and not all El Ninos are the same! Also, sugar (NYSEARCA:CANE) prices tend to go higher during El Nino events, but currently there is no immediate indication that India's sugar crop will be compromised, just as it was during the weak El Nino, of 2009.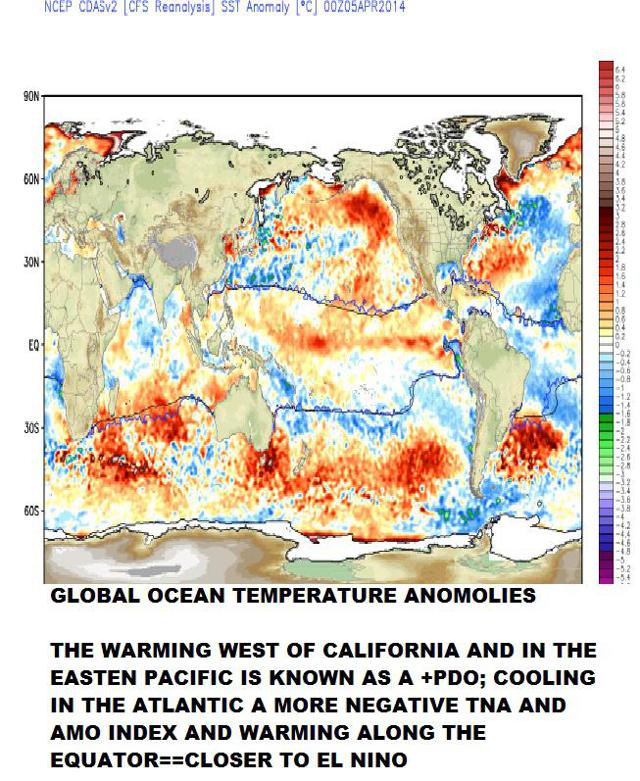 The ocean temperature map above shows warming off the west coast of N. America and what we call a more positive PDO index. Also notice the cooler waters in the central and north Atlantic. These features could keep the hurricane season feeble again this year and also have implications on U.S., India and West African cocoa weather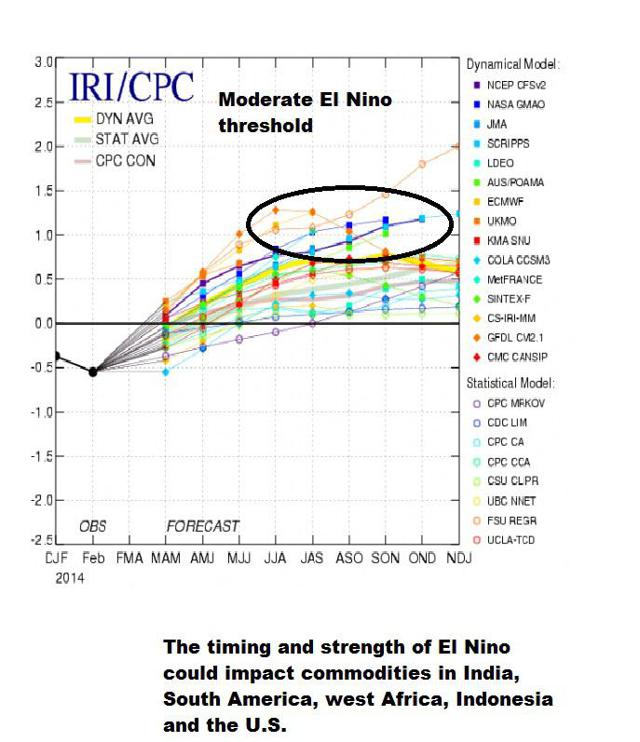 Above are various computer models predicting El Nino over the next few months. In the past, models have been over-zealous predicting El Nino a couple years ago. However, with warming in the eastern N. Pacific and the PDO we talked about, plus some increase in solar and volcanic activity, the odds still favor at least weak El Nino conditions, in the months ahead.
First of all, with respect to natural gas, after a stellar 40-50% winter rally in (NYSEARCA:UNG) and then a massive $1.00+ sell off on hedge fund selling, prices have stabilized the last few weeks. Given a stocks deficit this year of 995 BCF's, versus the 5 year average, natural gas prices should not be below $4.50, heading into summer. We may see stable to higher natural gas prices short term, and then if a normal to cool summer and a lack of hurricanes prevail, lower prices later. It may be difficult to see a trending natural gas market with much high confidence, because there could be back-ground worries about a "what if" situation next winter again.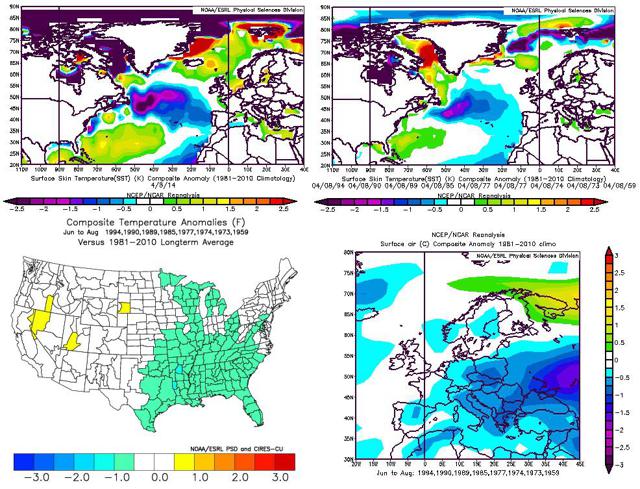 Source: CWG
The maps on top show years when the North Atlantic turned cooler than normal, and hence, what we call a more negative AMO index. The upper left are the current Atlantic Ocean Temps and to the upper right, similar years such as 1994, 1990, 1985, 1977, 1974 and 1973. The bottom maps show associated summer temperatures for Europe and the U.S. The theme? Cool.
However, when I weed out some of these years above and also compare some trends in El Nino and similar occurrences in the Pacific, the tendency is for the following-- A) Critical and important rains for key drought stricken wheat areas in the southern Plains heading into May; B) A normal to cool summer for the U.S. corn belt and key energy areas, especially August.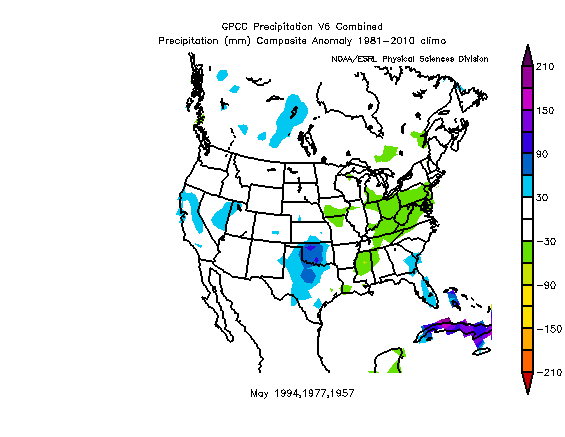 The map above shows that based on Pre El Nino conditions and what is happening in the Pacific, that needed spring rainfall will eventually fall in key wheat areas of the SW Plains. This is critical for wheat prices in the weeks ahead (blue represents above normal rainfall in May). In addition, it turning dry in N. China and the Ukraine needs rainfall over the next few weeks, as there too, some drought conditions have materialized. Wheat prices and the ETF (NYSEARCA:WEAT) are currently worried about the Ukraine-Russian military tensions, frost in the SW Plains, as well as dryness. Corn prices and the ETF (NYSEARCA:CORN), could have a 10-20% down move this summer, as my early prospects is for a normal or better than normal national U.S. corn crop. However, given the cold winter and low soil temperatures, it will be important that next month, conditions warm up in the Midwest, or the corn market may get a bit concerned.
If global wheat weather improves in the weeks ahead and tensions ease (not for me to predict), then a bear market in wheat could resume in coming weeks. But, my confidence in this scenario is not nearly as high, as it was being bullish natural gas last fall and winter, on my early, cold forecast.
Cocoa Prices Bull Trend May be Halted by Good Spring Weather in West Africa
While the first hint at El Nino can excite cocoa traders, as there is a high correlation with below normal global yields, with its onset, this is not always written in stone. Based on some changes in the PDO (described at the top of this report) and ocean temperatures in the Atlantic, the trend tends to be for normal to above normal rainfall for West African cocoa in May-June (below). However, with global cocoa stocks expected to be in a deficit this year, it will also be important to look at the weather in Ecuador and Indonesia. However, after our bullish attitude in cocoa and the ETN (NYSEARCA:NIB), prices may have a hard time rallying the next few months. It is possible later in 2014 and in 2015, depending what type of El Nino we have, that cocoa production may fall and cocoa prices rebound, but based on global weather, my bias is neutral to bearish cocoa for the time being.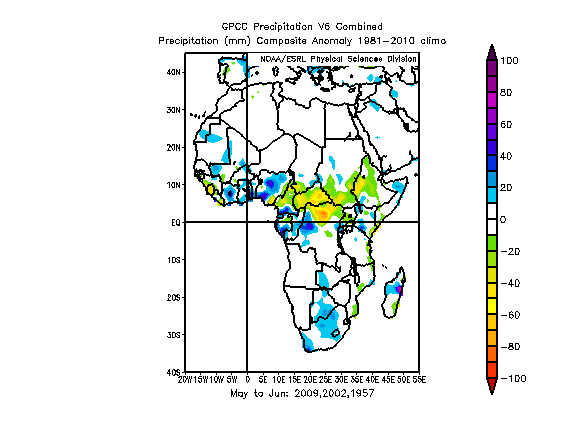 Rainfall may be normal to above normal in West Africa this spring and could keep a major additional bull market in cocoa, on hold for a while.
Disclosure: I have no positions in any stocks mentioned, and no plans to initiate any positions within the next 72 hours. I wrote this article myself, and it expresses my own opinions. I am not receiving compensation for it (other than from Seeking Alpha). I have no business relationship with any company whose stock is mentioned in this article.