The 25-day SEC-enforced quiet period on underwriter research that began with the March 26 IPO of TriNet Group Inc (NYSE:TNET) will come to an end on April 20, allowing the IPO underwriters to publish research reports on the provider of human resources solutions for SMBs.
The conclusion of the quiet period will likely be accompanied by at least a temporary rise in the price of TNET shares. Since TNET's IPO priced at $16 per share, at the midpoint of the expected range, the price of shares has bounced between $17.28 and $23.44 per share; TNET closed at $20.47 per share on April 14.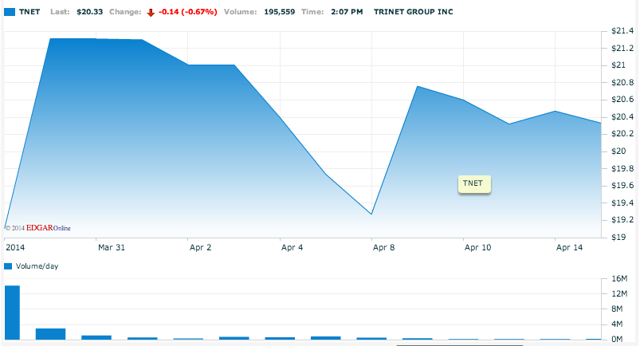 Click to enlarge
(Nasdaq.com)
The firm's IPO underwriters, including J.P. Morgan Securities LLC, Deutsche Bank Securities Inc, Morgan Stanley & Co LLC, Stifel Nicolaus & Company Inc, Jefferies LLC, and William Blair and Co LLC, will attempt to energize the stock with an infusion of positive information into the market at the conclusion of the quiet period.
Correlation Between Strong Underwriters And Share Price Increases Post-Quiet Period
Both the results of recent academic studies and data from our past two years of research have provided empirical evidence of a correlation between the reputation and quantity of IPO underwriters and an increase in the price of shares as the quiet period comes to an end.
Share prices will typically start to make gains a few days before the quiet period expiration, as investors realize that the underwriters will publish strictly positive information on a recently-underwritten firms, and buy early in the hopes of benefiting from the underwriters' support.
These early purchases create an atmosphere of rising demand, leading to a jump in share prices before the quiet period has actually expired.
Overview of TNET's Business
TNET is a provider of comprehensive human resource solutions for SMBs, enabled by the firm's proprietary cloud-based platform. TNET's services include payroll processing, benefits, human capital consulting, and employment law compliance. TNET's solutions enable its clients, which generally have fewer than 1000 employees, to access HR resources and provide types of benefits that would usually only be available to much larger firms.
As of December 31, 2013, TNET had served over 8900 clients and processed over $17 billion in payroll and payroll tax payments.
TNET competes with regional and national firms offering their own comprehensive HR packages, including the likes of Insperity Inc (NYSE:NSP) and Automatic Data Processing Inc (NASDAQ:ADP). TNET also competes with more specialized firms that provide parts of the services included in TNET's solution. See additional information in our article, highlighting TNET's IPO.
Management Highlights
President and CEO Burton M. Goldfield began working with TriNet in 2008. He previously worked as CEO of Ketera Technologies Inc and as Senior Vice President of Worldwide Field Operations with Hyperion Solutions Corporation. He also served in management positions with Rational Software Corporation.
Mr. Goldfield holds a B.S. in biomedical engineering from Syracuse University as well as an M.B.A. from Villanova University.
Quiet Period Expiration A Buying Opportunity For Investors
TNET's price has yet to stabilize, meaning that the IPO underwriters' upcoming research report releases on the firm have the potential to make a significant difference to the price.
TNET certainly offers a lot for its underwriters to brag about: the firm has managed to continue turning profits through a period of massive revenue expansion, having nearly doubled its revenue in the course of two years.
TNET's HR solutions both simplify administration for SMBs and grant them access to more sophisticated HR services than they could produce on their own, and we believe that the services TNET offers will become ever more attractive to SMBs as healthcare regulations grow increasingly complicated in the US.
Disclosure: I am long TNET. I wrote this article myself, and it expresses my own opinions. I am not receiving compensation for it (other than from Seeking Alpha). I have no business relationship with any company whose stock is mentioned in this article.