Background
Automatic Data Processing, Inc. (NASDAQ:ADP), headquartered in Roseland, New Jersey, is one of the world's largest providers of business outsourcing solutions. Over 570,000 clients benefit from ADP's six decades of experience providing a wide range of human resources, payroll, tax filing and benefits administration solutions from this single source.
Over 70% of their $9 billion in revenues comes from ADP's stature as the nation's largest payroll and tax filing processor. ADP's Professional Employer Organization segment (PEO) provides comprehensive human resource (HR) solutions to small and midsize companies and generates 10% to 15% of their revenues. Their Dealer Services segment generates the remainder of their revenues (approximately 14% to 15%) by providing integrated services to more than 25,000 dealers of automobiles, trucks, motorcycles and marine recreational vehicles worldwide.
Financial Strength
Automatic Data Processing, Inc. enjoys one of the highest credit ratings of any company in the S&P 500. Value Line rates them No. 1, the highest in safety with a financial strength rating of A++. Standard & Poor's rates their debt AAA and stable, a rating that very few companies are given. These high marks are thanks to a pristine balance sheet with over $4.00 a share in cash and very little debt. Argus maintains that Automatic Data Processing, Inc. has one of the strongest balance sheets of any US company.
We believe that Automatic Data Processing, Inc.'s superb financial condition provides shareholders several benefits. Their dividend, currently at over 3.3%, is historically high and well protected by cash flows. In addition to a secure dividend, Automatic Data Processing, Inc., has plenty left over to continue making strategic acquisitions and for funding share buybacks.
Fundamentals at a Glance
Figure 1 below looks at Automatic Data Processing, Inc. through the lens of our EDMP, Inc. F.A.S.T. Graphs™ since calendar year 1996. There are three elements on this Fundamentals at a Glance graph that are noteworthy.
The first is the earnings line, the orange line with white triangles, plotted based on the GDF-EDMP modified formula for value of 17.3 times earnings. Note that Automatic Data Processing, Inc. has historically traded at a quality premium to their earnings justified value.
This leads to the second noteworthy element, ADP's historically normal PE ratio of 25.7, the blue line with asterisks. This clearly illustrates the quality premium the market has traditionally placed on their shares.
The third and final element is the mustard yellow cash flow plot marked with a "C". We believe this clearly indicates that Automatic Data Processing, Inc has historically been both a quality and a cash flow story.
Figure 1 ADP 15yr. Earnings & Cash Flow Correlated to Price
click to enlarge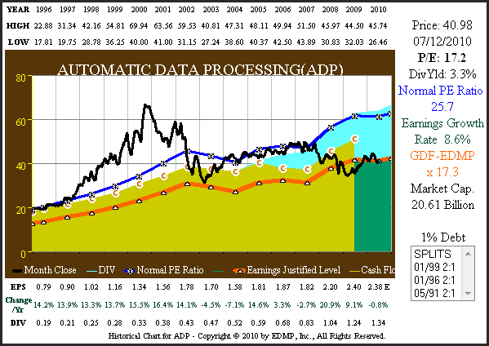 Thesis for Growth
Automatic Data Processing, Inc.'s current historically low valuation is, we believe, attributable to expected flattish earnings growth for fiscal 2010 (ended in June). ADP will report earnings on July 29, 2010. Furthermore, only modest growth of 5% or so is expected for fiscal 2011, which would take earnings to $2.50-$2.55 range per share for this fiscal year. In our opinion, current headwinds which include low employment, low interest rates and weak vehicle sales of all types are the main culprits behind Automatic Data Processing, Inc.'s current low valuation.
Management has indicated seeing signs of employment in the U.S. stabilizing, and therefore, has added sales people to take advantage of this improving climate. Furthermore, ADP's sales to small and midsize companies are currently exceeding expectations.
However, since pressure continues for their biggest U.S. clients, management has narrowed guidance for fiscal 2010 to $2.36-$2.38 on flattish revenues. Longer term, the increasing trend for outsourcing computing solutions, in addition to ADP's leading position in payroll and tax augurs well for future growth to eventually resume to more normal higher rates.
Looking further out, however, the prospects for reacceleration of earnings growth seem brighter. According to IDC, the market for Human Resources management services, which is Automatic Data Processing, Inc.'s largest segment, is huge at almost $105 billion and is expected to grow at approximately 5% or better into 2013.
Similar growth is expected for processing services were Automatic Data Processing, Inc. holds a dominant position. Finally, as economic activity improves worldwide, an expected strengthening in employment and potentially better vehicle sales are pluses.
Figure 2 below calculates performance associated with Figure 1 above. The 8.6% average earnings growth rate Automatic Data Processing, Inc. has generated since 1996 (see Figure 1) has slowed to approximately 5.6% since calendar 2006. However, shareholders have been compensated by a higher dividend payout ratio beginning in calendar 2007, which has also led to a temporary acceleration in ADP's dividend growth rate. Also, even considering today's current low valuation, they nevertheless outperformed the S&P 500 since 1996.
Figure 2 ADP 15yr. Performance History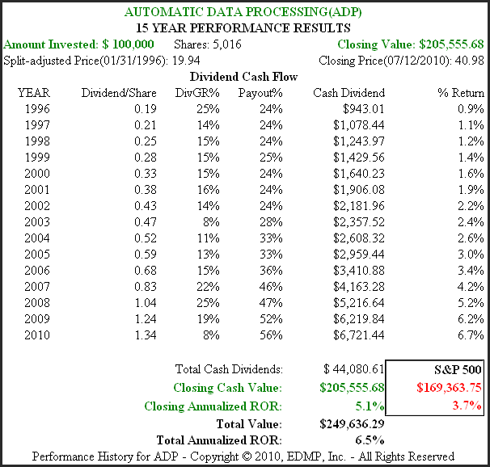 Figure 3 provides a five-year forecast for earnings and dividend growth of 11%, based on the current consensus of 24 leading analysts reporting to FirstCall. This forecast implies a closing price of $60.54 on 12/31/2015 assuming a price earnings ratio of 15 according to our calculation based on our modified GDF-EDMP formula for value (see flag on Figure 3 with red arrow).
This is more in line with Automatic Data Processing, Inc.'s historical achievement of 10% to 15% earnings growth prior to the recent slowdown due to the "great recession." It's important to note from Figure 1 above, that although growth temporary slowed down, Automatic Data Processing, Inc.'s earnings and cash flows held up remarkably well through it all.
Figure 3 ADP 5yr. Consensus Earnings Estimate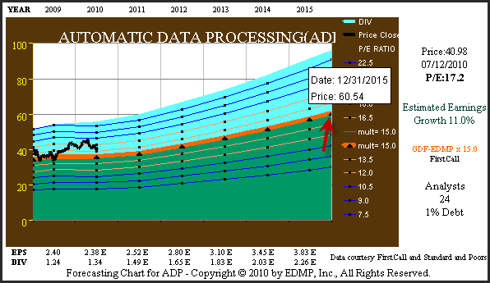 Conclusion
Automatic Data Processing, Inc. is an extremely high quality U.S. corporation that is currently trading at a historically low valuation. Therefore, their current entry dividend yield is abnormally high and we believe, well protected by strong cash flows and an impeccable balance sheet. Therefore, we believe that investors seeking safety, and an increasing dividend, coupled with above-average growth potential might consider Automatic Data Processing, Inc. for long-term investment.
Disclosure: Long ADP at the time of writing.