It appears General Electric (NYSE:GE) may be changing its policy on CEO tenure. According to a WSJ report, the company is re-evaluating the length of term is for its chief executives. Mr. Immelt has held several discussions with the board of directors regarding shortening the expected time commitment for the next CEO. Previously, CEOs of General Electric had been expected to stay onboard for 20 years, much like the legendary Jack Welch.
Jeff Immelt's legacy at General Electric: A history of underperformance?
While General Electric has recovered most of its losses related to the financial crisis, there is little doubt that its share price has stagnated under Mr. Immelt's 13-year tenure. The stock is still sitting 37% below where was trading when he took over, in sharp contrast to the 65% gain posted by the S&P 500 in that same time period.
In addition, for dividend investors, things have not been much better. While still up over 100% from its low of $0.10, General Electric's current dividend of $0.22 per share is still 30% below where it was back in 2009.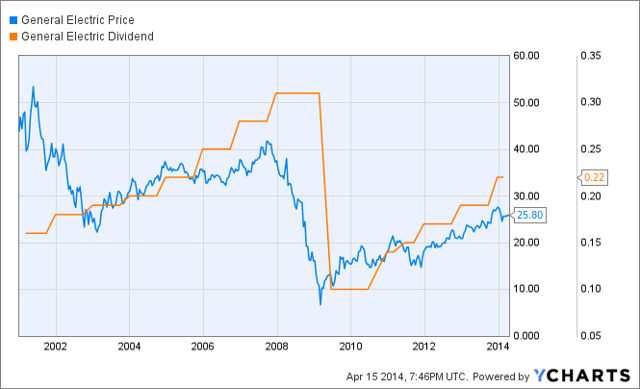 Is a new CEO on the way?
While General Electric did note that its board routinely discusses succession planning, the timing of this news seems to be more than mere coincidence. The company has been facing some recent shareholder activism, largely thanks to the stock's underperformance. In addition, many directors have come to believe that Mr. Immelt will step down before his 20 years are up.
For General Electric, this change of heart regarding CEO tenure seems like a smart move. First of all, it would allow older executives to possibly move into the CEO spot. An example given by the WSJ was Keith Sherin, currently the head of GE Capital.
Other internal candidates mentioned in the report include Lorenzo Simonelli, head of General Electric's fast growing oil and gas unit, and Steve Bolze, head of General Electric's large power and water unit.
Furthermore, this change should ease internal divisions in the event of a "race" for the top spot. During the search for Jack Welch's replacement, General Electric lost several of its senior executives, including Robert Nardelli and Jim McNerney, once it became clear that neither would become CEO.
General Electric has made efforts to calm investors by boosting capital returns via share buybacks and dividends. However, investors seem to be wary, given the lack of EPS growth baked into the 2014 guidance due to the impact of GE Capital's retail finance divestment.
GE Capital could get even smaller
With General Electric's IPO of Synchrony Financial (NYSE:SYF) fast approaching, the company may be inclined to further slim down its troublesome GE Capital segment.
According to a Reuters report, General Electric's commercial real estate holdings may get the axe, with the company exploring asset sales and exiting certain equity stakes in buildings. Commercial real estate currently represents 10% to 15% of GE Capital's portfolio.
Some analysts note that these assets are not aligned with General Electric's other core segments, with Morningstar's Daniel Holland noting that "you have to think really hard about a good reason for them owning that business."
I have long argued that General Electric needs to focus more on its industrial segments and less on GE Capital. Dollar for dollar, earnings from the financial segments are simply not valued as highly as earnings from the industrial segments.
This appears to be holding down General Electric's valuation, with the stock trading well below its industrial peer Siemens (SI) and in line with Honeywell (NYSE:HON) on an enterprise multiple, or EV/EBITDA, basis.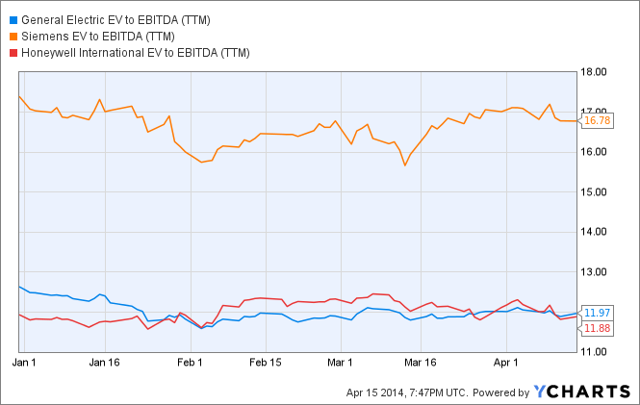 GE EV to EBITDA (TTM) data by YCharts
Conclusion
With Q1 earnings right around the corner, shareholders on General Electric need to not panic. The company does appear to be starting its search for a new CEO. However, Mr. Immelt will likely give plenty of notice if he does decide to step aside sooner than expected.
Heading into the quarter, we need to see if the industrial growth story continues to play out, with the company projecting revenues in that segment to post sales growth as high as 4% to 7%. Furthermore, it will be interesting to see how much of an earnings hit General Electric expects to take from the Synchrony IPO.
Disclaimer: The opinions in this article are for informational purposes only and should not be construed as a recommendation to buy or sell the stocks mentioned. Please do your own due diligence before making any investment decision.
Disclosure: I am long GE. I wrote this article myself, and it expresses my own opinions. I am not receiving compensation for it (other than from Seeking Alpha). I have no business relationship with any company whose stock is mentioned in this article.