I am a firm believer that each investor needs to find the investment approach that matches their lifestyle and goals. It's also important to not to follow the crowd and to do what is right for you and your family. For my thoughts on resisting the urge to follow the investing crowd, read my recent article on the subject. I have a hybrid investing style. Part of my portfolio is dedicated to deep value investing and part of it is dedicated to dividend growth investing. For the dividend growth investing part of my portfolio, I am always on the lookout for new investments that have long term track records of growing dividends. With that in mind, today I'm going to take a look at the outlook for the Clorox Company (NYSE:CLX).
Founded in 1913, the Clorox Company is based in Oakland, California. In addition to its flagship "Clorox" brand, the Clorox Company also sells products under a variety of names including: Liquid-Plumr, 409, Pine-Sol, Tilex, Burt's Bees, Hidden Valley, Brita, KC Masterpiece, Kingsford, Fresh Step and Glad. These brands are arranged by business segments, as shown in the graphic (from the 2013 annual report) below.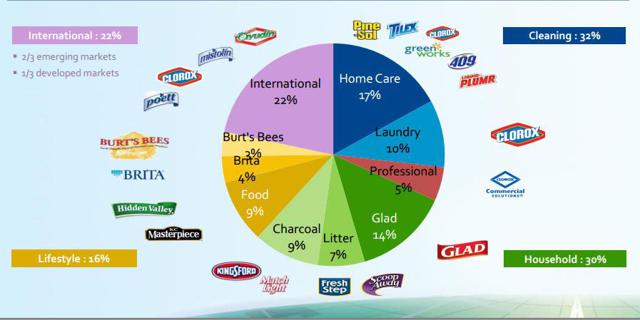 The Struggles
As I documented in my recent Seeking Alpha article (These Consumer Staples Companies are Getting Squeezed) the whole consumer staples sector is facing a myriad of headwinds. Some of the immediate struggles facing Clorox include rising input costs and financially struggling consumers. These companies are having a hard time passing along their higher input costs to the retail consumer. Clorox is fortunate that only 9% of total sales come from food, because food costs have been rising even faster than the chemical inputs Clorox needs. Research suggests that most middle and lower class consumers have less disposable income than they did prior to the financial crisis. On a personal note, I know my family has less disposable income than we did 5 years ago. These two forces have caused most consumer staples companies to innovate their product mix, while at the same time trying to defending their profit margins. If inflation gets worse, these headwinds will continue to build.
The Metrics
The struggles above not withstanding, Clorox has had a very good track record for providing value to shareholders over the past decades. More recently the company has more than doubled its dividend in the past 7 years and reduced the number of outstanding shares in all but one of the past 10 years. The company did not buy back any shares in 2009, but I think we can give them a pass. For a graphical representation, take a look at the 10 year chart (below) from GuruFocus.com.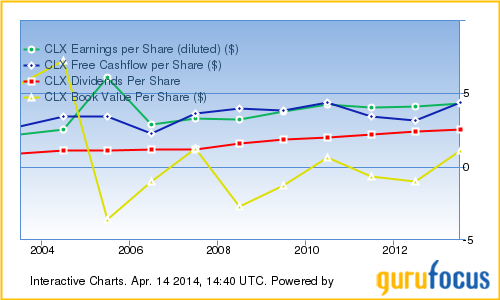 Operating margins have been fairly consistent, in the 12.5% - 18.5% range, over the last 10 years. Those margins strike me as a little low, but that could be because I have been spoiled by high margin companies like Coca-Cola (NYSE:KO). Clorox's operating margins are more or less inline with competitor Procter & Gamble (NYSE:PG) and notably higher than Unilever PLC (NYSE:UL). Clorox's ROE (return on equity) figures have been frustratingly inconsistent over the past several years, ranging in fact from 726 to zero. I prefer investing in companies with high, and fairly stable, ROE figures. Clorox has done a fairly decent job of growing sales over the past 10 years. As you can see in the chart below, revenue per share is up nicely over that time.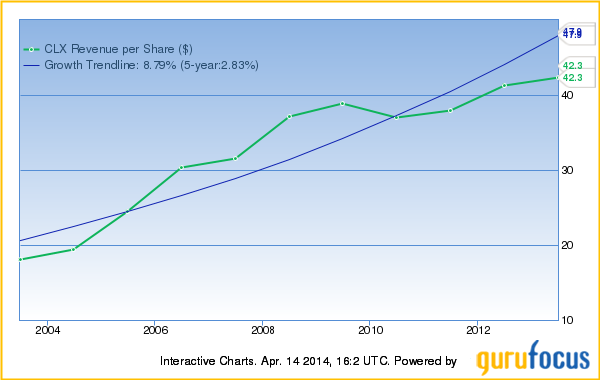 Despite getting the vast majority of sales (78%) domestically, Clorox is a fairly diversified company. The Household and Cleaning business segments make up 30% and 32% of sales, respectively. The Lifestyle segment, where earnings aren't growing as quickly, makes up 16% of sales. Finally, there is the International segment, which saw a 19% decline in pretax earnings. The decline was likely due to the recession in Europe and currency troubles in the emerging market, but it is still not encouraging for a slow and steady grower like Clorox to show any earnings decline.

Price and Valuation
Warren Buffett has made a habit of reminding investors everywhere that price is what we pay, while value is what we get. With that in mind, let's take a look at the current price and valuation of the Clorox Company's common stock. As you can see from the Yahoo Finance stock chart below, Clorox's share price has increased substantially in the past 18 months. This move largely coincided with the S&P 500's nearly 30% rally in 2013.

Over the last few years income investors have bid up the price of blue chip dividend stocks, in their search for yield. This phenomenon has resulted in particularly high Price/Earnings metrics (and stock prices) in the consumer staples sector (of which Clorox is part). The Morningstar.com table below shows pretty clearly that while Clorox has a lower PE than the sector average, the sector is a fair bit (21.4 vs 18.0) higher than the broad S&P 500. Clorox currently pays a dividend of a little over 3.1%, which is higher than both the sector average and the broad S&P 500 average. Also, Clorox's streak of annual dividend raises should have room to continue, based on the current dividend payout ratio of 63%.

I like to take a look at discounted future cash flow projections, when valuing a company. I find the average annual increase in both earnings per share and free cash flow per share, and use the lower value for my calculations. During more typical times, I discount the present value of those projected earnings at the rate of the 30 year U.S. treasury. Given the current artificially low interest rates, I have opted not to discount at a rate below 5% annually. In the table below you can see the outcome. Clorox appears to be selling at a discount to the present value of its next 20 years worth of earnings ($88 vs $99.20).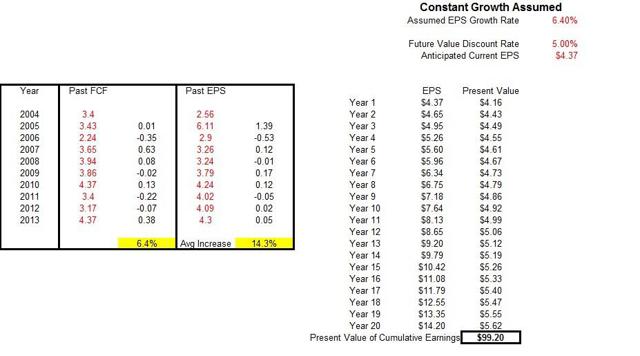 While this discount is not insignificant, it does not represent the 30% or 33% margin of safety I require when investing in companies. A healthy margin of safety is important because there is absolutely no certainty when making projections 20 years in the future. It would be easy for Clorox to suffer because of a product liability issue, substantial recession, changing consumer taste. Without a significant margin of safety I will not be investing in the Clorox Company. I will revisit the Clorox Company's valuation later this year.
Disclosure:
I do not own CLX, but am long PG, KO, GIS and UL. This article is for informational purposes only and should not be considered a recommendation for anyone to buy, sell, or hold any equities. I am not a financial professional. The information above is provided by Yahoo Finance, Morningstar.com, GuruFocus.com and investors.thecloroxcompany.com
Disclosure: I am long KO, GIS, PG, UL. I wrote this article myself, and it expresses my own opinions. I am not receiving compensation for it (other than from Seeking Alpha). I have no business relationship with any company whose stock is mentioned in this article.