It's pretty amazing to think about. Computers have moved from chunky desktop computers, to slim laptops, to tiny hand-helds. Phones have been transformed from large handsets, to cordless, to pocket-sized mobiles.
It's the semiconductor industry that's been instrumental in this miniaturization of this technology.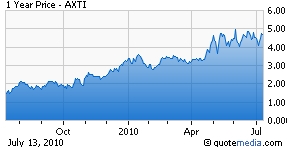 Fittingly, a small-cap (market-cap of $147.2) company called AXT Inc (Nasdaq: AXTI) is helping lead this miniturization revolution. But, don't let the size of AXT Inc fool you. The California-based firm is a leading manufacturer and worldwide distributor of compound semiconductor substrates.
In electronics, a substrate is the physical material -- or foundation -- onto which an electrical circuit is mounted. A semiconductor is a material that enables movement of electrical current within the circuit.
AXT was the first company to commercialize semiconductor substrates using a proprietary method called vertical gradient freeze (VGF) technology.
The company caters to the growing wireless and fiber optics communications markets. Its products are used in technologies like cell phones, televisions, and satellites.
Outfitters making newer lighting solutions, such as LEDs (lighting emitting diodes) and lasers, also use AXT's products. And, AXT's products are also gaining attention in the growing solar power industry.
On June 3rd, AXT's stock closed on new 52-week high at $4.98; this was its third new high since May 11th. The stock has continued to test this level.
With exploding revenue and earnings growth potential, the substrate company appears to be laying a solid "foundation" for its future success.
On April 28th, AXT announced upbeat first-quarter 2010 results. Revenue for the period surged by +142% to $18.6 million, compared to $7.7 million in the first quarter of 2009. Greater use of wireless technologies, increasing adoption of LED lighting technologies, and more interest in developing solar energy alternatives, drove demand for AXT's products.
For the upcoming second-quarter, to be announced on July 26th, AXT estimates revenue will increase at least +58% in the range of $20.7-$21.5 million. In comparison, revenue in the second-quarter of 2009 was $13.1 million. Rapid expansion in wireless communications market, highlighted by smartphones that wirelessly access the internet, is expected to drive growth.
As more companies manufacture products with semiconductor substrates, analysts expect AXT's full year 2010 revenue will increase by +53% to $85 million. In comparison, revenue in 2009 was $55.4 million. By 2011, analysts project revenue will grow by another +13% to $96.4 million.
Earnings growth is projected to be equally strong.
In the first-quarter of 2010, earnings were double projections. Analysts with Thomson Reuters expected the company would bring in $0.04 per share. Instead earnings exploded to +$0.08 per share, compared to -$0.18 per share in the first quarter of 2009.
For the upcoming second-quarter, the company estimates it will achieve at least +14% earnings growth. AXT projects earnings will be between $0.08 and $0.09 per share, compared to $0.07 in the year-ago quarter.
For the full 2010 year, analysts expect earnings will ramp up to $0.36, compared to $0.00 in the 2009 year. By 2011, earnings should increase another +11% to $0.40 per share.
In addition to a strong growth outlook, AXT is attractively valued, based on its PEG ratio (price to earnings divided by growth rate). In general, a PEG of one or under shows attractive valuation. At less than 0.01 AXT's PEG is incredibly low.
The company also has an attractive balance sheet with approximately $37.7 million in cash and only $420 thousand in long-term debt.
For the past three years, AXT has managed to consistently decrease debt while increasing shareholder equity.
The company's debt to equity ratio is less than 23% ($420 thousand to $94.6 million). In comparison, the S&P 500 has a debt to equity ratio of about 200%.
Given AXT's solid balance sheet, attractive, valuation and strong growth outlook, traders may want to consider taking a long position in the company.
At today's (July 13) closing price of $4.75, traders could consider setting a price target of $9.72 for triple-digit gains.

However, if the stock drops below $3.76, traders may be wise to exit the position.

Disclosure: Traders might want to consider a long position, but I have not taken a position.