It's hard to make a case that Twitter (NYSE:TWTR) is a value stock, but after a sharp decline, it does seem to be a "relative" value stock. It also seems to be a contrarian pick now that it trades for close to half of the 52-week high of nearly $75 per share.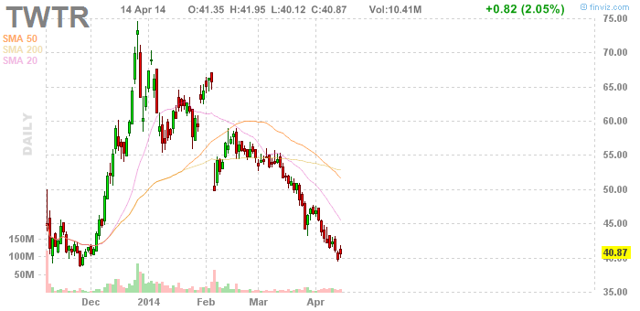 As the chart above shows, Twitter shares have given up almost all of the post-IPO gains. After a major tech stock sell-off, these shares are now oversold with a relative strength index or "RSI" rating of about 29. Stocks with an RSI of about 30 or less are considered oversold and therefore possibly due for a rebound.
Aside from the pullback due to the tech sector sell-off, Twitter shares also appear to have been impacted due to concerns that the IPO lockup (which restricts insiders from selling until a certain date) will expire on May 5, 2014. The concern is that a wave of new shares would become available on the market and push the stock down. However, it seems that this might not happen because the market already appears to have discounted the stock excessively for this event. Another reason why there may not be a pullback is because the insider selling may not amount to much of anything. In fact, many insiders and other large investors recently stated they plan to continue holding the stock.
On April 14, 2014, the CEO of Twitter, Dick Costolo, and the co-founders Jack Dorsey and Evan Williams all said they "have no current plans to sell any of their shares."
A New York Times article suggests that at least two major venture capital firms that have large stakes are also planning to hold onto these shares. The article also states JPMorgan Asset Management is planning to hold a roughly 8.5% stake in Twitter. The article states:
Twitter's largest shareholder - the money management firm Rizvi Traverse Management, which oversees funds that own 17.9 percent of the company - also plans to hold onto the stock, according to a person familiar with the firm's thinking, who spoke on condition of anonymity because Rizvi does not publicly discuss its investments.

Benchmark Capital, a venture capital firm that was one of the early investors in Twitter, intends to retain its 5.4 percent stake, according to the Twitter filing. Peter Fenton, a Benchmark partner, is a director of Twitter.

"We're just as excited to be investors in Twitter now as we were when it was 25 employees," said Matt Cohler, another Benchmark partner. "We always thought of Twitter as a long-term investment."

Twitter's third-largest shareholder - JPMorgan Asset Management, a money management unit of JPMorgan Chase - also intends to hold onto its 8.4 percent stake in the company, said a spokesman, Darin Oduyoye.
Shorts have been piling into Twitter on the hopes of the IPO lockup expiration (potentially causing a big wave of selling pressure), but it appears that this trade is over. Shorts waiting for additional losses on May 5 could see the stock surge when this "spooky" and much anticipated date comes and goes without a big sell-off. According to Shortsqueeze.com, almost 46 million Twitter shares are currently short. This represents nearly 12% of the entire float. This is also up from about 42 million shares short (or a nearly 10% increase) from the data in the prior month. That means this trade could be crowded and that shorts might be disappointed when May 5 rolls around. This is another reason why I expect this stock to rise in May.
Even though Twitter is expensive when considering that analysts expect it to earn just 2 cents per share for 2014, and around 22 cents per share for 2015, this stock might not look expensive years from now. The opportunities in this sector are potentially huge and Twitter might morph into something that many people can't yet see, just as Google (NASDAQ:GOOG) has done since its IPO. That is another reason why I think this stock is interesting at current levels. This company has a very savvy and experienced management team and it continues to adapt to the market. For example, Twitter recently made some updates to the website, which allows users to customize their profile pages with their favorite Tweets, photos and more.
Of course, the most obvious way to play Twitter is to buy the stock. However, there are two other ways that investors might want to consider. One way (for experienced investors) to get in on Twitter even cheaper than the current share price is to sell the May $40 put options which currently trade for almost $4. This would enable an investor to keep the put option premium of nearly $400 per contract (for 100 shares), if the stock is trading at $40 or above on expiration day. If the stock is trading for less than $40 per share on expiration day, it would allow an investor to own Twitter shares for potentially just $36 ($40 option strike price less the $4 option premium earned). With this strategy, Twitter would really have to be selling for less than $36 on expiration date, for this option trade to lose any money.
Another interesting way to play a Twitter (and general tech stock rebound) is to buy a closed-end fund that has a significant stake in Twitter: I recently wrote about the Firsthand Technology Value Fund (NASDAQ:SVVC) that can be bought for around $21, even though it has a net asset value of about $28 per share. In a shareholder report that came out in March, this fund disclosed that it owned just over 1 million Twitter shares, which represents around 19% of fund assets. This fund also owns significant stakes in Facebook (NASDAQ:FB) and other pre-IPO stocks like Jawbone, which could be worth significantly more than what is stated in the current net asset value estimates. To learn more about this fund, read this article.
Here are some key points for Twitter, Inc.:
Current share price: $40.87
The 52-week range is $38.80 to $74.73
Earnings estimates for 2014: 2 cents per share
Earnings estimates for 2015: 22 cents per share
Annual dividend: n/a
Data is sourced from Yahoo Finance. No guarantees or representations are made. Hawkinvest is not a registered investment advisor and does not provide specific investment advice. The information is for informational purposes only. You should always consult a financial advisor.
Disclosure: I am long TWTR, SVVC. I wrote this article myself, and it expresses my own opinions. I am not receiving compensation for it (other than from Seeking Alpha). I have no business relationship with any company whose stock is mentioned in this article.