In 2008, there were about 1 billion personal computers in use with forecasts that the number would double to over 2 billion by this year. While there is little doubt the number of PCs in use has grown, the rise of smartphones and tablets has probably kept that number well short of 2 billion. Suffice to say, there are at least 1 billion PCs in service.
Almost 30% of the PCs in use run Windows XP - Microsoft's 12 year old operating system. Microsoft (NASDAQ:MSFT) has finally announced the end of support for XP.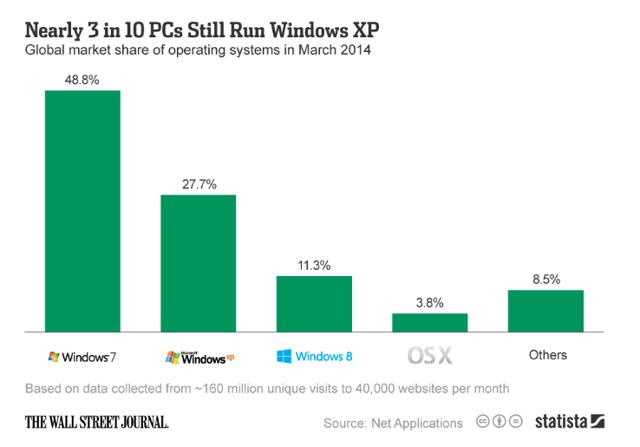 That means about 300 million PC users face a choice - upgrade their OS, upgrade their PC, or abandon the PC platform and move to a tablet or similar device.
It seems almost certain that millions of users will upgrade either to a new OS or a new PC.
To some extent, the end of XP is already seen as a factor in slowing the decline rate in PC sales, which only fell by 1.7% last quarter after quite a few quarters of more rapid decline.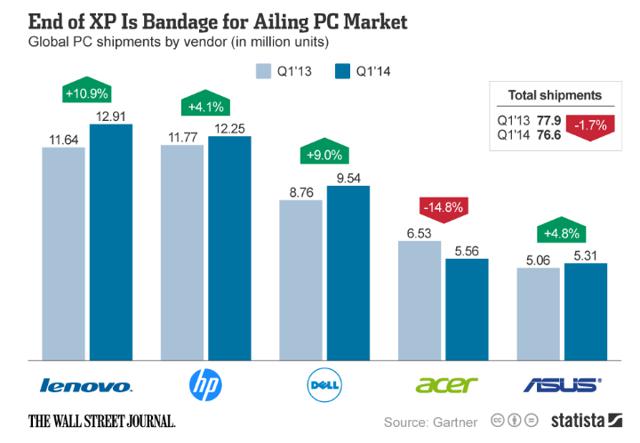 The question it raises for investors is whether the PC industry has bottomed out.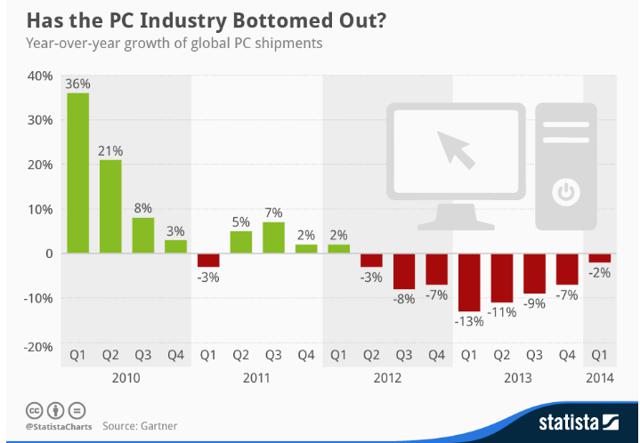 If it has, it is good news for Microsoft, Intel (NASDAQ:INTC), and AMD (NYSE:AMD).
Back of the envelope arithmetic gives some dimension to the impact. If the 300 million XP users take three years to trade up or abandon their current PCs, 100 million PC users in each of the next 3 years will decide what next. If 75% of them decide to upgrade to a newer version of Windows, that adds 75 million Windows licenses to Microsoft's sales in each of 2014, 2015 and 2016.
I suspect the vast majority will upgrade their PCs as well. A standalone version of Windows 7 can run $99 to $149, and a copy of Windows 8.1 about the same.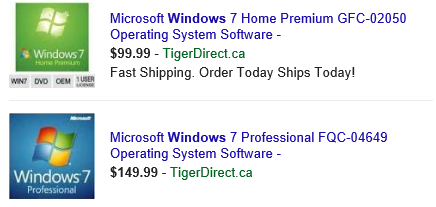 A pretty solid PC can be purchased for less than $400 at Best Buy.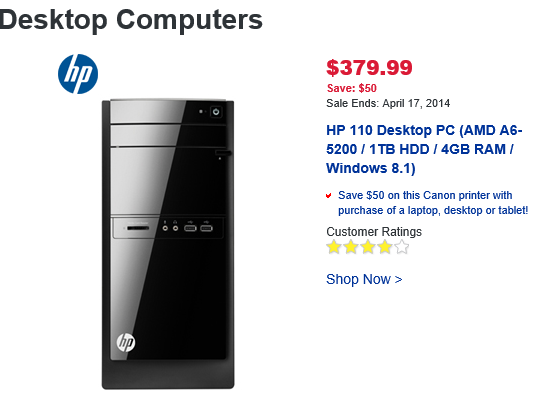 Of course, there are a wide range of desktop, laptop and hybrid options. The point is that many users facing the cost of upgrading their OS will simply buy a new PC rather than attempting to install and run Windows 7 or Windows 8.1 on an old system.
If two-thirds of the users deciding to upgrade also decide to buy a new PC, that will add 50 million units to annual demand for PCs in each of the next 3 years. PC demand, excluding the XP upgrade impetus, has been declining at about 7 or 8% for the past few years as users have moved to other form factors or just extended the life of their existing systems. Netting out the increase brought about by the end of XP and the decrease being experienced without it, overall PC demand could grow about 25 million units this year to about 325 million units. About 80% of the PC market uses Intel processors.
Again, just to provide some dimensions, an additional 20 million processor sales by Intel split perhaps 15 million Core and 5 million Bay Trail would add $2 billion revenue for Intel. The remaining 5 million would give AMD a $500 million bump in revenues.
At best these numbers are wild-ass guesses. But the end of XP is no doubt a tailwind for Microsoft, Intel and AMD. Microsoft would be the big winner if it sold an incremental 75 million licenses with the OEM license fee of perhaps $40 per PC, adding at least $3 billion to revenue.
For all of these suppliers, margins are very high. I would expect $3 billion of added license revenue to MSFT to add $2 billion net income, or about $0.25 per share. For Intel, $2 billion of added revenue produces about $1.2 billion of operating income and about $1 billion net income, or $0.20 per share; and for AMD, a $500 million revenue lift likely means $250 million of operating income and $200 million net income equal to about $0.28 per share.
My personal view is that the XP motivation is incremental to an already bottoming PC market and that all of MSFT, INTC and AMD will see some strength.
The leverage of the shift is particularly important for Intel where it has languished owing to its high dependence on PC sales. I see the decline in revenues for Intel now bottoming and the longer-term outlook for modest growth.
In my March 13, 2014 article, I projected Intel would earn $0.38 for Q1, spot on with the report, which came out after the close tonight. Actual revenues of $12.8 billion fell short of my $12.95 call, but margins at 59.75 were better and the rest of the statement was pretty well in line.
For reference, here is the Q1 estimate I issued at that time.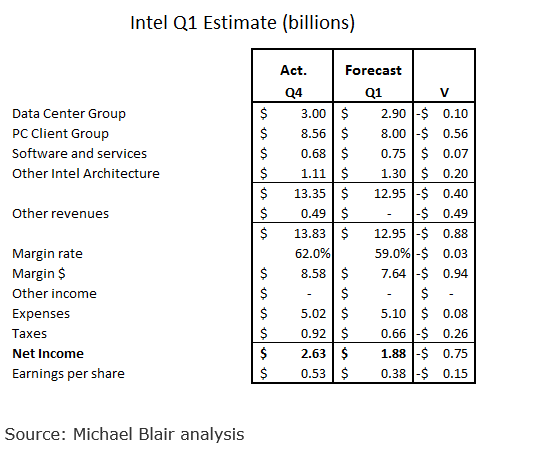 I expect this modestly positive trend to continue into Q2 with the potential for a mild upside surprise if the shift from XP to a more modern OS prompts more demand for PCs, as I expect it should. I am long the stock.
Disclosure: I am long INTC. I wrote this article myself, and it expresses my own opinions. I am not receiving compensation for it (other than from Seeking Alpha). I have no business relationship with any company whose stock is mentioned in this article.