Citigroup (NYSE:C) announced better than expected results on Monday and the stock popped 4.36%. Is it too late to get in? Or better yet, should you even consider buying?
I'll admit that initially I was very skeptical of the numbers. Earnings per share were better than expected but with several one-time charges; Tier 1 Capital ratio barely increased to 10.4%; and book value per share increased to $66.25, aided by a decrease in loan loss reserves.
I knew that Citi was going through a big turnaround and that it wouldn't happen overnight. But the lingering questions were whether Citi was still cheap and whether it was the ill-fated value trap?
The last 6 years have been somewhat inconsistent for Citi. Earnings per share reached $3.77 in 2011, but then dropped 32% before recovering last year.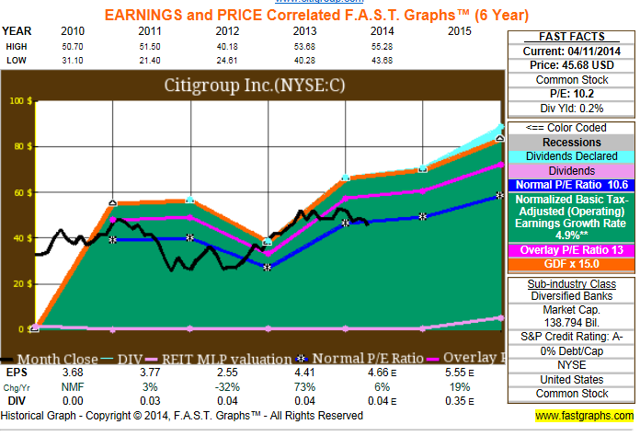 Click to enlarge
The stock began trading below its average P/E multiple after flat earnings growth in 2011 and until early 2013. Since then, it has been trading at a premium on a relative basis. But now the stock has declined somewhat and even after today's sharp increase, it is still trading at what I would consider fair value. The question I keep asking myself, however, is whether the P/E multiple is a fair assessment of Citi in comparison to its peers.
The overlay P/E multiple shown by the pink line above is the average P/E multiple of the peer group shown below.

Click to enlarge
If I apply this multiple to Citi earnings, the implied fair value price is closer to $60. It also looks cheap on a price/sales, price/book and is in line with peers on a PEG ratio basis. Where it falls a bit short of peers is in the dividend yield.
Despite that, it looks like the best opportunity for an investment in Citi is now. According to the Fastgraphs chart below, the estimated total return through 12/2014 is a whopping 80.2% based on a price target of $69.90 and a dividend of $0.04/share. This just seems too aggressive.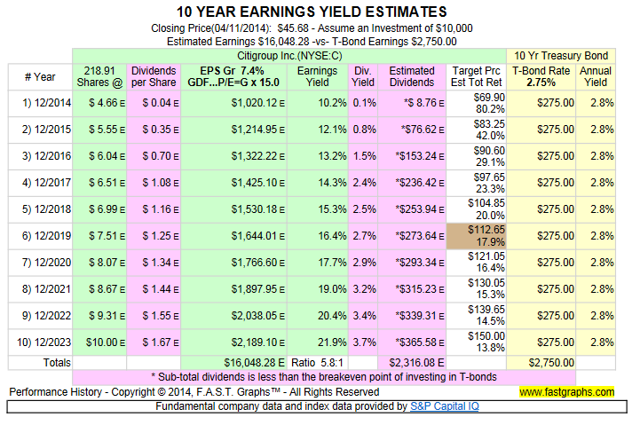 Click to enlarge
In my opinion, the best risk/reward opportunity will occur over a 2-year period as the turnaround story evolves and the price multiples expand slightly. I do believe that earnings per share can reach $5.55 by 2015. But instead of applying a 15 multiple that Fastgraphs uses, I would use a more conservative price earnings multiple of 13. Applying a 13 multiple to $5.55 results in a price of $72.15 plus an expected dividend of $0.35 in 2015. Depending on the purchase date, investors would be looking at an expected return of 23%, with a possible upside surprise as well.
Disclosure: I have no positions in any stocks mentioned, but may initiate a long position in C over the next 72 hours. I wrote this article myself, and it expresses my own opinions. I am not receiving compensation for it (other than from Seeking Alpha). I have no business relationship with any company whose stock is mentioned in this article.