SanDisk Corp. (SNDK) is set to report FQ1 2014 earnings after the market closes on Wednesday, April 16th. Many tech stocks including SanDisk have sold off heavily in the past few weeks. But the computer flash memory company has beaten the Street's expectations on both profit and revenue in each of the past 7 quarters.
In late March RBC Capital Markets called SanDisk and Diablo Technology's collaboration ULLtraDIMM, a high end solid state storage device, "a game-changing product for the enterprise market that should prove to be immediately disruptive." This quarter Wall Street expects a 48.8% gain in year-over-year EPS and an 11.6% gain in yoy revenue, but investors have even loftier expectations than that.
The information below is derived from data submitted to the Estimize.com platform by a set of Buy Side and Independent analyst contributors.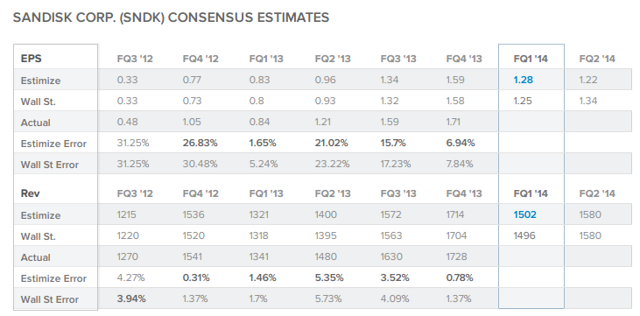 Click to enlarge
(Click Here to see Estimates and Interactive Features for SanDisk)
The current Wall Street consensus expectation is for SanDisk to report $1.25 EPS and $1.496B revenue while the current Estimize.com consensus from 17 Buy Side and Independent contributing analysts is $1.28 EPS and $1.502B in revenue. This quarter the buy-side as represented by the Estimize.com community is expecting SanDisk to beat the Wall Street consensus on both the top and bottom line by a relatively small margin.
Over the past 6 quarters the consensus from Estimize.com has been more accurate than Wall Street in forecasting SanDisk's EPS and revenue 5 times each. By tapping into a wider range of contributors including hedge-fund analysts, asset managers, independent research shops, students and non professional investors, Estimize has created a data set that is more accurate than Wall Street up to 69.5% of the time, but more importantly it does a better job of representing the market's actual expectations.
The magnitude of the difference between the Wall Street and Estimize consensus numbers often identifies opportunities to take advantage of expectations that may not have been priced into the market. In this case we are seeing a small difference between the two groups' expectations.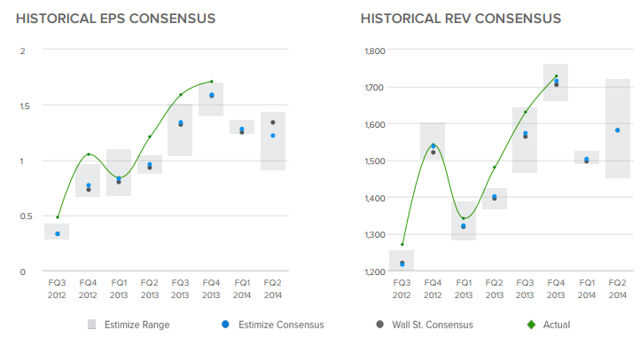 Click to enlarge
The distribution of estimates published by analysts on the Estimize.com platform range from $1.23 to $1.36 EPS and from $1.488B to $1.523B in revenues. This quarter we're seeing a smaller distribution of estimates than usual for SanDisk.
The size of the distribution of estimates relative to previous quarters often signals whether or not the market is confident that it has priced in the expected earnings already. A narrower distribution of estimates signaling more agreement in the market could mean less volatility post earnings.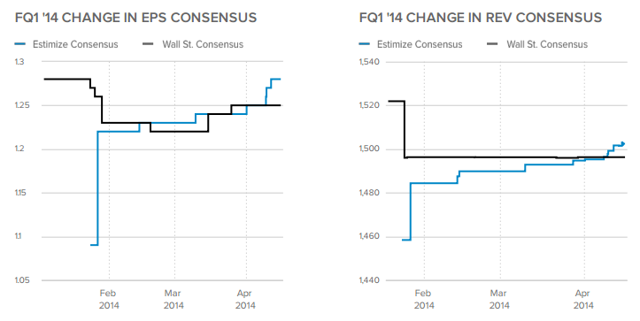 Click to enlarge
Over the past four months the Wall Street EPS consensus fell to a low of $1.22 before climbing to $1.25 while the Estimize consensus rose from $1.09 to $1.28. Meanwhile the Wall Street revenue consensus dropped from $1.518B to $1.496B while the Estimize forecast increased from $1.458B to $1.502B. Timeliness is correlated with accuracy and rising analyst revisions at the end of the quarter are often a bullish indicator.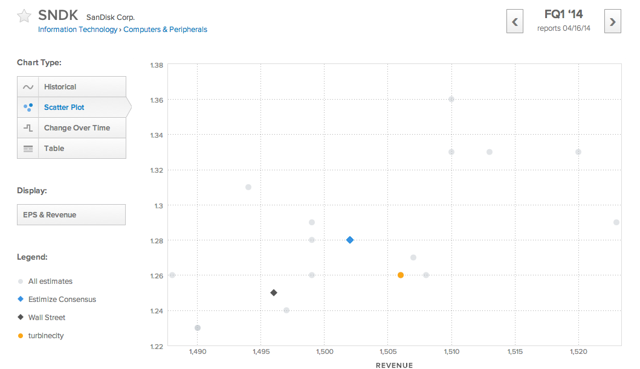 Click to enlarge
The analyst with the highest estimate confidence rating this quarter is turbinecity who projects $1.26 EPS and $1.506B in revenue. turbinecity was our Winter 2014 season winner and is ranked 6th overall among over 4,000 contributing analysts. Over the past 2 years turbinecity has been more accurate than Wall Street in forecasting EPS and revenue 59% and 55% of the time respectively. Estimate confidence ratings are calculated through algorithms developed by deep quantitative research which looks at correlations between analyst track records and tendencies as they relate to future accuracy. In this case turbinecity is expecting SanDisk to report more revenue but lower EPS than the Estimize community is calling for.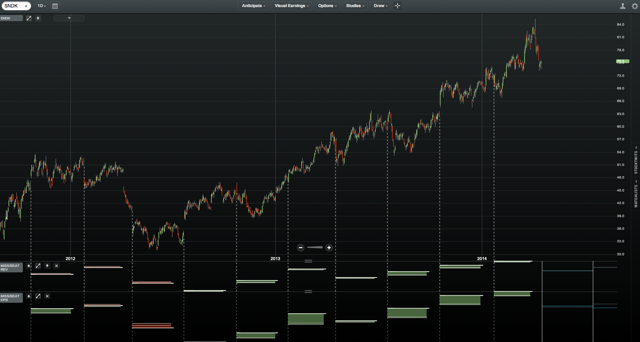 Click to enlarge
Although SanDisk stock has had a rough past couple of weeks, SanDisk has been on fire for the past year and a half. The graph above from ChartIQ Visual Earnings shows SNDK's growth alongside earnings reports represented by the dotted vertical lines. Green bars at the bottom of the screen represent earnings beats while red represents misses. SanDisk has beaten Wall Street's expectations in each of the past 7 quarters and on Wednesday the Estimize community expects them to do it again.
Disclosure: None.