By Carla Fried
Even after tech's roller coaster ride over the past month, no one is going to mistake the likes of Facebook (NASDAQ:FB) or Twitter (NYSE:TWTR) for growth stocks that a value investor could love. But eBay (NASDAQ:EBAY) increasingly fills that intriguing bill. Revenue has nearly doubled over the past five years. Granted, that's about one-third the pace of revenue-crazed Amazon (NASDAQ:AMZN), but then again, eBay actually manages to churn out earnings growth along with its none too shabby revenue growth: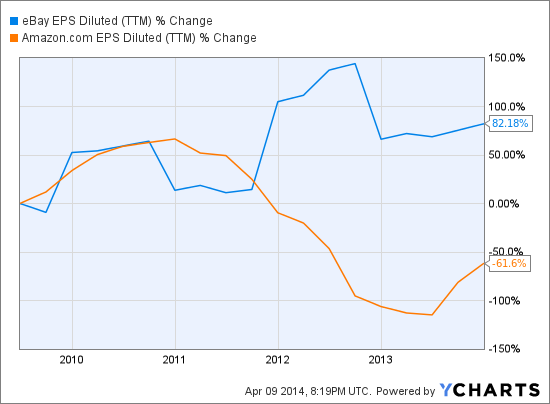 EBAY EPS Diluted (TTM) data by YCharts
And eBay has been showing up in some interesting value spots. Morningstar says that eBay currently sells at near a 15% discount to Morningstar's (NASDAQ:MORN) estimate of fair value. Add in the fact that eBay is also one of the rare stocks covered by Morningstar to earn a coveted wide moat rating, and you've got yourself an interesting stock for these times: a global firm (52% of 2013 revenue came from international markets) with an enduring competitive advantage that happens to sell at a decent discount in a market that doesn't.
eBay's peace pact with investor Carl Icahn removes a distraction from the stock and from management's life.
(Morningstar, an investor in YCharts, pegs the overall market as currently selling right in line with fair value.) eBay is in fact one of the 20 stocks currently in the index-beating Market Vectors Wide Moat ETF (NYSEARCA:MOAT) that tracks a Morningstar index.
The management team at Weitz Value mutual fund seems to think eBay is an even bigger value. As we've covered earlier at YCharts, the Weitz team gets interested in stocks that they surmise trade at discounts of 40% or more to the managers' estimate of intrinsic value. And in the first quarter, Weitz Value established a small (for them) 1.4% stake in eBay. What's worth noting is that Weitz isn't at all interested in relative values. For the past year, they have been lugging around a 30% cash stake as they've sold or trimmed winners and have not found a wealth of new deep discounts to get excited about. That they've still managed to post a 19% return -- fewer than two percentage points below the S&P 500 -- over the past year while nearly one-third of their portfolio earns nothing is a testament to some stock-picking chops. As is a 21% annualized gain over the past five years that is nearly one percentage point ahead of the S&P 500.
The fact that Weitz Value put money to work in eBay is especially telling. And it's got some interesting company among other top value funds. Yacktman Focused established a 1.5% position in the fourth quarter of last year, and the venerable Vanguard Wellington fund owns eBay and was adding to its stake in the fourth quarter of 2013 (we've yet to get Yacktman and Wellington's Q1 portfolio filing.)
While Carl Icahn can bellyache about spinning PayPal from eBay, it's easy to see why the eBay board has no interest. Active registered accounts at PayPal and Bill Me Later (acquired by eBay in 2008) grew by one-third the past two years and the total payment volume processed through both systems grew 50% over that stretch, to nearly $179 billion. PayPal's share of eBay's revenue has grown from around 40% at year end 2011 to 44% at the end of last year, as it becomes a bigger player in third party payment solutions.
Net income growth has slowed the past few years as management has upped its investment in sales, marketing and product development. The latter grew from $1.235 billion in 2011 to $1.7 billion last year, with much attention given to building out both eBay Marketplace and PayPal mobile apps.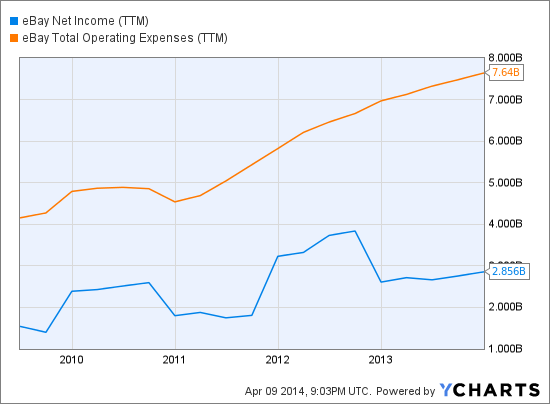 EBAY Net Income (TTM) data by YCharts
That goes a long way to explaining the stock's stagnation of late in a what-have-you-done-for-me-lately world. But for more patient value investors, eBay's spending is an investment in future growth and moat defending.
EBay's near 22 forward P/E ratio isn't an absolute bargain given the 17 level for the S&P 500, but given its strong revenue growth, it's not anywhere near nose-bleed level, either. And there's now more than $9 billion on the sidelines in cash and short-term investments, providing some extra operational gunpowder.
Moreover, eBay has turned up its ability to generate free cash flow, (something Yacktman in particular always appreciates), which certainly hasn't been reflected in the price: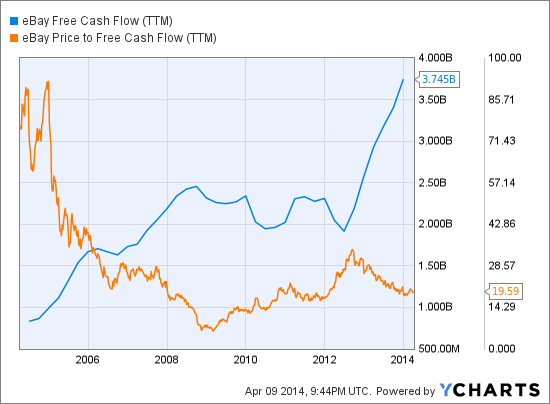 EBAY Free Cash Flow (TTM) data by YCharts
Disclosure: None