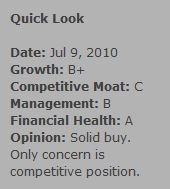 Research In Motion (RIMM) is one of those Magic Formula stocks that almost everyone will instantly recognize and probably raise an eyebrow over. The company is famous, of course, for its BlackBerry line of smartphone devices. BlackBerry got its start in the North American enterprise space, where the company provided a full IT solution including enterprise server (BES) software that allowed departments to provide desirable features such as push e-mail, automatically updated contact information, and remote administration, including wiping phones that had been lost or stolen. IT departments love BlackBerries for these features, and the users loved them for their excellent communications features, such as full keyboards (a rarity once upon a time) and integrated messaging. They became known as "CrackBerries" for the amount of attention they drew from their users.
RIM successfully extended this brand cache into growth markets, such as overseas (150 countries, over 500 carriers, 30% of subscribers), and more recently, into the consumer market with the Pearl, Curve, Bold, and Storm branded phones. Consumer devices now account for over 50% of RIM's 46 million subscribers. The company's prestigious BlackBerry brand and enterprise penetration gave it a leg up on the emerging smartphone market, and RIM currently holds a 38% market share in smartphones worldwide, second only to Nokia (NYSE:NOK). In the U.S. market, RIM is #1 with a 42% share (according to comScore).
This seems like quite an enviable position to be in, especially when you consider the growth of this segment. In the U.S. over the past 5 years, smartphone industry growth averaged 58% a year. Last year it was about 15%, and that rate should stay in low double digits for many years. Currently, smartphone devices comprise about 16% of all mobile phones sold. That number is expected to jump to nearly 40% by 2013. Clearly, RIM is operating in a rising tide, with the winds of organic industry growth at its back.
This is a great growth story, and RIM earns similar marks in other investment criteria. The balance sheet is stellar, with $2.3 billion in cash and no debt. Operating margin is exceptional at 23%. Free cash flow margins are similarly strong at about 18%. Traditional return on invested capital has averaged an astounding 53% since 2006. Even business momentum is good, with a current Piotroski score of 8.0 (9.0 is perfect).
So what in the world is a story like this doing in a deep value screen like Magic Formula Investing (MFI)?!
The reason is the third of the "investment trinity" of criteria: Competitive position. It's no longer 2007, when the smartphone market consisted of weak competitors like Palm (PALM) and Windows Mobile (NASDAQ:MSFT). Today, RIM faces two smartphone platforms that are currently far more advanced technologically in Google's (NASDAQ:GOOG) Android and Apple's (NASDAQ:AAPL) iPhone. These two are especially threats in the consumer market. The apps available to consumers for the iPhone (>225,000) and Android (~70,000) dwarfs the apps for BlackBerry (~7,000). Both Android and the iPhone are built for touch interfaces, while BlackBerry OS is designed more for thumb-pad and keyboard access, which limits what developers can accomplish with it. Android and the iPhone have both been grabbing significant market share, although more at the expense of Microsoft and Palm than RIM (RIM has lost negligible share thus far). These two are a major threat to RIM's continued success in the consumer space.
An even bigger concern is the iPhone's assault on the enterprise. More recent versions of the iPhone's operating system (iOS) have added desirable enterprise features like Microsoft Exchange support (email and contacts), remote administration, remote wipe, and so forth. IT managers are beginning to adopt a "bring your own phone" philosophy. A recent Goldman Sachs (NYSE:GS) survey indicated that IT managers planning to issue new BlackBerries fell to 59% in July from 84% in December. As many as 39% of BlackBerry users would switch to a competing platform, according to Barron's.
RIM clearly needs to play catch-up, and that is what it is doing. BlackBerry OS 6, due this summer or fall, is being designed for touch devices and to offer many features consumers have come to expect (like a highly capable web browser), as well as new enterprise-friendly features such as company "sandboxing" on phones (keeping personal and company data separate). RIM even looks to have a killer device to launch it with: the BlackBerry 9800 touch/slider phone. CEO (and founder) Mike Lazaridis has been extremely upbeat and confident that the company's upcoming products will bridge the competitive gap, and then some. In addition to BBOS 6 and the 9800, RIM is also launching a new version of its application store ("App World") to try and spur more development and app purchases, which increases both developer and consumer lock-in to the platform.
Can RIM pull it off? Who knows! What we do know is that RIM has a massive installed user base, an entrenched position in the enterprise, a great brand, and a fabulous balance sheet. Couple this with a market that will provide significant underlying growth. Then sprinkle in the dour valuation - 13.4% MFI earnings yield, 8.8 forward EV/E, 9.4 EV/free cash flow - and you have the makings of a solid investment. Even if RIM does lose some market share, it can still grow given the underlying market. Finally, some of the weaker players are already falling out, including Palm, Microsoft, and increasingly, Nokia. RIM is not a weak player and should be able to grab some of that abandoned share.
Bottom line: RIM is a solid player in a growing market that has upcoming technology that could be a significant catalyst. MagicDiligence believes it makes a good MFI buy at current prices, with a "sell early" target price of $72.
Disclosure: Steve owns no position in any stocks discussed in this article.