With the plunge in tech shares and the NASDAQ Composite index generally in recent days, it's worth looking at the underlying businesses of some momentum stocks. Below we see substantial 1-month declines in the shares of Tesla (NASDAQ:TSLA), Facebook (NASDAQ:FB), Priceline (NASDAQ:PCLN), Amazon (NASDAQ:AMZN) and, leading the descent, Yelp (NYSE:YELP).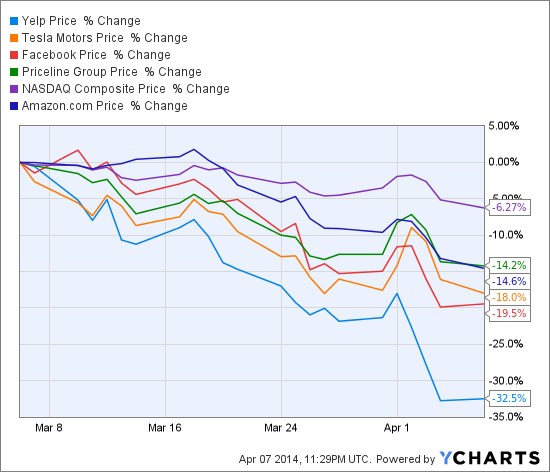 YELP data by YCharts
These and other high-flyers, of course, are particularly vulnerable because they trade at lofty valuations. Yelp, for instance, garners a market cap of some $4.7 billion, even after its plunge, on just $233.0 million in 2013 sales. That's a price-to-sales ratio (we won't bother with a PE ratio since there aren't any earnings) of about 18. And if you own the shares, or are thinking of bargain hunting among social media stocks, some quiet time with the 10-K is in order.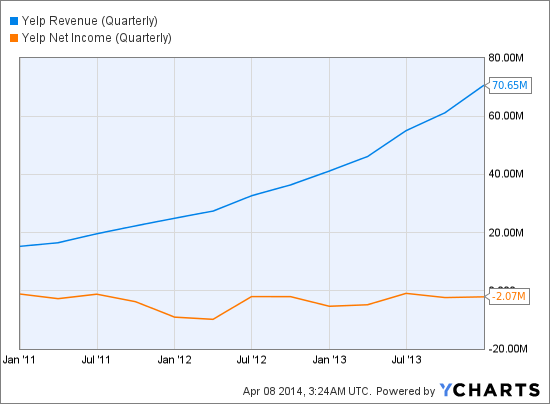 YELP Revenue (Quarterly) data by YCharts
You know Yelp. People post reviews of local businesses - 52.8 million of them by the end of 2013 - and consumers read the reviews as a buying guide of sorts. Crowd sourcing of content is far from perfect: about 30% of the reviews are sufficiently defective as to be excluded from the starred rankings of the businesses. Regardless, the site draws about 120 million unique visitors a month. All around, it's a useful service.
Is there a business, too? There is, but it isn't an easy one, as merchant participation isn't as strong as that of consumers. (Some businesses hate Yelp.) Of 54.5 million businesses listed on Yelp, just 1.5 million have, in the site's vernacular, "claimed" their listing. It is those businesses that care enough to take control of their Yelp page, perhaps adding some information of their own, that constitute the lead list Yelp uses to try to sell ads to on the site. And success there has been difficult to come by, too. Of the 1.5 million businesses that have "claimed" their listing, only 67,000 were active advertisers or otherwise revenue sources for Yelp in the fourth quarter of 2013.
Investors anxious to see Yelp quickly turn into a far bigger business and report substantial profits may be disappointed. "We do not expect to be profitable in the near term," Yelp informs in the 10-K, as big investments to build the business continue. Also, the natural growth rate of Yelp's networks - each metropolitan area it operates in is essentially a separate market; people in Philadelphia, after all, aren't looking to pop out for sushi in Atlanta - turns out to be kind of slow.
Yelp's six earliest markets, set up in 2005-2006, on average each had at year-end 2013: 3.6 million business reviews accumulated; brought in $14.3 million in advertising revenue; and grew revenue-wise by 53% last year. But the 2009-1010 cohort of 18 markets, hardly new, averaged just 240,000 reviews and brought in $801,000 each in advertising. That latter group is growing faster, at 102% last year, but it's also made up of relatively smaller metropolitan areas so ultimate size could be limited.
The markets take years to mature. Reviews gradually pile up. Consumers consult them. And, finally, merchants take an interest and doll up their Yelp pages a bit and, just maybe, buy an ad on the site. Local advertising on the site was about $58 million in the fourth quarter, so those 67,000 active merchants coughed up less than $1,000 each during the quarter.
Having such tiny customers is a challenge. TripAdvisor (NASDAQ:TRIP), which is in many ways similar to Yelp, is blessed by its very large customers. Some 47% of its revenue comes from the combination of Priceline and Expedia (NASDAQ:EXPE), online travel agencies that pay when consumers click from TripAdvisor through to their sites to make purchases. TripAdvisor is bigger, with more than twice as many reviews, or 125 million. And it had profit of $205.4 million in 2013 on revenues of $944.7 million.
TripAdvisor also trades at lofty multiples, and the market has pushed its shares down 23% during the past month. But it is a far more developed business than Yelp and its revenue model - attracting big-spending consumers with its content and then sending them on to a handful of travel sites, which pay it fees - seems easier to execute.
Targeting local merchants, Yelp has plenty of competition. Opentable (NASDAQ:OPEN) is for making reservations at restaurants (a function Yelp added with a recent acquisition) but it also features starred reviews of the eateries. Opentable's software is embedded in restaurants and the company is nicely profitable.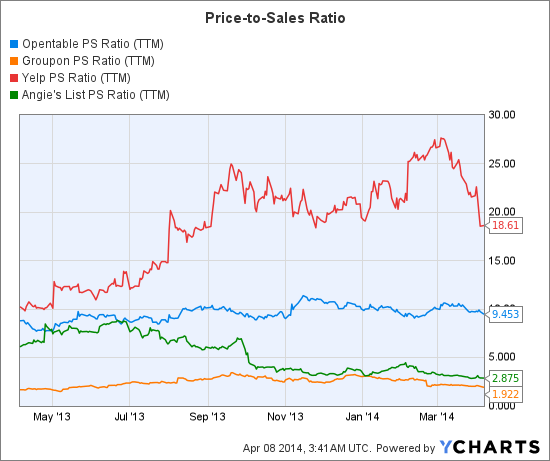 OPEN PS Ratio (TTM) data by YCharts
Groupon (NASDAQ:GRPN), the daily deals company, targets many of the same local merchants as Yelp. Its sales process, too, is challenging because it sells to these businesses. And newly-public GrubHub (NYSE:GRUB) delivers restaurant meals to consumers (another function Yelp has added).
Yelp's review categories are led by shopping and restaurants. But its top advertising category is home and local services, putting in it direct competition with Angie's List (NASDAQ:ANGI). Among risk factors, Yelp mentions this:
Our business may be harmed if users view our platform as primarily limited to reviews of restaurants and shopping experiences.
The good news is that Yelp's operating losses have been narrowing. Its sales and marketing expense as a percentage of revenue has declined. It has nearly $400 million in the bank. And the site has a great market position with consumers looking for what the company calls online word-of-mouth.
But those factors are a long way from adding up to a $4.7 billion market cap.
Jeff Bailey, The Editor of YCharts, is a former reporter, editor and columnist at the Wall Street Journal and New York Times.
Disclosure: None