Price momentum is said to be one of the most profitable market anomalies. In fact, it is true with aggregates: sectors, countries, bond categories, etc. and it is the basis of tactical asset allocation. Unfortunately, when used alone on individual stocks, momentum is not a very good edge. When pure momentum strategies bring an additional return, it is often at the price of a higher drawdown and volatility. Strategy ETFs based only on price momentum have a lower Sharpe ratio than the benchmark (article here). In other words, you can get a better return by leveraging the S&P 500 (NYSEARCA:SPY) to the same risk.
AlphaDEX ETFs presentation
Price momentum may be more profitable in combination with other technical and fundamental factors. The AlphaDEX ETF Series by First Trust applies this idea with an ETF by sector. The series was launched on 5/8/2007. Here is the list:
| | | |
| --- | --- | --- |
| Name | Ticker | Yield |
| First Trust Consumer Discretionary AlphaDEX Fund | | 1.08% |
| First Trust Consumer Staples AlphaDEX Fund | | 1.63% |
| First Trust Energy AlphaDEX Fund | | 1.53% |
| First Trust Financials AlphaDEX Fund | | 2.51% |
| First Trust Health Care AlphaDEX Fund | | N/A |
| First Trust Industrials/Producer Durables AlphaDEX Fund | | 1.29% |
| First Trust Materials AlphaDEX Fund | | 1.72% |
| First Trust Technology AlphaDEX Fund | | 0.90% |
| First Trust Utilities AlphaDEX Fund | | 3.97% |
Annual expenses of all these funds are 0.70%. They are based on rule-based strategies known as the NYSE Euronext StrataQuant indexes. The following index methodology description is an interpretation of information publicly available on the web site nyse.nyx.com. More details can be found on the web sites of NYSE EURONEXT and AMEX.
Strategy
Every quarter, all stocks in the Russell 1000 universe are given a growth score and a value score based on three price momentums and four quantitative fundamental ratios. For a stock classified by Russell only as growth or only as value, the selection score is the score of its style. Else, it is the best of both scores. In each sector, the bottom 25% is eliminated and the rest is ranked regarding the selection score and split in five subsets. The top subset has a capital allocation of 33.3%, the second has an allocation of 26.7%, the third has 20%, the fourth has 13.3%, the last has 6.7%. Within a subset, stocks are in equal weight.
This strategy is applied for each sector. In summary, each AlphaDEX ETF holds 75% of Russell 1000 stocks in its sector of reference and is rebalanced quarterly.
Benchmark
Various benchmarks may be used: a general large cap index (the most appropriate being the Russell 1000), or sector indices. Two main choices are possible as sector benchmarks: the S&P Select Sector Indices (limited to S&P 500 companies) and the Dow Jones Sector Indices (which can hold smaller companies). As the StrataQuant methodology is in the large cap segment, the first one looks more appropriate. To take into account the real alternative for an investor, I will use the corresponding ETFs: the Select Sector SPDR Fund series.
Evaluation
My aim is to evaluate sector by sector the AlphaDEX ETFs by comparing their returns, volatilities, and risk-adjusted performance with their benchmarks since their inception.
In this first article, I will compare the Consumer Discretionary AlphaDEX Fund with the iShares Russell 1000 ETF (NYSEARCA:IWB) and the Consumer Discretionary Select Sector SPDR® Fund (NYSEARCA:XLY).
Here is the chart since 5/10/2007 (courtesy of Yahoo Finance):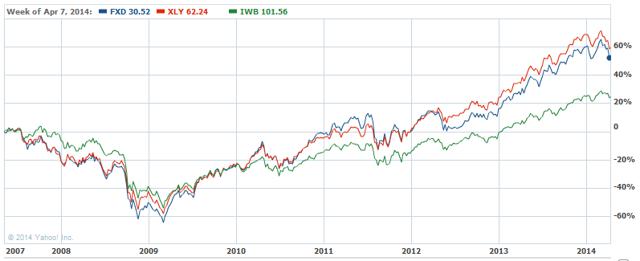 The Consumer Discretionary sector has outperformed the global index since 2007, however the static approach of XLY was slightly better than the dynamic strategy-based ETF.
The following table gives detailed results on the period.
| | | | | | |
| --- | --- | --- | --- | --- | --- |
| | Total Return | Maximum Drawdown | Sharpe ratio | Volatility | Correlation/ IWB |
| FXD | 6.6% | -65.3% | 0.12 | 31.2% | 0.73 |
| XLY | 8.65% | -59.1% | 0.20 | 28.7% | 0.9 |
| IWB | 5.3% | -55.7% | 0.10 | 23.4% | 1 |
Dividends are reinvested. Statistics are calculated using OHLC price data. It means that the maximum drawdown is an intraday value.
The static ETF XLY has a better return, a lower volatility and a smaller drawdown than FXD. This is not a definitive conclusion for all AlphaDEX ETFs. Taking into account technical and fundamental factors is a good idea, but keeping the same factors for all sectors is not: as you will see in the next articles of the series, it can lead to good results or not, depending on the sector. It sounds quite logical: some fundamental ratios may be interpreted in different ways in different sectors.
Disclosure: I have no positions in any stocks mentioned, and no plans to initiate any positions within the next 72 hours. I wrote this article myself, and it expresses my own opinions. I am not receiving compensation for it (other than from Seeking Alpha). I have no business relationship with any company whose stock is mentioned in this article.