The Market Vectors Retail (NYSEARCA:RTH) is an ETF that tracks the performance of 25 of the largest U.S.-listed publicly-traded retail companies, which include Wal-Mart Stores (NYSE:WMT) and Target Corporation (NYSE:TGT). As you can see in the price chart below, the ETF was strong throughout the holidays, but began to drop after dismal same-store sales reports were announced in February.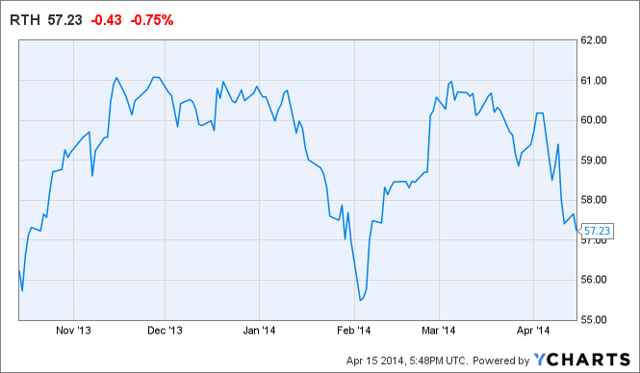 RTH rebounded in March, but then began to decline in April as March same-store sales reports continue to show same-store sales declines. Why? Easter.
Easter is a big holiday for most retailers. In fact, it's the first major holiday in the year after St. Patrick's Day, but St. Patrick's Day is the same day every year, whereas Easter is a roving holiday. The Council of Nicaea (A.D. 325) decided that Easter would be the Sunday following the full moon that falls on or after the spring equinox. As a result, Easter can fall on a Sunday in March or April, which can either pull sales into March or push sales into April.
This year Easter Day will fall on April 20, but it fell on March 31 last year. Let's take a look at how this will affect same-store sales.
The retail calendar
The National Retail Federation publishes a 4-5-4 Merchandising and Retail Sales Reporting Calendar that the industry uses to track holidays and important sales dates. The following is an excerpt from one of those calendars which shows when Easter Sunday occurred in 2013 and when Easter Sunday will occur in 2014 and 2015.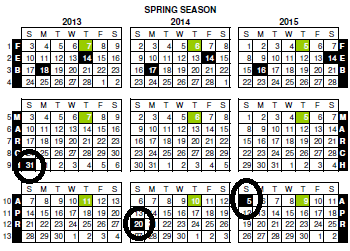 Source: National Retail Federation
In 2012 Easter fell on April 8 and the Wall Street Journal published an article explaining how these Easter sales were pulled into March, rather than pushed into April:
The early Easter produced a powerful showing in March that largely didn't extend into April.
One year earlier, in 2011, the same author wrote an article which had the following title, "April Retail Sales Got Easter Boost," because Easter fell on April 24th in 2011, two weeks later than it did in 2012.
Takeaway: We can look back at 2011 to understand how sales will fall this year.
An article published in 2011 by CNN Money had this to say:
Because Easter was later this year -- April 24 compared to April 4 last year -- many consumers did most of their holiday shopping last month, as opposed to March.
The Financial Times wrote a similar article:
U.S. retail sales grew strongly in April as discount promotions and the Easter holiday persuaded consumers to spend more than expected.
Clearly, Easter has an impact on same-store sales. This year the effect will mirror 2011, pushing March sales into April.
As an example, Target's same-store sales decreased by 5.5% in March 2011. The monthly same-store sales report goes on to say that the "decrease was driven by a similar decline in comparable-store transactions." As expected, however, the April same-store sales report announced an increase in same-store sales:
For the fiscal April period, reported comparable-store sales increased 13.1%. Just over half of this increase was driven by growth in comparable-store transactions, combined with an increase in average transaction size.
Conclusion
While past performance isn't the best way to value a company, it's an excellent way to monitor consumer trends. In 2011, we had a chance to see what affect an Easter sales push has on same-store sales growth and we can expect to see the same push this year. The decline in RTH for April is only temporary and will rebound as soon as same-store sales numbers are announced in May. Expect to see more negative headlines throughout the rest of April, but don't get too distracted by the hype because the story will change in May.
Disclosure: I have no positions in any stocks mentioned, and no plans to initiate any positions within the next 72 hours. I wrote this article myself, and it expresses my own opinions. I am not receiving compensation for it (other than from Seeking Alpha). I have no business relationship with any company whose stock is mentioned in this article.