The banking sector continues to heal, but results are decidedly mixed across the space. Let's take a look at recent developments.
JPMorgan
On Friday, JPMorgan (NYSE:JPM) reported weak first-quarter results. Revenue for the quarter dropped to $23.9 billion, down 8% compared with the prior year, and net income for the first quarter of 2014 fell to $5.3 billion, compared with net income of $6.5 billion in the first quarter of 2013. Earnings per share dropped to $1.28, compared with $1.59 per share in the year-ago period, while the firm's return on tangible common equity fell to 13%, compared with 17% in the prior year. The results weren't pretty, but this didn't stop the board from increasing its quarterly dividend to $0.40 per share from $0.38 previously and authorizing the repurchase of $6.5 billion of common equity commencing within the second quarter of the year.
Though there were bright spots in the quarter, every single one of the company's divisions faced pressure on a year-over-year basis. In 'Consumer & Community Banking,' revenue dropped 10%, while net income fell 25%. In 'Corporate & Investment Bank,' revenue fell 15%, while net income tumbled 24%. In 'Commercial Banking,' revenue nudged 1% lower, which led to a 3% drop in the segment. 'Asset Management' saw revenue expand, but net income in the division fell 9%. Revenue advanced in its 'Corporate/Private Equity' segment, and net income nearly doubled, but the impact was muted given the size of JPMorgan.
JPMorgan's balance sheet is healthy. The company ended the quarter with a Basel III Advanced Fully Phased-In Tier I common ratio of 9.5%. Still, the mortgage and markets environment remains difficult. And while net interest margins appear to be stabilizing, across-the-board weakness is not something that we like at all. We won't be entering a position in JPMorgan anytime soon.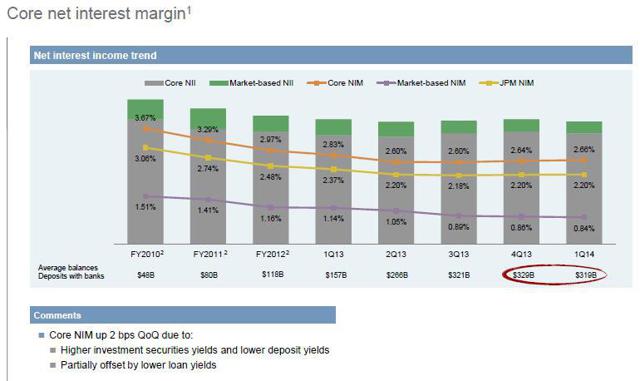 Image Source: JPMorgan
Wells Fargo
If there was one piece of news that could describe the growing difficulty of the mortgage banking environment, it is Wells Fargo's (NYSE:WFC) decision to step back into subprime mortgages. According to Reuters, "the bank is looking for opportunities to stem its revenue decline as overall mortgage lending volume plunges. It believes it has worked through enough of its crisis-era mortgage problems, particularly with U.S. home loan agencies, to be comfortable extending credit to some borrowers with higher credit risks." Needless to say, we're not happy with the company's decision to sacrifice quality for growth, which is precisely what it is doing in this case. It's almost as though Wells has completely forgotten that it had to acquire Wachovia during the Financial Crisis because the firm nearly collapsed as a result of its massive portfolio of subprime loans.
In any case, the decision won't impact results for years. And while JPMorgan faced earnings declines pretty much across the board in its first quarter, Wells Fargo's first-quarter performance was solid. The company announced Friday that net income had improved 14% on a year-over-year basis, despite some revenue pressure. Total average loans of $823.8 billion advanced 3% from last year's quarter, with total average core deposits leaping 5%. The company experienced continued improvements in credit quality, as net charge-offs fell nearly $600 million from the same period a year ago. Non-performing assets fell 18%. Wells Fargo's capital position is stronger than JPMorgan's as well, with its Basel III Advanced Fully Phased-In Tier I common ratio coming in north of 10%. As with JPMorgan, Wells Fargo plans to increase its quarterly dividend and buy back more shares. However, Wells continues to face net-interest margin pressure.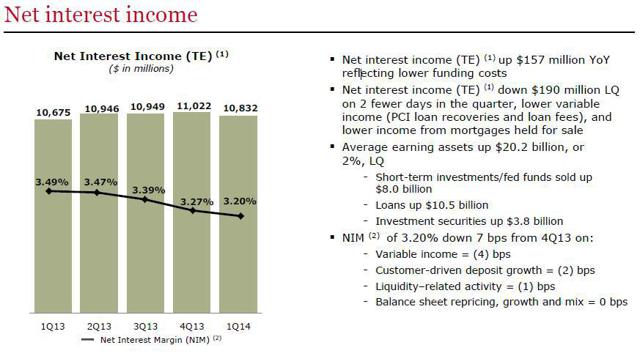 Image Source: Wells Fargo
Citigroup
The Monday after JPMorgan's and Wells Fargo's respective reports, Citigroup (NYSE:C) released better-than-expected first-quarter results. The company effectively held the line on both revenue and net income, but the Street had been expecting a much weaker quarter. The bank's net interest margin expanded to 2.9% (see trends below), and it, too, posted a solid Basel III Tier I Common ratio of 10.4%. The firm's quarter-end capital position was largely baked into expectations given the recent stress test results, however. Management knows that it is not immune to weakness in the mortgage market, but the executive suite noted that its consumer and industrial businesses are performing well. We found this commentary quite encouraging, particularly as it focuses on execution priorities: grow Citicorp while improving operating efficiency; maintain credit discipline; and focus on resolving legacy issues in Citi Holdings. Still, we think there are better ways to gain exposure to the financials sector than Citigroup.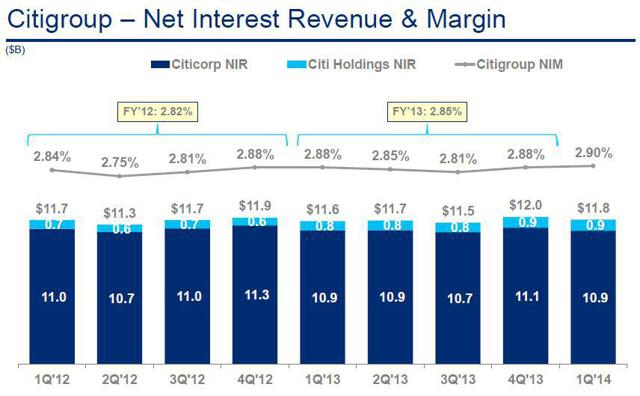 Image Source: Citigroup
Valuentum's Take
We think one of the biggest pieces of news during the first calendar quarter of 2013 is Wells Fargo's announcement that it will be tip-toeing back into subprime lending. JPMorgan's performance left much to be desired, while Citigroup's holding the line was actually quite encouraging. Still, we prefer diversified exposure to the financials sector via two ETFs, the SPDR S&P Bank ETF (NYSEARCA:KBE) and the Financial Select Sector SPDR (NYSEARCA:XLF). We think both offer exposure to the financials sector and the corresponding upside associated with the recovery, without exposing the holder to individual, firm-specific risk of any one bank's far-reaching and sometimes opaque global operations. Please view the holdings in the Best Ideas portfolio.
Disclosure: KBE and XLF are included in the Best Ideas portfolio. I have no positions in any stocks mentioned, and no plans to initiate any positions within the next 72 hours. I wrote this article myself, and it expresses my own opinions. I am not receiving compensation for it (other than from Seeking Alpha). I have no business relationship with any company whose stock is mentioned in this article.