Verizon Communications Inc. (NYSE:VZ) is set to report first-quarter earnings on April 24th. First-quarter results are expected to be solid, with revenues increasing at a 3% pace y/y. For the full year, I'm expecting revenue growth of 4%. The major change in operating results will come from the increased share count and debt burden.
Overall, the company remains well-positioned within the wireless industry. Also, I like the innovations that management made in the wireline business. I would like to see continued growth in TV Everywhere with the accompanying advertising campaigns. Also, FiOS Quantum should have a bright future over the next several years. There is also the increased bandwidth provided to consumers of the company's Internet service. The fundamentals of the business remain excellent.
My problem with Verizon emanates from the valuation. Specifically, the company is fairly valued. But simply stated, this is a company that you accumulate on dips in the share price.
Recent Developments
Cable companies, such as Verizon, are adopting a TV Everywhere model to rival services offered by upstarts, such as Netflix (NASDAQ:NFLX).
The company is addressing the growing need of organizations to connect more than one cloud seamlessly and securely, with the launch of its Secure Cloud Interconnect service.
FiOS Quantum TV is rolling out in a two-tier, premium and enhanced format; Quantum offers substantial innovations around the traditional DVR features at the additional cost of $10-$20 per month.
Texas' wireline telecommunications infrastructure received an investment of more than $348M.
Maryland bested Texas by receiving an investment in wireline telecommunications infrastructure of more than $446M.
The Galaxy S5 became available on April 11, 2014; the release of the new Samsung feature-rich smartphone should boost second-quarter earnings relative to what they otherwise would be.
Analyst's Note
We are now living in the post-Vodafone (NASDAQ:VOD) Verizon world, which resulted in significant changes to the capital structure of Verizon. Those changes to the capital structure could have significant short-term, medium-term, and long-term ramifications for shareholders. VZ could become the clear leader in telecommunications, it could drop back to number two or lower, or VZ could remain neck-and-neck with AT&T (NYSE:T). Investors who are able to identify a change in the industry structure at an early enough point in time could be able to reap significant accretive benefits.
From the industry perspective, the wireless services market in the U.S. is saturated, as Verizon had approximately 103 million retail connections nationwide and the U.S. population is roughly 300 million. Also, the wireline services market in the U.S. is saturated. Consequently, both industries should experience growth limited to population expansion. Incremental revenues from these industries are likely to come from enhanced quality of service and the accompanying price increases. For example, VZ's retail post-paid monthly service revenue per account was up 6.9% from the year earlier in 2013.
It is mostly likely obvious that AT&T and VZ dominate the wireless industry in the U.S. But what may be less obvious is that Sprint (NYSE:S), in a few years, could pose a significant threat. For Sprint to pose a serious threat to VZ, S would most likely have to acquire T-Mobile (NASDAQ:TMUS) and divest some of the assets of the combined companies. That, combined with the relatively deep pockets of SoftBank could help Sprint become more competitive in the U.S. wireless industry.
In wireline, management has done some interesting things with the FiOS services. But the wireline business, in my opinion, lags the major wireline operators, such as AT&T, Comcast (NASDAQ:CMCSA), and Cablevision. Additionally, I think there is significant scope for Google (NASDAQ:GOOG) to increase the scope of its backward integrated operations.
| | | | |
| --- | --- | --- | --- |
| For the quarter ending (in billions of dollars, except per share data): | 2012-03 | 2013-03 | 2014-03E |
| Revenue | 28.24 | 29.42 | 30.30 |
| Gross profit | 16.92 | 18.49 | 18.79 |
| Operating income | 5.20 | 6.22 | 6.36 |
| Net income | 3.91 | 4.86 | 4.85 |
| Diluted shares | 1.37 | 1.69 | 1.18 |
For the first quarter, I think revenue increases 3%, or slightly below my full-year forecasted rate, as seasonality adversely impacts the first quarter's results. Also, I think the profitability margins will be roughly flat relative to the first quarter of 2013, but the margins could expand, as that appears to be the current trend. I think net income will be $4.85 billion, with diluted EPS of $1.18, as the increase in outstanding shares adversely impacts EPS. So, I expect solid results during the first quarter of the year.
| | | | | |
| --- | --- | --- | --- | --- |
| | 2012-12 | 2013-12 | 2014-12E | 2015-12E |
| Asset turnover | 0.51 | 0.44 | 0.42 | 0.40 |
| Financial leverage | 6.79 | 7.06 | 2.85 | 2.75 |
| Debt-to-capital | 0.61 | 0.71 | 0.53 | 0.51 |
So, I think assets continue to grow faster than sales, which results in a declining asset turnover ratio. The financial leverage ratio is forecasted to decline, but the decline is partly attributable to the post-deal accounting and subsequent deleveraging. Also, the debt-to-capital ratio is forecasted to decline for the same reasons as the financial leverage ratio. What is worth watching is the interaction between investment or capital expenditure and debt reduction.
| | | | | |
| --- | --- | --- | --- | --- |
| | 2012-12 | 2013-12 | 2014-12E | 2015-12E |
| Cash provided by operations | 31.49 | 38.82 | 40.12 | 41.52 |
| Capex | 16.18 | 16.60 | 17 | 17.5 |
| FCFF | 17.37 | 24.35 | 25.52 | 26.34 |
| Dividends paid | 5.23 | 5.94 | 6.11 | 6.30 |
I think cash flows continue to grow as the company increases revenue from its wireless business and FiOS continues to gain traction in the market. Capital expenditure is forecasted to be about $17 billion in fiscal 2014 and $17.5 billion in fiscal 2015 as the management continues to invest in increasing the quality of services provided and remaining competitive. Free cash flow to the firm is expected to increase 5 percent in fiscal 2014, with dividends paid crossing the $6 billion mark.
Simply stated, Verizon is forecasted to remain a cash cow. For now, the financial performance and financial position are expected to improve throughout the next two fiscal years. A primary focus looking forward will be the level of cash provided by operations, capital expenditure relative to competitors, and cash provided and used in financing activities.
General Risks
The share price is likely to remain volatile, and investors could lose a portion or all of their investment.
Investors should judge the suitability of an investment in VZ in light of their own unique circumstances.
A decline in the global economic growth rate and/or a decline in the pace of economic growth in the United States could adversely impact the results of operations and the share price.
Competition in product pricing could adversely impact performance.
Incorrect forecasts of customer demand could adversely impact the results of operations.
Higher interest rates may reduce demand for VZ's offerings and negatively impact the results of operations and the share price.
This section does not discuss all risks related to an investment in VZ.
Portfolio & Valuation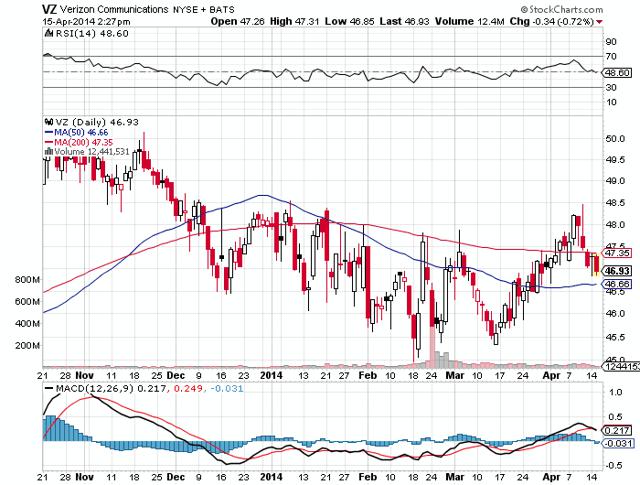 VZ is in a bear market of intermediate and primary degree. On the bright side, the MACD is forming a bullish divergence. I'm unsure about another bull market of primary degree forming, but I don't see scope for a substantial decline of primary degree. Simply stated, the technicals suggest being neutral on VZ.
| | | |
| --- | --- | --- |
| Monthly expected return | Quarterly expected return | Quarterly standard deviation of returns |
| 1.3% | 3.8% | 8.5% |
| | | |
| --- | --- | --- |
| | Intrinsic value estimates | Forward multiplier valuations based on base case |
| Optimistic | $50.19 | P/E: 11.72 |
| Base case | $43.02 | P/S: 1.41 |
| Pessimistic | $37.64 | P/BV: 1.68 |
| | | P/CFO: 4.40 |
Based on the forecasted dividend of the firm, Verizon is fairly valued at about $46 per share. The multiplier model valuations look relatively low, but the firm is carrying a substantial amount of debt, and the growth rate is roughly in line with GDP. Consequently, both models suggest that VZ is fairly valued.
Disclosure: I have no positions in any stocks mentioned, and no plans to initiate any positions within the next 72 hours. I wrote this article myself, and it expresses my own opinions. I am not receiving compensation for it (other than from Seeking Alpha). I have no business relationship with any company whose stock is mentioned in this article.