Back in October (2013), HCP, Inc. (NYSE:HCP) announced that its chairman and CEO, James "Jay" Flaherty III, was terminated after the company's board said that "it had lost confidence in leadership". Flaherty was replaced by an HCP board member, Lauralee Martin.
Martin was previously the CEO of Jones Lang LaSalle Americas (NYSE:JLL), where she had considerable experience in commercial real estate and some knowledge of HCP's operations. During the period of the boardroom "shake-up", I wrote an article on HCP and I voiced my concern with the sudden senior management change. I explained:
As in most corporate shake-ups there will likely be more instability as certain key executives may follow Flaherty or depart due to the new culture.
The tone of my article was even more a directive at HCP's board, who, in my opinion, had put a risk component into the share price, and I was not interested in staying on the roller coaster. So I punched my ejector button and promptly parted ways with my stake in HCP. Here's my explanation:
The higher the uncertainty about the REIT, the larger the information risk premium. I simply don't like "murky" board dialogue…These days it's totally irresponsible not to be socially responsible and offer answers on how much, where, and when. It stands to reason that I'm dumping my shares in HCP.
So shortly after my article was published, I sold my shares in HCP. In hindsight, I made a good choice. Shares in HCP fell from $39.05 to a low of $35.50 (December 12, 2013).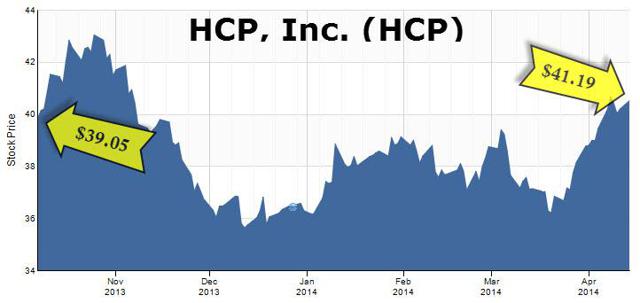 It seems that Mr. Market may have found a bottom for HCP, and now maybe it's time to get back in the game? Since December 12th, HCP shares have moved back up by 13.7% (with a market close of $41.23). I'm glad I got out when I did - instead of losing 7 months of earning power, I made over 15% on other REIT gains. However, it may time for me to reconnect with HCP and start rebuilding trust.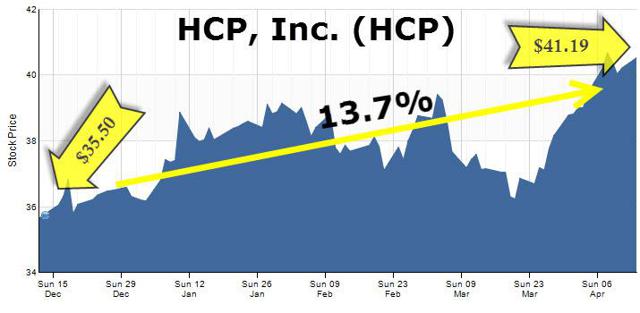 Let's Start From Scratch
I have always liked HCP, and I remain attracted to the company's sound fundamentals. In fact, my mostly highly-viewed Seeking Alpha article called Sleep Well At Night With This Dividend Aristocrat You Can Buy Right Now generated over 55,000 page views.
As you know, to qualify as a Dividend Aristocrat, a company must have a history of paying and increasing annual dividends for at least 20 years in a row. There aren't too many REITs with that track record, especially HCP that boasts a record of 29 years of consecutive dividends paid - the only REIT in the S&P 500 Dividend Aristocrat index.

From an earnings perspective, HCP has one the most reliable and predictable patterns of cash flow in REIT-dom and beyond. There are only 11% of the S&P 500 companies (in the Dividend Aristocrat index), including such names as 3M (NYSE:MMM), Coca-Cola (NYSE:KO), Exxon Mobile (NYSE:XOM), Johnson & Johnson (NYSE:JNJ), Proctor & Gamble (NYSE:PG), and Wal-Mart (NYSE:WMT).
More recently, HCP has shown incredible endurance, as the company managed to increase its FAD per share by 7.2% from 2010 through 2014. Also, the dividend payout ratio has decreased from 98% to 87% during the same time frame.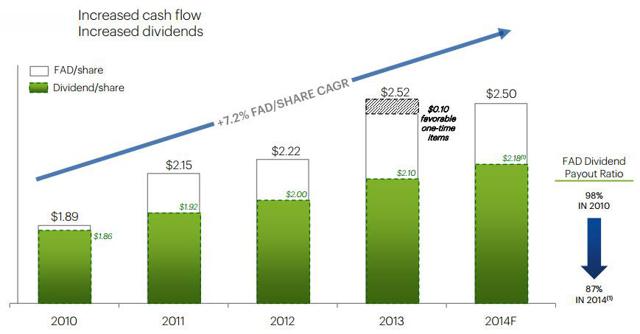 The drivers for HCP's model of repeatability include a strong cash same-store NOI growth platform that has delivered steady and reliable growth in all of the company's operating segments.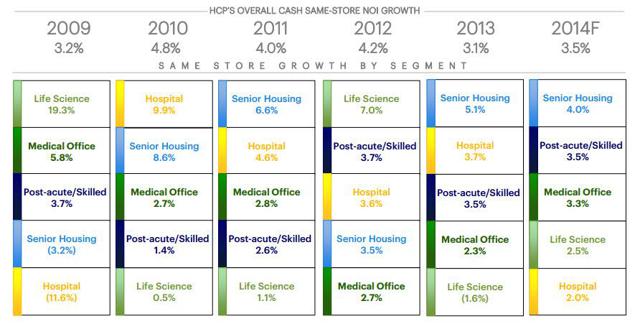 In addition, HCP has prudently managed its capital resources by sourcing and closing on the most accretive investments - only allocating capital to projects that promised to deliver out-sized returns.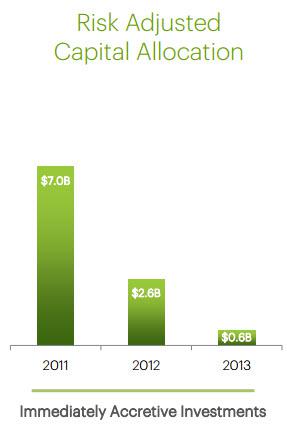 HCP is one of three diversified Heathcare REITs, and the company invests in 5 segments through 5 investment products. With assets under management of around $22 billion, HCP has evolved into a diverse, well-balanced portfolio of 1,153 properties. The portfolio generates around $1.7 billion of annual net operating and interest income.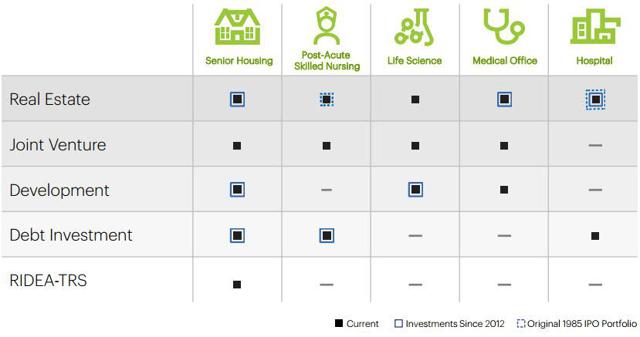 In 2013, HCP generated cash same-store growth of 3.1%, and also increased Funds from Operations (or FFO) as adjusted by 8% year-over-year to $3.01 per share and FAD by 14% to $2.52 per share, both above the midpoint of our last guidance. As a measure of reliability, HCP has consistently executed on its business plan of delivering strong results.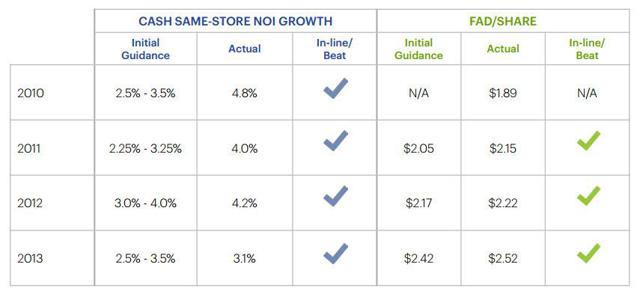 In 2013, HCP completed $598 million of accretive investments, sold $111 million of real estate, and reduced non-stabilized assets by $137 million. The company has demonstrated a track record for prudently allocating and managing capital that has led to an improved investment-grade balance sheet in key credit metrics.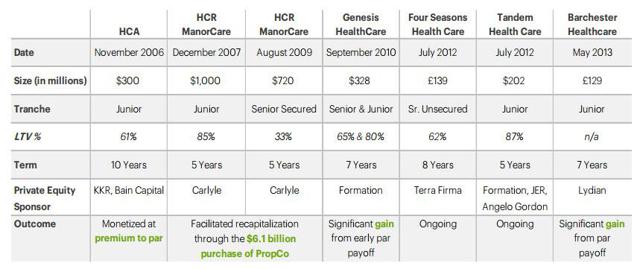 For the quarter, HCP's FFO as adjusted was $0.76 per share and FAD of $0.61 per share, representing growth rates of 5.6% and 7% compared to the fourth quarter last year. HCP's cash dividend of $2.10 per share resulted in an FFO as adjusted payout ratio of 70% and an FAD payout ratio of 83%.
At year-end, HCP had $1.8 billion of immediate liquidity from $300 million of unrestricted cash, including proceeds from the fourth-quarter bond offering and asset sales, and full availability under its undrawn $1.5 billion revolver.
What About the New CEO?
Upon review of HCP's operating metrics, I remain a fan. I have never had an issue with the players on the team. My concern has always been the new coach.
Lauralee Martin, HCP's CEO, has been on the playing field since October - that's just over 6 months. It appears that during that time, there hasn't been any hostility or disruption within the senior management ranks. The players seem to be aligned, and each of the 5 business units appear to be working smoothly.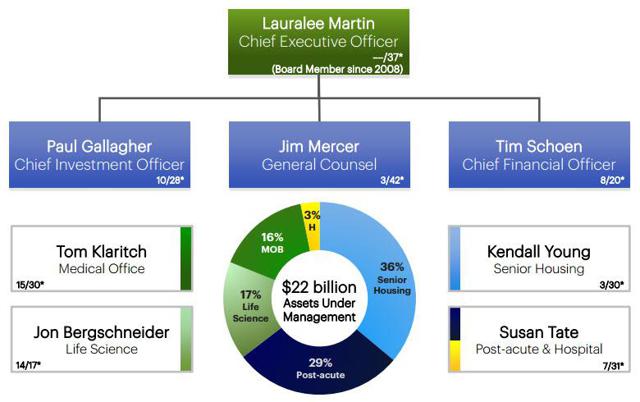 From my perspective, Martin has stabilized the leadership team, and Mr. Market seems to warming back up to the new coaching job. As I mentioned above, HCP is now trading at about the same level prior to the termination of Flaherty. The shares are trading at $41.23, with a Price-to-Funds from Operations (P/FFO) multiple of 13.7x. Compared with the peer group, that's cheap:

Especially when you consider HCP's P/FFO with the Big 3 Diversified Healthcare REITs: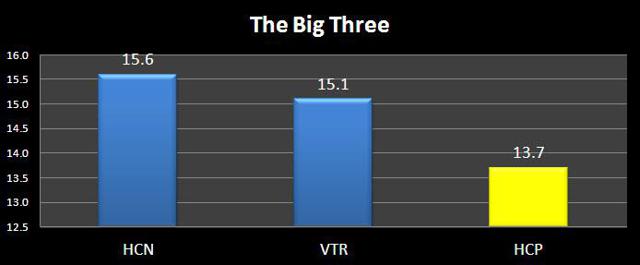 Now compare HCP's P/FFO with 10 other REITs that paid and increased dividends during the Great Recession:

What's wrong with the next chart? Doesn't it seem odd that HCP is trading at one of the lowest valuations on the above list when you also consider the fact that HCP has the second-best track record of paying dividends of any REIT in the world?

HCP's current dividend yield is 5.29%. That seems average, right?

Not when you compare the yield with other REITs that have paid and increased dividends for 11+ years in a row. Keep in mind, the only REIT that rivals HCP (in terms of high yield and dividend record) is W.P. Carey. I wrote an article on Carey yesterday, suggesting the BUY opportunity).

When selecting sound securities, one needs some kind of buffer to protect against market fluctuations - a margin of safety. As Ben Graham defined it, the margin of safety constitutes a "favorable difference between price on the one hand and indicated or appraised value on the other." Accordingly, it's essential to select securities with a significant margin of safety, as that remains the value investor's definitive precautionary gauge.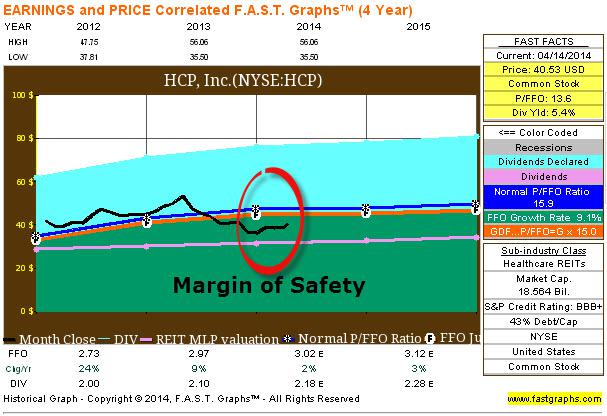 Last year, we saw HCP's price rising, and as we often recognize, greed leads investors to speculate, to make substantial, high-risk bets based upon optimistic predictions, and to focus on return, while ignoring risk. When the CEO of a company is fired, I cannot ignore the potential risks, and that's why I backed off the pedal. After all, value investors have a primary goal to preserve capital.
However, I'm ready to get back in the game, because I believe in these words:
An investment operation is one which, upon thorough analysis, promises safety of principal and satisfactory return. Operations not meeting these requirements are speculative.
HCP Inc. is one of the REITs included in my 3-D portfolio - also a recently added feature in my monthly newsletter, The Intelligent REIT Investor. For more information, click HERE.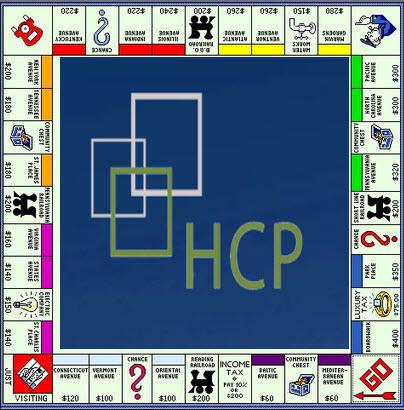 Source: SNL Financial, FAST Graphs, and HCP Investor Presentation.
REITs mentioned: (NYSE:SKT), (NYSE:FRT), (NYSE:ESS), (NYSE:NNN), (NYSE:UBA), (NYSE:NHI), (NYSE:O), (NYSE:OHI), (NYSE:UHT), (NASDAQ:SBRA), (NYSE:HR), (NYSE:LTC), (NYSE:HCN), (NYSE:AVIV), (NYSE:MPW), (NYSE:DOC), and (NASDAQ:HCT).
Disclaimer: This article is intended to provide information to interested parties. As I have no knowledge of individual investor circumstances, goals, and/or portfolio concentration or diversification, readers are expected to complete their own due diligence before purchasing any stocks mentioned or recommended.
Disclosure: I am long O, DLR, VTR, HTA, STAG, UMH, CSG, GPT, ARCP, ROIC, MPW, HCN, OHI, LXP, KIM, WPC. I wrote this article myself, and it expresses my own opinions. I am not receiving compensation for it (other than from Seeking Alpha). I have no business relationship with any company whose stock is mentioned in this article.