The Darden Restaurants (NYSE:DRI) soap opera continues. One would be hard pressed to find a company management stumbling more with activist shareholders than this one.
Let's Review
The saga begins with Barrington Capital calling on Darden to revamp its current structure, and offering a strategic alternative by splitting its slower-growing mature brands, Olive Garden and Red Lobster, from its faster-growing brands, such as Bahama Breeze, Eddie Vee, Capital Grille and others. Barrington would spin off much of Darden's real estate into a separately traded real estate investment trust (REIT).
Starboard Value later enters the fray, disclosing a large stake in the company, and largely presents a similar strategic plan to Barrington. Both suggest significant cost reductions need to occur.
Darden's management ultimately agrees to explore the spin-off or sale of Red Lobster, leaving the rest of the company intact. In doing so, Darden will reduce the growth in new units, commit payouts to shareholders, and better align compensation.
In March, the management team released their plan to enhance shareholder value. Much of their plan relies on operational measures and changes to management compensation structure. Numerous content was aimed at shooting down the activists' REIT structure.
One aspect that did resonate was the benefits of aligning Darden's brands along with its core consumers. DRI management, looking at the slide below, asserts Red Lobster should be aligned differently due to the income profile and guest count versus its other brands.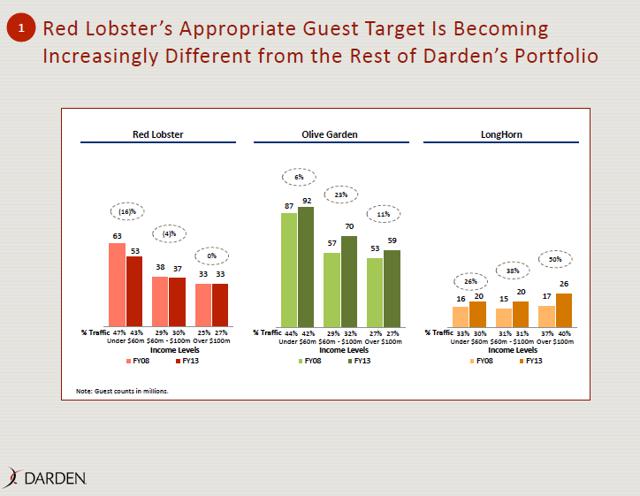 | | | | |
| --- | --- | --- | --- |
| Market Share by Restaurant | Red Lobster | Olive Garden | LongHorn |
| Under 60k | 43% | 42% | 30% |
| 60-100k | 30% | 32% | 31% |
| 100K+ | 27% | 27% | 40% |
| | | | |
| | | | |
Looking more closely, we disagree. Red Lobster and Olive Garden's guest shares are almost identical by income group. LongHorn, which is by no means as upscale as other DRI brands, has a nearly 13% swing from below $60k to above $100k.
Shortly after the March 3 presentation, DRI canceled its investor day meeting with analysts and shareholders, and instead adopted a one-on-one approach.
The activists are advocating for a shareholder vote on the Red Lobster plan, and up to this point, DRI management is refusing.
Today, the Wall Street Journal reported a pension fund has sued to block changes to the DRI corporate bylaws that presumably make it easier for management to execute their Red Lobster plan.
ISS and Glass Lewis both came out in favor of allowing a shareholder vote on the spin-off plan.
Darden Management
The Red Lobster spin-off came across as reactionary and insufficient - a management ploy to appease shareholders pressing for more complete changes.
By taking reactionary and evasive actions, the DRI management has only strengthened the activists' clout with shareholders. The analyst meeting, in particular, was an extraordinary opportunity for DRI management to make their case and rebut the activist shareholders. Instead, canceling the discussion and coming out in opposition to a shareholder vote give the impression management doesn't believe their strategy or execution thereof matters to shareholders.
What's Ahead
It's clear considerable debate is ahead deciding what is in the best interest of Darden shareholders. We expect the DRI management will have considerable difficulty avoiding some shareholder vote on the strategic plan. While management relays many challenges in the more aggressive aspects of the activists' plan, we see little value in a Red Lobster-only spin-off. It's clear Darden is operating in two very different consumer profiles, with Red Lobster and Olive Garden catering to a more modest-income consumer -- the remaining brands to a more upscale consumer. Little strategic rationale has been offered as to why a split would not occur along these lines.
The uncertainly is undoubtedly negatively impacting DRI's stock price, and we expect the shares will trade higher once the strategic spin-off direction is resolved.
Disclosure: I am long DRI. I wrote this article myself, and it expresses my own opinions. I am not receiving compensation for it (other than from Seeking Alpha). I have no business relationship with any company whose stock is mentioned in this article.