Here is one more good development for 3D Systems (NYSE:DDD) long-term investors, Staples (NASDAQ:SPLS) has chosen 3D Systems as its partner for its consumer-oriented 3-D printing venture. This positive news probably helped DDD post a +2.27% performance yesterday.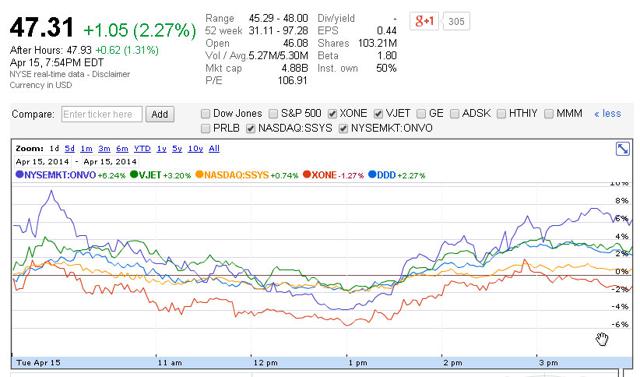 Staples, Inc. is using 3D Systems' products for its two pilot 3-D printing services in New York and Los Angeles stores. Staples is aiming to make 3-D printing for consumers and small business owners as easy as availing photocopying services from its Staples' Copy & Print Center. Staples' official logo is "That was Easy".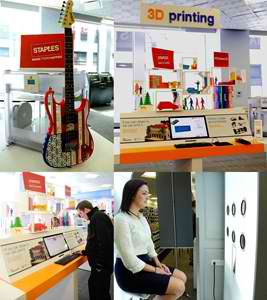 Making 3-D Printing Accessible To Ordinary People
Office supplies customers will get the chance to learn and try out 3-D printing from Staples. Thousands of people will soon have the chance to produce personalized 3-D-printed items without having to buy a $1,000 AM printer. Trained employees from Staples and 3D Systems will educate customers on how to use user-friendly software to create custom 3-D designs for output.
Like I explained before in my previous article, 3-D printing is a misnomer. Majority of ordinary consumers are still not able to grasp the importance of this disruptive technology. Staples is aiming to provide immersive or educational experience in 3-D printing in its two pilot stores.
This is more user-friendly and convenient than 3D Systems' own Cubify.com cloud-based service. The trained employees of Staples and the immersive hands-on experience will quickly make additive manufacturing and 3D Systems' products more popular among the masses.
The slow acceptance rate of retail 3-D printing is due to lack of knowledge and prohibitive costs of buying 3-D printers. DDD will greatly benefit if Staples expands this consumer-oriented 3-D printing service to more stores. People will be able to learn, design, and print their own additive manufacturing creation right inside Staples Copy & Print Centers.
Small business owners or creative professionals can also bring their complex designs (or needs special materials) to Staples, and employees there will send it for printing to 3D Systems. The finished products will then be shipped via UPS or DHL directly to the address of the customer.
Chris DeMeo, Staples' Director of Business Development, promises fair pricing for his company's services. Depending on materials used and the complexity of design, customers can quickly turn their 3-D designs into reality. DeMeo quoted a $30 price for a custom cellphone case and $70 for custom figurine.
3-DMe Photobooth Has Mainstream Appeal
Staples's 3-D printing services includes the 3-DMe Photobooth. Customers can go inside the 3-DMe Photobooth, and 3-D System's facial scanning software will capture individual faces so people can personalize action figurines and other collectibles.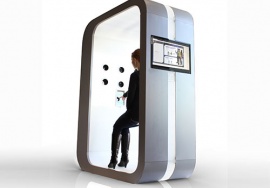 Source: 3D Systems
3D Systems bought Gentle Giant Studios last January. Gentle Giant has acquired licensing rights for many popular characters, including those from Marvel Studios, Disney (NYSE:DIS), Star Wars, Avatar, Harry Potter, and The Walking Dead. It makes sense, therefore, that a mother who wants to gift a Wolverine figurine to her son will gladly pay $70 to print out an X-Men superhero toy model that looks like her son, instead of the generic variety.
Conclusion
The consumer products division is the weakest link of 3D Systems. Staples is helping to make this division a little more relevant to the bottom line of DDD. 3D Systems' enterprise products unit, especially its metal printing division, is quite strong. Staples' retail-oriented approach to additive manufacturing is a boon to DDD.
3D Systems has a high short float percentage, 27.7%, and is therefore subject to being played by sell-side specialists. It is my unwavering mission to never quit writing good propaganda for 3D Systems. I can delay DDD's downward spiral through Seeking Alpha and make the $26 bears work really, really, really, really hard.
The YTD performance of DDD is -49.09%, but Finviz puts the target price at $84.59. The Forward P/E is 39.13 and Q/Q sales is +52.40%.
Seeking Alpha investors should do their own due diligence before gambling on DDD. The shorts are many and persistent. DDD might have more room to fall before the Q1 earnings report.

Illuminati or the real informed investor should refuse to believe the black propaganda against 3D Systems. Even if the shorts send me PayPal donations, I still won't sell my DDD shares. I will not short nor write short-motivated articles on DDD.
Pacquiao won convincingly last Sunday. Oui! I made money on Pacquiao! Paper loss is unrealized loss. DDD, with Staples and Canon's (NYSE:CAJ) help, has a good chance to recover.
Disclosure: I am long DDD. I wrote this article myself, and it expresses my own opinions. I am not receiving compensation for it (other than from Seeking Alpha). I have no business relationship with any company whose stock is mentioned in this article.