I am really pleased by our first quarter performance, marking our best Q1 revenue ex-TAC since 2010. Buoyed by our 9th consecutive quarter of year-over-year growth in Search revenue ex-TAC and our first quarter of Q1 year-over-year growth in display revenue ex-TAC since 2011, Q1 was an early and important sign of growth in our core business.

- Marissa Mayer
If you flipped on CNBC in the afternoon and sometime before Marcus Lemonis started trying to teach dolts how to run their failing businesses, you saw that the story yesterday after hours was the better-than-expected earnings reports of both Intel (NASDAQ:INTC) and Yahoo (NASDAQ:YHOO).
Yahoo is a U.S.-based Internet company that's based in Sunnyvale, CA. The company, headed by CEO Marissa Mayer, was founded in 1994 and employs over 12,000 individuals.
Inclusive of yesterday's (4/15/14) action, Yahoo had been up 43.8% in the last twelve months alone, but has failed to start 2014 off on the right foot, falling 15.4% since the beginning of the new year.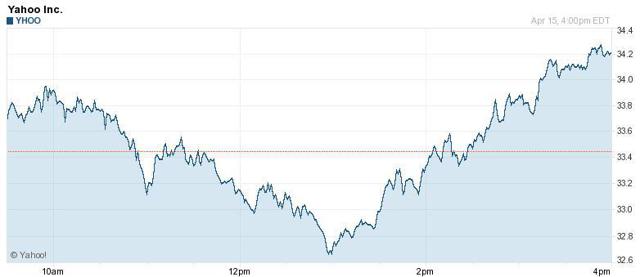 Intraday yesterday, the stock dipped at one point before investors piled back in before earnings. Judging by this morning's pre-market trading (YHOO +9.3%), they did well to get on the right side of that trade.
Yahoo reported after the bell yesterday, Tuesday, April 15th.
The company basically came in-line with what analysts were expecting when they reported earnings of $0.38 share on $1.08 billion in revenue. Analysts were expecting $0.37/share on $1.08 billion in revenues, compared to year ago EPS of $0.38 and $1.07 billion in revenues.
All in all, it was a pretty weak quarter, in terms of growth, for Yahoo.
But, one of the major focuses of the report - China's Alibaba Group (ABABA) - saw revenues gain 66% and a 110% net income increase for its fourth quarter. Yahoo owns a 24% stake in the Alibaba group. So, if Alibaba has a good quarter, so does Yahoo.
Seeking Alpha provided us with a recap of Yahoo's earnings this morning:
Yahoo discloses in its earnings slides (.pdf) Alibaba had Q4 revenue of $3.06B (+66% Y/Y), and net income of $1.35B (+110%). Revenue growth accelerated from Q3's 51% clip.
Yahoo Japan's sales fell 14% Y/Y in Q4 to $1.03B (worse than Q3's 4% drop), and its net income fell 11% to $304M.
Yahoo itself is guiding for Q2 revenue of $1.12B-$1.16B, above a $1.08B consensus. Op. income is expected to fall to $130M-$170M from a year-ago level of $224M, and adjusted EBITDA to $290M-$330M from $386M.
Yahoo's long-struggling display ad ops staged a turnaround in Q1: Sales (ex-TAC) rose 2% Y/Y to $409M after falling 6% in Q4 and 7% in Q3. Search revenue (ex-TAC) rose 9% to $444M after growing 8% in Q4. All other revenue fell 11% to $234M.
Display ads sold +7% vs. +3% in Q4, price per ad -5% vs. -7%. Search paid clicks +6%, down sharply from Q4's +17%. But price per click rose 8% after dropping in each quarter of 2013. Did Henrique de Castro's firing contribute to the display/search improvement?
$450M was spent on buybacks, up from $231M in Q4 and boosting EPS. While revenue rose 0.9% Y/Y, opex rose 15.5% to $1.1B.
With over $4 billion in the bank and Alibaba producing nicely, Yahoo has definitely bought itself some continued time to keep making its turnaround with Mayer at the helm.
Yesterday, I suggested a long straddle into earnings before the close:
A potential trade for earnings could be a long straddle, which expires this Friday. Yahoo traditionally has made volatile moves after it reports earnings, and I'm not expecting this report to be any different. A long straddle covers both your upside and your downside movement.


A $33.50 long straddle will cost you $2.33, making your post-earnings break-evens at $35.88 or $31.12, implied volatility of just under 10% for the stock.
I'm happy to report that I did place this trade yesterday, as I indicated that I might. If you placed it with me, you'd see this morning's pre-market action is already above $37, and this trade will profit handsomely when CBOE trading begins this morning at 9:30.
For every contract you purchased, you're set to net roughly $130 when the market opens this morning. I'll be selling off my call end of this straddle immediately this morning, even though, as a product of this trade, we have 3 full days of trading left. If the futures look green this morning, you may want to hold. If you're long-term bullish on Yahoo, you may even want to exercise and hold the shares.
As for Yahoo, 2014 looks like the year that Mayer's team could finally start to show the growth that Yahoo investors have been looking for. Yahoo continues to buy back stock with its massive cash pile, while continuing to revamp its business. For the long term, I'm neutral on Yahoo.
Best of luck to all investors.
Disclosure: I am long YHOO. I own Yahoo calls and puts. I wrote this article myself, and it expresses my own opinions. I am not receiving compensation for it (other than from Seeking Alpha). I have no business relationship with any company whose stock is mentioned in this article.