Citigroup (NYSE:C) earnings earlier this week provided a look at how the bank is doing in terms of its key metrics. The report was a terrific one in the face of terrible sentiment, which has propelled the stock several percentage points higher in the first two trading sessions of this week. In this piece, we'll take a look at Citi's Return On Average Common Equity, or ROACE, over the past 10 years in order to assess where the bank has come from and what we could expect going forward in terms of shareholder returns.
To do this, I pulled the bank's ROACE from its SEC filings and charted them below.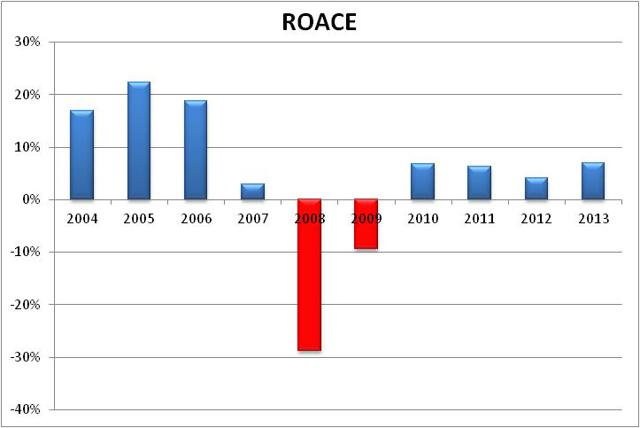 Click to enlarge
As you can see, prior to the crisis, Citi was posting ROACE in the high teens to low 20s pretty consistently. This was due to terrific returns on the equity it possessed, but via leveraging up with debt. Citi had hundreds of billions of dollars in debt in the years leading up to the crisis, as excess and imprudent credit extension boosted returns in the short term at the expense of the long term. We see the results of this profligate binge beginning in 2007, but more so in the following two years. After plummeting to just 2.9% in 2007, ROACE was negative 28.8% in 2008 and -9.4% in 2009. These are downright horrendous numbers, and it was due to the factors that made Citi's ROACE so high in the previous few years. Citi had taken on too much debt, and while it was fun while Citi was "still dancing," the results were eventually catastrophic.
So what does this mean for shareholders? It means that we can reasonably estimate the bank's "normal" earnings based on ROACE, and project what that means for EPS. I think the days of 20% ROACE are over, as Citi has made it a mission to reduce leverage, thereby reducing ROACE. However, Citi is nowhere near its potential earnings at last year's ROACE of 7%. I think we'll see Citi produce around 12% ROACE on a normalized basis on a lower earnings drag from Citi Holdings, which reported a much smaller loss on Monday, and a widening of interest rate spreads that will benefit all banks.
If I'm right, Citi's common equity, which was $197.6 billion at the end of 2013, would produce $23.7 billion in earnings. I believe Citi is on pace to hit this number in the next two years, so if we assume 12% ROACE in 2016, Citi's common equity, which grows steadily around 5% each year, would be about $218 billion by 2016, and 12% ROACE would be $26.1 billion in earnings. The current share count of 3.036 billion would produce a robust $8.61 in earnings for 2016, or a PE on 2016 earnings of only 5.6. With a PE that low and 2016 just over a year and a half away, Citi is very cheap. And as stocks are forward-looking mechanisms, we could reasonably expect Citi to trade at a multiple of at least nine times that number by the end of 2015, or about $77.
I could be right or wrong regarding my projection for ROACE and the implications for EPS, but with numbers like what I've just presented, I don't really need to be that close for Citi to be a buy right now. Even if I miss horribly, Citi is still cheap as of right now, as investors are pricing in little-to-no ROACE growth. I just don't see that scenario as possible given all the tailwinds that Citi and the banking sector as a whole are experiencing right now. I'm long Citi, because it is a great turnaround story, and part of that is a return to a normalized ROACE, helping to produce prodigious earnings over the medium term, an eventuality that is being ignored by investors right now.
Disclosure: I am long C. I wrote this article myself, and it expresses my own opinions. I am not receiving compensation for it (other than from Seeking Alpha). I have no business relationship with any company whose stock is mentioned in this article.