The SEC-enforced quiet period on underwriter research on CBS Outdoor Americas Inc (CBSO) will come to an end on May 6, 40 days after the firm's March 27 IPO.
The conclusion of the quiet period will allow the IPO underwriters to publish research on the lessor of billboards and other out-of-home advertising space, likely leading to at least a brief rise in the price of CBSO shares.
CBSO's IPO priced at $28 per share, at the high end of the expected range. Prices held steady in the neighborhood of $30 per share until the week of April 7, then saw moderate losses; CBSO closed at $29.02 per share on April 15.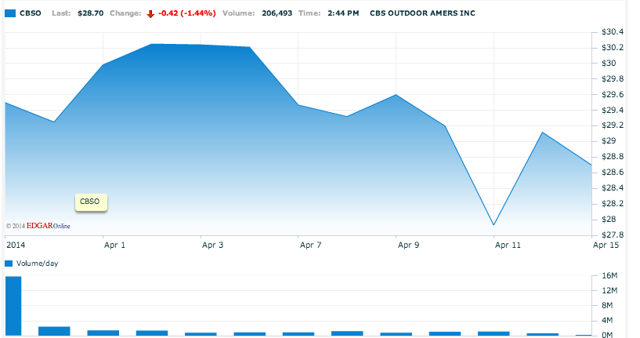 (Nasdaq.com)
The firm's extensive list of underwriters, including Goldman Sachs & Co, BofA Merrill Lynch, JP Morgan Securities LLC, Morgan Stanley & Co LLC, TD Securities (NYSE:USA) LLC, Barrington Research Associates Inc, Citigroup Global Markets Inc, Credit Suisse Securities LLC, BNP Paribas Securities Corp, Deutsche Bank Securities Inc, Evercore Group LLC, Guggenheim Securities LLC, Wells Fargo Securities LLC, Lebenthal & Co LLC, Loop Capital Markets LLC, Mizuho Securities USA Inc, Drexel Hamilton LLC, BNY Mellon Capital Markets LLC, Nomura Securities International Inc, RBC Capital Markets LLC, RBS Securities Inc, SMBC Nikko Securities America Inc, The Williams Capital Group LP, Samuel A Ramirez & Company Inc, and UBS Investment Bank, will attempt to energize the stock with an infusion of positive research reports into the market at the conclusion of the quiet period.
Quiet Period Expiration Trends
Data from our research over the course of the past three years, along with the results of recent academic studies, have generated empirical evidence of a correlation between the number and visibility of IPO underwriters and an increase in the price of shares at the end of the quiet period. For CBSO, this means the company's extraordinarily potent lineup of underwriters should play strongly in its favor as the expiration of the quiet period approaches.
Share prices typically begin to rise several days in advance of the quiet period expiration as investors begin to buy up shares in anticipation of positive publications from the underwriters. These early buys create the perception of rising demand, causing a boost to share prices before the underwriters actually release any information.
CBSO Goes Digital
CBSO is one of the largest lessors of out-of-home advertising space in North America. Most of the firm's ad space is in the form of billboard displays in metropolitan areas and along highways, including displays in high-value areas like the Bay Bridge in San Francisco, Times Square in New York City, and Sunset Boulevard in Los Angeles. CBSO also operates displays on metropolitan transit systems.
The firm had approximately 330,000 displays in the United States and 26,200 displays in Canada and Latin America as of December 31, 2013. CBSO is currently in the process of converting many of its billboards to digital displays, which allow for a greater quantity of advertisements and more engaging graphic options.
CBSO competes for customers and display locations with other operators of display spaces. National competitors include JCDecaux SA, Clear Channel Outdoor Holdings Inc (NYSE:CCO), and Lamar Advertising Company (NASDAQ:LAMR).
See our previous article on CBS Outdoors' IPO here.
Management Highlights
Jeremy J. Male has been the CEO of CBSCO since September 2013. He previously worked as CEO, UK, Northern Europe and Australia with JCDecaux SA and as CEO, Europe with TDI Worldwide Inc.
QP Expiration A Strong Buying Opportunity For Aggressive Investors
Between CBSO's powerful name recognition and its powerful roster of IPO underwriters, there's a strong chance of the quiet period expiration paying off handsomely for shareholders.
We believe that CBSO is a strong buy in an environment of increasingly difficulties for television and internet advertisers, whose ads have become easy for consumers to avoid and ignore-billboards can't be fast-forwarded, after all.
Disclosure: I am long CBSO. I wrote this article myself, and it expresses my own opinions. I am not receiving compensation for it (other than from Seeking Alpha). I have no business relationship with any company whose stock is mentioned in this article.