Netflix (NASDAQ:NFLX) is probably the most popular streaming media provider on Earth right now. Born out of its "we'll send you DVDs in the mail" business, Netflix has effectively and efficiently been the early adopter to the streaming media field.
Due to its aggressive valuation as a result of being an early adopter, Netflix is often a volatile stock - especially around earnings time.
The company's stock has been absolutely decimated since the beginning of March, shedding about $120/share in value since its highs. Regardless, the stock has been up 87.9% in the last year.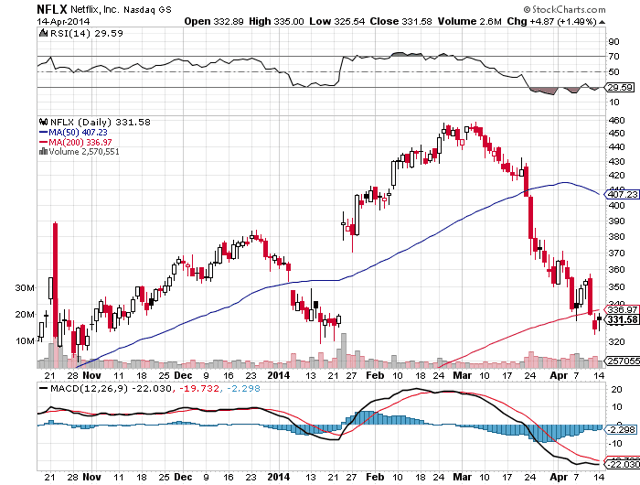 Click to enlarge
Netflix ended 2013 with 44 million subscribers and seems to be the dominant force in the streaming content industry. BMO is predicting that the company is going to add 2.6 million streaming subscribers in the U.S. and 1.9 million internationally in this past quarter. Analyst expectations are for 57 million subscribers by the end of this year.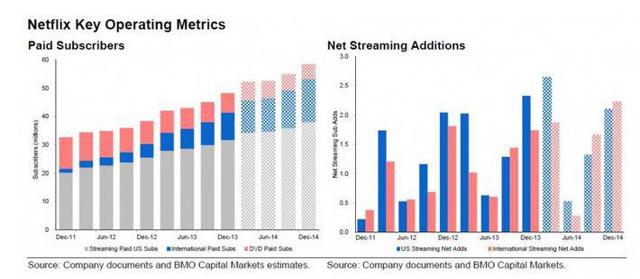 Click to enlarge
Netflix is set to report on Monday of next week, and the numbers they reveal are likely to set another earnings binary event into action for the streaming content provider.
In terms of fundamentals, here's what both the bears and bulls are currently thinking - and could potentially be looking for in the coming report.
Bullish
NFLX's recent foray into 4K shows that it's still on the front line of innovation, where it has to be for it to support its multiple.
Bulls argue that because it's becoming the standard for streaming TV, it could be a potential buyout by a traditional cable company.
There is plenty of market share for Netflix to gain, with over 3 billion households worldwide and Netflix only having 44 million subscribers.
NFLX was recently upgraded by Hudson Square, with a price target of $409.
Bulls will continue to look for aggressive subscriber growth.
The question of whether or not Netflix will increase their price again continues to loom.
Recent EU net neutrality vote was a small ray of hope for Netflix.
Bearish
NFLX has pulled back nearly 25% on its fundamentals being roped in.
Netflix is currently trading, still, at over 100x forward earnings, making it a target of bears who rely on fundamental analysis.
Many bears predict an "aggressive" price target of $150-$200 for Netflix, even if it continues to grow.
Growing bandwidth concerns associated with Net Neutrality continue to plague NFLX.
Wall St. Cheat Sheet provided us with their estimates for Netflix come Monday:
Our estimates are for revenue of $1.273 billion versus consensus of $1.266 billion (no guidance), and earnings per share of 82 cents, in line with consensus, and guidance of 78 cents. We modeled domestic streaming subscriber net adds of 2.25 million, in line with guidance, but our bias is that our estimate may be too low based upon a high sign-up rate for season two of House of Cards, which debuted on February 14, and low Q1 advertising spending.

Q2 domestic streaming subscriber net adds guidance will likely be at or below last year's 0.63 million versus our estimate of 0.5 million. Although management will likely attribute the decline primarily to seasonality, with less compelling exclusive content contributing to a slowdown, as Arrested Development debuted last May. We expect Q2 EPS guidance at or above consensus of $1, assuming that European expansion occurs in the second half of the year.
Regardless, Netflix earnings are likely to be a binary event.
A binary event is simple. It's an upcoming event that is going to have two possible outcomes: one potentially to the extreme upside and one potentially to the extreme downside.
Examples of Binary Events
A heavily-watched and sought-after earnings report
Biotech stock waiting on FDA approval of a drug
Company awaiting a necessary financing to continue operations
Awaiting the results of serious litigation
Binary events carry massive upside potential, but also massive risk. You need to know when these are going to occur for positions you hold so you can plan accordingly. You don't want to be on the long end of bad news or the short end of good news without ever having a clue that it was coming down the pipe.
Netflix has a reputation of moving quickly and on major volume post-earnings. Take last quarter, for instance, where the stock rocketed after earnings and those on a long straddle trade were handsomely rewarded.
This quarter, I'm going to be looking at the same style of trade for Netflix's earnings.

Click to enlarge
Implied volatility this quarter is a bit higher, however. A $330 long straddle is going to costs us $41.75 - roughly a 15% move in one direction or the other. Normally, this might give me a little pause, but with NFLX's recent plunge, I still contend that there's more volatility on the way for the stock. Additionally, this straddle gives us all of next week to play out as well, in case the stock trends in a direction over the course of a couple of days post-earnings.
This trade is going to put our breakevens at $371.75 or $288.25. Any move in excess of these numbers is going to be profit. For the long-term, my outlook on Netflix remains positive, but I hold no other position aside from reserving the right to open this straddle before earnings.
Best of luck to all investors.
Disclosure: I have no positions in any stocks mentioned, and no plans to initiate any positions within the next 72 hours. I wrote this article myself, and it expresses my own opinions. I am not receiving compensation for it (other than from Seeking Alpha). I have no business relationship with any company whose stock is mentioned in this article.