Lyxumia (lixisenatide) for the treatment of type 2 diabetes is once-daily GLP-1 from Sanofi's (NYSE:SNY) stable. It is a potential head to head competitor to Novo Nordisk's (NYSE:NVO) Victoza ($2.1b - 2013 annual sales). Currently consensus estimate peak sales of $450m for this drug, but I believe this is a worst case scenario for Lyxumia.
The consensus sales estimates are lousy for two reasons:
1) Lyxumia has already launched in Europe, but the launch in the US is delayed and is now expected around 2016.
2)Lyxumia HbA1C reduction is not as robust as Victoza.
But I would say Lyxumia though may be delayed in terms of timeline, but it can still turn the table around for two reasons
1) Lyxumia has a differentiated profile as it offers 'a much more robust post prandial glucose reduction than other GLP-1's like Victoza. Because of a superior post prandial glucose reduction it offers better synergies when combined with basal insulin and this means a large potential market opportunity.
2) Lyxumia may be a late entrant but it would be first among all GLP-1's to report CV outcome data (ELIXA study), which if positive will help garner a significant share of the GLP-1 market.
In case the ELIXA study reports positive data next year, we can see the conensus estimate upgraded from $450m to anywhere up to $3billion.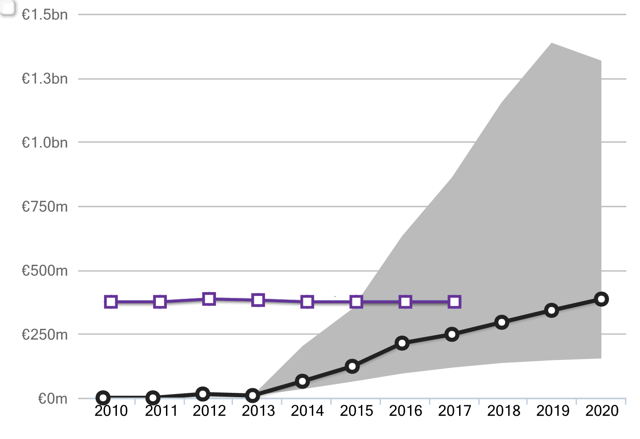 Source - Consensus.druganalyst.com
Background on Lyxumia
Lyxumia is already approved in Europe, but in the US SNY will be refiling the NDA along with data from the ELIXA cardiovascular outcome study. Sanofi withdrew its NDA application in the US last year. The NDA in the US was not withdrawn for any deficiencies or safety issues but it was post discussion with the USFDA. As per the discussion it came out that the proposed review process by USFDA could have compromised the integrity of the ongoing CV outcome study. Data from ELIXA study are expected early 2015 and SNY will refile its NDA in the US after that.
Why ELIXA could show positive CV Benefit
ELIXA study would be the first ever CV outcome study on a GLP-1 to report data. Lyxumia should report positive CV outcome data for several reasons which include
1) GLP-1's are the only anti-diabetic agents which have a favorable impact on blood pressure
2) GLP-1's reduce weight
3) GLP-1's have a positive impact on free-fatty acid metabolism
4) Lyxumia is the only GLP-1 to have a significant impact in reduction of post prandial Glucose which is an independent risk factor of CV event.
CV outcome studies on other GLP-1's and timeline on when we can see CV outcome data
LEADER - CV outcome study on Victoza will report data by YE 2015
EXSCEL - CV outcome study on Bydureon will report data in 2018
SUSTAIN 6 - CV outcome study on Semaglutide will report data in 2016
Potential Impact of Positive Outcome from ELIXA Study
A positive outcome from ELIXA would pave the way for a very robust launch for Lyxumia. It would not only give Lyxumia an edge over all other GLP-1's on the market, but also lead to an expansion of GLP-1 pie in the overall anti-diabetes market. The GLP-1 market which has just about 2 percent patient share in the diabetes market now should be able to almost double its share. In value terms the market is worth about $3 billion now.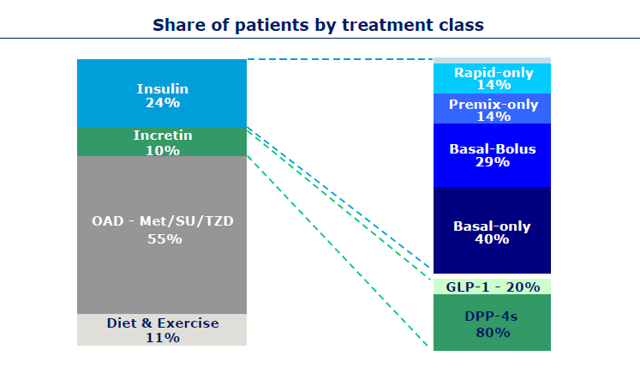 Source - AstraZeneca, Company Presentation
A positive CV outcome will instill confidence among physicians about the long term benefits of using GLP-1 and encourage more widespread use in patients currently dependent on insulin. Since GLP-1's are injectable it is unlikely that they will compete with the oral anti-diabetes agents.
The incremental market share for GLP-1's would come from
Replacement of meal time insulin (about 45 percent of basal insulin market) as an add on treatment to basal insulin.
Market expansion with a good proportion of patients who are being treated with a basal insulin alone today but not adequately controlled would be given a GLP-1.
Lyxumia would be the primary beneficiary of the growth in GLP-1 class
I expect that a Lyxumia will be the primary beneficiary of the expected growth in GLP-1 market. GLP-1 will become the first choice of therapy for patients who are inadequately controlled on basal insulin. Among GLP-1's Lyxumia would be most preferred because
1) Optimal Management of Post prandial glucose is currently a major unmet need among patients treated with basal insulin. About 50 percent of the patients treated with basal insulin do not have HbA1C under control ( < 7) despite a well managed fasting plasma glucose - (Source Zealand, Company presentation)
2) Post prandial glucose control is as important as fasting plasma glucose control because
Elevated levels of Post prandial glucose represent an independent risk factor for CV risk
Randomized controlled trials have demonstrated CV benefit of anti-diabetes agents which are primarily targeted to reduce post prandial glucose levels (STOP-NIDDM trial)
Reduction in post prandial glucose is associated with an improved coronary blood flow and possible reversal of myocardial perfusion abnormalities.
3) Among all available GLP-1's Lyxumia best mimics the action of meal time insulin as it delivers the highest reduction in post prandial glucose. Victoza and other GLP-1's on the market are primarily long acting and hence they do not help the post prandial glucose control as much as they reduce fasting plasma glucose. Hence when Lyxumia is combined with basal insulin, it will take care of the post prandial glucose reduction, while basal insulin will help in the management of fasting plasma glucose
4) Sanofi currently holds about 75 percent of the basal insulin market and hence is better poised to push its own drug candidate to physicians
How big is the market Opportunity?
As discussed GLP-1 will derive sales from two segments of the diabetes market.
1) Those inadequately controlled on Basal Insulin alone because of inadequate control of post prandial glucose
With about 3.2 million patients being treated with a basal insulin alone today, the target market for Lyxumia is about 1.6 million patients (~ 50% patients on basal insulin have A1C > 7 - treatment goal). Assuming a 15 percent market share for Lyxumia in this patient segment the sales for Lyxumia should be anywhere around $1.5billion in 2020 (assuming 10% annual growth and $4000 as annual cost of therapy - at par with Victoza)
2) Replacement of meal time insulin
About 45 percent of basal insulin use currently is in combination with meal time insulin (Figure 3). If GLP-1's are able to take 30 percent share of this pie, the incremental opportunity for GLP-1's would be around $3billion by 2020. Assuming a 50 percent share for Lyxumia in this segment by 2020, it would translate into $1.4b in incremental sales.
Conclusion
Currently consensus peak sales estimates of $450m for Lyxumia seem too conservative and I see a good chance that these will be revised once ELIXA outcome is out. I am looking at an annual peak sales of $2.9b in case of a successful outcome of ELIXA. While if ELIXA outcome is neutral (no CV benefit) there is no downside from here as consensus estimates already build in such a scenario.
Disclosure: I have no positions in any stocks mentioned, and no plans to initiate any positions within the next 72 hours. I wrote this article myself, and it expresses my own opinions. I am not receiving compensation for it (other than from Seeking Alpha). I have no business relationship with any company whose stock is mentioned in this article.