I was hoping and praying that Ford (NYSE:F) didn't make its move until I had more money to put into the company. Yesterday, as soon as the bell opened, I bought some more Ford calls (as well as some GM calls).
Despite a less than exciting start to 2014, Ford stock has still been up over 20% in the last twelve months and is now offering the added safety of a dividend. The last three months, however, have been rather pedestrian. Ford has shed about 5% in that time, despite seemingly showing good fundamental business progress.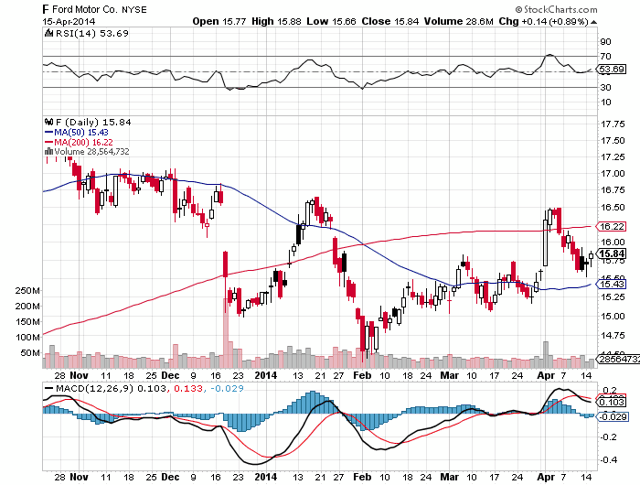 The story of Ford is one where I simply can't believe the stock has been trading at the levels that it has been over the past couple of months. The headlines for Ford have been nothing but positive - growing market share in Europe, analyst upgrades, blowout sales in China, recovering U.S. sales after the winter. The only thing I can think of that could be keeping people out of Ford's stock is the insane winter that we had, worries about incentivized selling, and residual damage from GM's current recall debacle.
Other than that, and with their recently instituted dividends, it doesn't make sense to me that more people aren't piling into Ford. So, I'm continuing to be a buyer.
I felt great being a buyer yesterday, as it was just reported yet again that the company was bolstering its market share in Europe:
Ford sales in Europe rose 12% in March as its smaller models and compact SUVs showed brisk demand.
The automaker reports a tally of 147.1K sales in the Euro-20 region and increased its market share by 20 bps Y/Y to 8.9%.
On the 11th of April, Ford was upgraded by Deutsche Bank:
Deutsche Bank upgrades Ford to a Buy rating from Hold.
The investment firm also raises its price target on Ford to $19 from $18.50.
The take on Ford from Deutsche is that truck pricing will hold up and that the automaker is set up to grow profits in China. Ford could be a second-half story, especially if the new F-150 roll-out goes well.
Additionally, this all comes on the heels of recent reports of Ford's performance in China, where it continues to grow hyper-aggressively. Its recent sales report marked an increase of 28% from last year's sales, posting its sales in China as 275K units YTD.
Domestically, the automaker also saw rises in March. Truck sales were up 4.1% and utilities sales were up 3.6%.
Interestingly enough, Ford has done well with its new aluminum initiative to prop up Alcoa's (NYSE:AA) stock, while its own hasn't responded in the fashion that you'd expect just yet.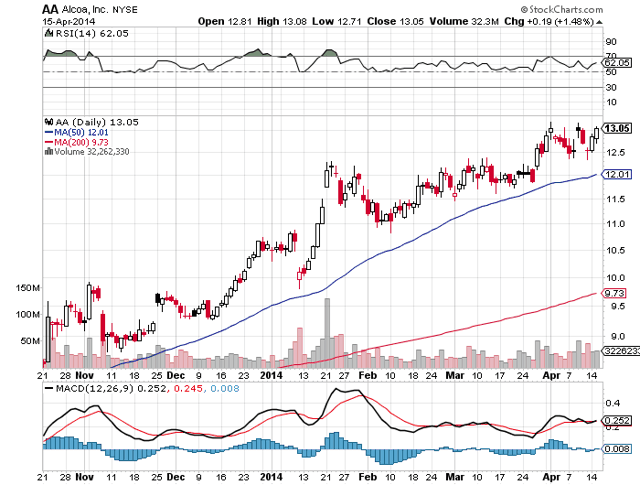 The price of Ford's stock, in my opinion, continues to look attractive for those that are looking to get into Ford.
With a forward P/E of just around 12, Ford's continued aggressive growth domestically and overseas shows that this company is undervalued at its current multiple. Thus, I had no issues pulling the trigger yesterday and plan to do so again, should the stock once again dip in the face of the company's fundamental progress that it continues to show.
Best of luck to all investors.
Disclosure: I am long F. I wrote this article myself, and it expresses my own opinions. I am not receiving compensation for it (other than from Seeking Alpha). I have no business relationship with any company whose stock is mentioned in this article.