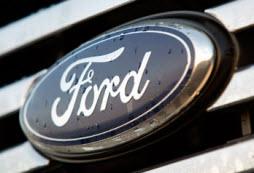 Ford's (NYSE:F) stock recently popped based on an outsized March sales beat. Of course it was unjustified due to the fact it was merely snapback sales from the January and February months delayed due to weather. Since that time the stock has retraced all of that gain and bounced.
I have received numerous requests from readers as to whether this is a buy signal in the stock. I believe it was a buy signal. The company is fundamentally undervalued and making all the right moves for future growth. In the following sections I will lay out the facts that underpin my $21 price target which provides approximately 33% upside potential from current levels.
Ford Europe's Success Was A Key Factor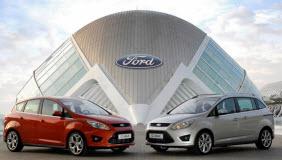 Ford's European sales got off to a quick start in 2014 with year-over-year sales increases for the tenth straight month and the fourth consecutive quarter.
Ford sales in Europe rose 12% in March as the company's smaller models and compact SUVs showed brisk demand. Ford reported a tally of 147.1K sales in the Euro-20 region and increased its market share by 20 basis points year-over-year to 8.9%.
Ford outstripped the total market in March and the first quarter with 12 and 11 percent sales volume increases, respectively. While industry sales volume grew by only 10 percent for the month and 8 percent for the quarter. Roelant de Waard, vice president, Marketing, Sales and Service, Ford of Europe stated,
"Our first quarter sales results show that our plan to invest in product and launch more new vehicles - 10 alone in 2014 - is beginning to have a very positive impact with customers. Just as important as absolute sales growth, we are growing our business with retail customers and desirable fleet customers."
This positive report out of Europe prompted an abrupt turnaround in the stock, which was a one piece of the puzzle I was looking to have fall in place prior to starting a position.

Ford's stock soared on a March sales report beat. The stock has now rapidly retracted the entire gain as the unwitting buyers sell out and move on. The news of a March sales beat sounded great on the surface, yet was no reason for the stock to rise so precipitously. Anyone who did their due diligence faded the rally knowing it was simply weather-induced delayed sales from February.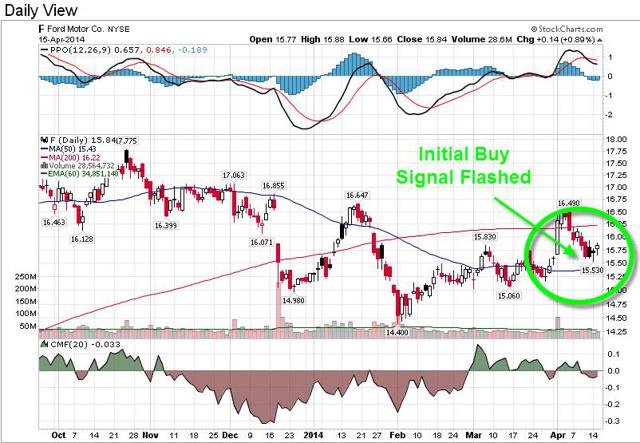 Click to enlarge
(Chart provided by Stockcharts.com)
This was the first prerequisite for me to start a position. I had suspicions the stock would retrace the entire gain in short order, as it did. I needed to see this happen first prior to getting interested.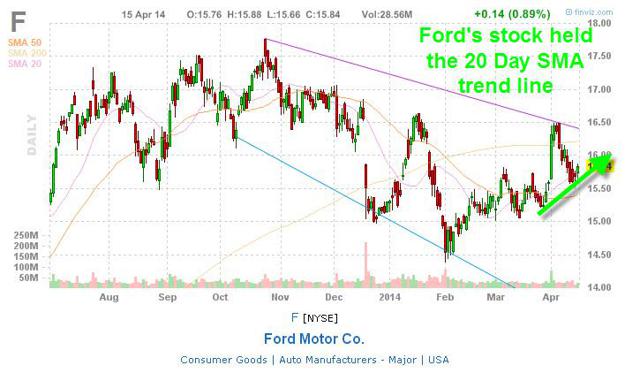 Click to enlarge
(Chart provided by Finviz.com)
Secondly, the stock showed the first sign of a finding a bottom. The stock bounced off support at the 20 Day SMA and popping higher on Tuesday. This is good news for the stock.
Ford Is Fundamentally Undervalued
Ford's forward P/E ratio of 8.9 is among the lowest of any stock in the Auto & Truck Manufacturers industry and signals that investors have not been willing to pay a premium for this company's business prospects.

(Table provided by Scottrade.com)
As you can see by the above table, Ford trades for a forward P/E of 8.9 while the industry average is 11.8. This implies Ford has 33% upside simply to trade on par with the company's peers. Furthermore, Ford is currently trading for approximately half the stocks historical average as well. Based on the current facts available, I posit Ford should be trading for a premium to peers by 2015, and $21 seems entirely possible at a P/E ratio of 11.8 based on future projected growth rates.
The Future Looks Bright
Ford has a record number of new products scheduled to launch this year. The launch is the primer for increased revenues and wider margins in 2015. Moreover, Ford is increasing capacity in China to meet increasing demand as well. Ford China recently reported record monthly sales of 103,815 vehicles, a 28 percent increase over March 2013. This is huge news as the company crossed the 100,000 monthly sales mark for the first time ever.
Downside Risks
There are multiple downside risks for Ford going forward. Reports that China's growth is fading could be a major factor. Sales of the new models will need to be successful. The US and European economic recoveries must stay on track.
Conclusion
I am bullish on Ford for the long term. Ford is investing in its future. With the good news out of Europe and China in recent days, I believe the stock has found a bottom. Currently, the stock is trading at a 33% discount to the industry average. Nevertheless, I would still layer in to any position as the market seems extremely fickle right now.
Disclosure: I have no positions in any stocks mentioned, but may initiate a long position in F over the next 72 hours. I wrote this article myself, and it expresses my own opinions. I am not receiving compensation for it (other than from Seeking Alpha). I have no business relationship with any company whose stock is mentioned in this article.