NetEase (NASDAQ:NTES) shares have been rising since the company's flagship game FWWJ reached all-time high Peak Concurrent Users (PCU) of 2.6 million on July 4. Based on my checks and analysis, I believe investors should not be overly excited about this record-breaking event. Here are the reasons:
Record PCU do not always lead to significant growth in game revenues. Let's take a look at the previous five PCU records reached by NetEase's flagship games FWWJ and WWJ2. In 2Q08, FWWJ's PCU rose 25% Q/Q to 2.08 million, and its revenue grew 8% Q/Q. In 3Q08, FWWJ's PCU rose 12% Q/Q to 2.32 million, and its revenue grew 8% Q/Q. In 4Q08, WWJ2's PCU rose 99% Q/Q to 897K, but its revenue only grew 16% Q/Q. In 3Q09, FWWJ's PCU rose 50% Q/Q to over 2.56 million, but its revenue was flat Q/Q. In 4Q09, WWJ2's PCU grew 102% Q/Q to 1.1 million, but its revenue only grew 0.6% Q/Q. These historical data indicate that it's getting increasingly difficult for these PCU records to drive significant revenue growth. Especially for FWWJ in 3Q09 and WWJ2 in 4Q09, their surging PCU were actually in stark contrast to flat revenues.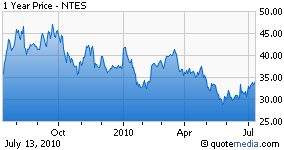 Here is my explanation for this phenomenon: These PCU records are typically generated by NetEase generously offering free virtual items to players that logged in to the game during a specified short time interval. The free virtual items given away during these record-breaking events normally would cost players a lot of time and money to obtain. Therefore, by generously awarding these items to players during these special events, NetEase has sacrificed long-term revenues.
"Wrath of the Lich King" is the real driver behind NetEase stock. Based on my checks, currently there is widespread speculation among institutional investors that NetEase's hit game World of Warcraft may receive regulatory approval for its "Wrath of the Lich King" expansion pack before the influential ChinaJoy gaming conference, which is scheduled for July 29-August 1. NetEase shares have been on the rise recently because more and more investors are building positions in the stock in anticipation of good news as we gradually approach the dates of ChinaJoy conference.

Such behavior by investors is understandable: given the recent volatility in the overall market and particularly in Chinese online game stocks, many investors are avoiding the buy-and-hold strategy and instead trying to accurately time their entry and exit of NetEase's stock based on the "Wrath of the Lich King" approval. For example, NetEase shares surged 9.8% on June 21 on high trading volume due to a rumor that "Wrath of the Lich King" will be launched on June 29.
Disclosure: No positions