Franklin Square is set to ring the opening bell this morning at the NYSE for the listing of its flagship fund, FS Investment Corp. (NYSE:FSIC). Since January 2009, FSIC has been operating as BDC, and now has a $4.1 billion portfolio of mostly safer senior secured debt. I will most likely be adding this BDC to my "Total Return" portfolios, as well as some of the others, depending on pricing after the IPO. BDC investors that are concerned with exposure to the Russell indices accounting for 8% of most BDC ownership should take advantage of this offering, since FSIC is currently not part of the Russell 1000/2000.
The upcoming offering is a tender offer to purchase $250 million in shares from existing shareholders. Franklin Square Holdings is considering purchasing up to $100 million in shares in open-market transactions, and certain management members of FSIC and Franklin Square Holdings are considering purchasing up to $25 million in shares. In addition, GSO Capital Partners, the credit platform of The Blackstone Group and the parent of the investment sub-advisor and some of its affiliates, are considering purchasing up to $50 million in shares.
Normally, I would suggest that investors approach IPO investing with much more caution, but FSIC has been reporting similar to a public company since inception and longer than some of the other BDCs that I follow. However, the company does not have a history of meeting quarterly measurements and giving guidance for results in a truly public arena, and I have taken this into account in my risk rankings and pricing. One of the key advantages that FSIC has over its competitors is the exclusive relationship with its sub-advisor, GSO/Blackstone. This partnership brings "scale, expertise, reputation and synergy" to this BDC.
Its direct lending channel leverages its sub-advisor GSO/Blackstone's global sourcing and origination platform to directly originate investment opportunities for above-market risk-adjusted returns. GSO/Blackstone identifies, analyzes and originates private debt investments and, where appropriate for FSIC, recommends them for inclusion in FSIC's portfolio. FB Income Advisor reviews these recommendations and ultimately decides on which investments to make.
"Blackstone is one of the world's largest alternative asset managers. Since 1985, it has served some of the most sophisticated investors across the globe, including many of America's state and corporate pension funds, financial institutions, endowments, sovereign wealth funds and high net worth individuals. Blackstone's credit business, GSO Capital Partners, including GSO/Blackstone and other affiliates of GSO, ranks among the largest credit-oriented alternative asset managers. Its assets under management at the end of 2010 exceeded $30 billion. GSO seeks to achieve strong returns with low volatility using a variety of credit investment strategies."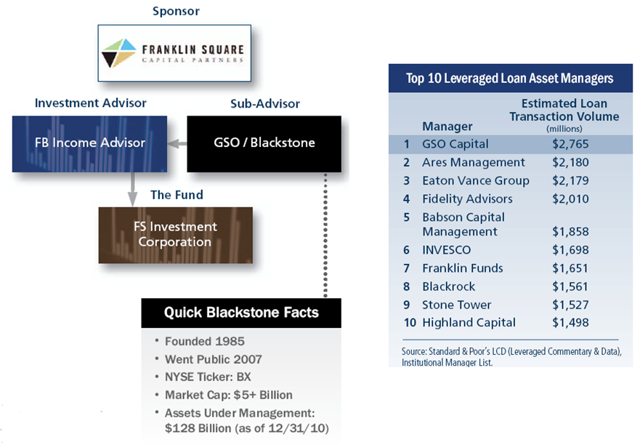 Risk
FSIC has a safer-than-average risk profile due to its lower portfolio yield, higher amounts of senior secured investments (see table below), no loans on non-accrual, selective portfolio growth and direct origination efforts, and its strategic relationship with GSO/Blackstone.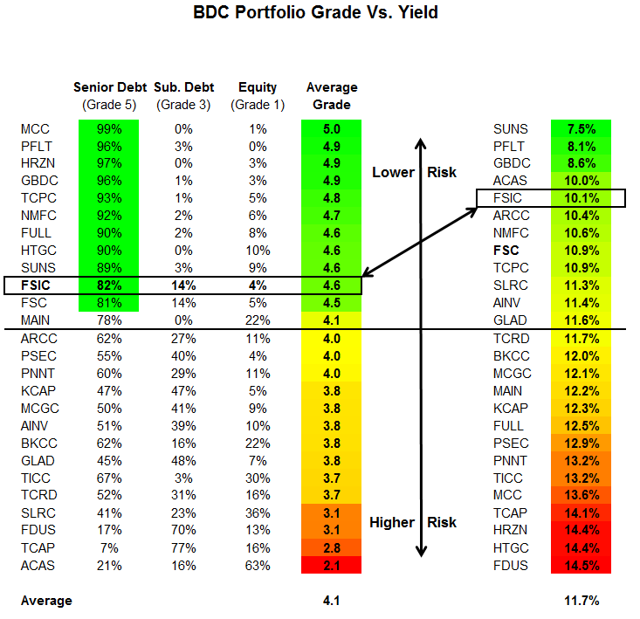 Profit
The company has excellent historical and projected dividend coverage, as well as the potential for dividend increases and special dividends. This, along with higher-than-average net asset value ("NAV") per share growth gives FSIC higher projected returns.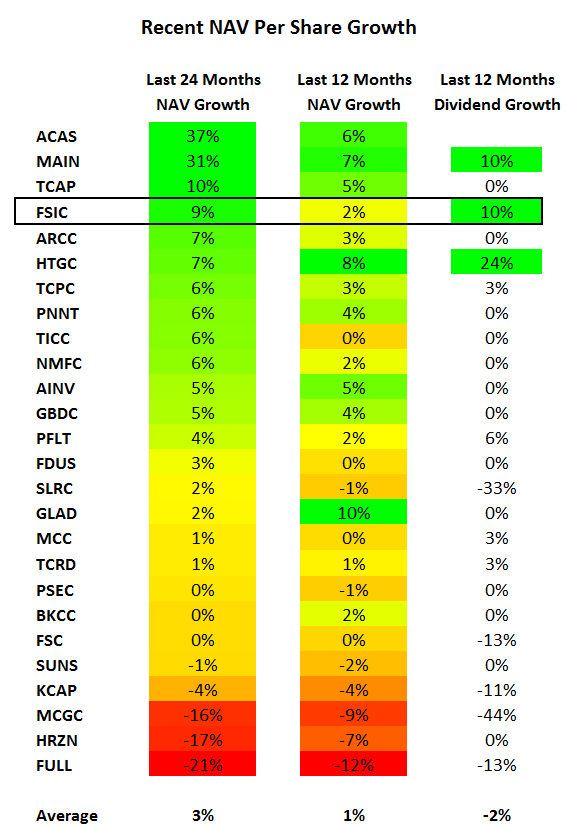 American Capital (NASDAQ:ACAS) does not pay a dividend, so it should have higher growth. FSIC, along with Main Street Capital (NYSE:MAIN) and Hercules Technology Growth Capital (NASDAQ:HTGC) top the list for BDCs that average higher NAV and dividend growth. Most BDCs are able to achieve higher NAV growth through equity participation in portfolio companies. Currently, only 4% of FSIC's portfolio is equity, compared to ACAS with 63%, MAIN with 22%, Triangle Capital (NYSE:TCAP) with 16%, Ares Capital (NASDAQ:ARCC) with 11% and HTGC with 10%. After speaking with management, I believe they understand the importance of having an equity piece, and hopefully, this will grow as a percentage of the portfolio. One of the benefits that portfolio companies have by offering equity participation is full access to consulting services from the GSO/Blackstone platform.
I believe FSIC will be a positive addition to my coverage of BDCs given its safer risk profile, adequate and growing dividend coverage, higher total return through special dividends and NAV growth, as well as the near-term benefit from not having direct exposure to the Russell indices. If you would like to read more about FSIC, please see my "FS Investment Report: April 2014" with projected EPS and dividend coverage, price targets and recommendations, risk considerations and rankings compared to the other 25 BDCs that I cover.
Investors should only use this information as a starting point for due diligence.
Disclosure: I am long HTGC, MAIN, TCPC, FSC, ARCC, TCRD, PSEC, NMFC. I wrote this article myself, and it expresses my own opinions. I am not receiving compensation for it (other than from Seeking Alpha). I have no business relationship with any company whose stock is mentioned in this article.