By now, we all know that NY Attorney General Eric Schneiderman has joined the probe against Herbalife (NYSE:HLF). That news weighed on Herbalife's stock at the open yesterday, as Herbalife was pulled down alongside the rest of the market to start the day.
As the afternoon progressed, however, the markets, and notably Herbalife, bounced back.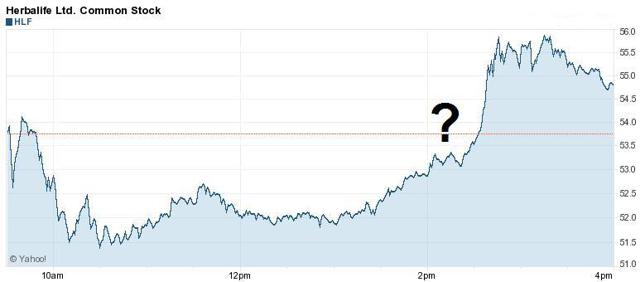 At 2:27pm, this DealBook piece was published, entitled, "Not All Investigations are Alike." Author Peter J. Henning, who is a professor at Wayne State University Law mentioned Herbalife and alluded to the fact that he thought no criminal charges were coming for the company:
For instance, DealBook reported last week that the Justice Department has been scrutinizing Herbalife for the past few months, news that caused the company's shares to drop nearly 14 percent. This comes on top of a recently announced investigation of the company's marketing practices by the Federal Trade Commission after claims in 2012 by the hedge fund manager William A. Ackman that the company essentially operates a pyramid scheme.

Herbalife had not been accused by the government of any wrongdoing, and denies even knowing about the criminal investigation. It does not appear that grand jury subpoenas have been issued or that Federal Bureau of Investigation agents have started interviewing witnesses related to the company.

Given the persistent criticism of Herbalife leveled by Mr. Ackman, it is not a surprise that the market was spooked by the report of a criminal investigation. But the federal inquiry does not show any signs of developing into a criminal case at this point.
His thesis is at the end: "the federal inquiry does not show any signs of developing into a criminal case at this point." That was enough to help the stock run from red to green, up several percent.
Except, this piece means nothing.
Mr. Henning has no association with these government organizations, has no clue as to what is going on behind the scenes, has no basis to make assertions about the future based simply on what has or hasn't occurred yet, and is just plain wrong about the FBI not interviewing witnesses.
According to Reuters, the FBI is actually speaking to witnesses about the company:
Former Herbalife distributors reached by Reuters said they had been contacted by agents who were interested in finding out more about the multilevel marketing company's business practices, including how it recruits new members into its distribution scheme.

FBI agents are also reviewing Herbalife documents obtained from former distributors, two other sources familiar with the matter said.
So, the DealBook piece is simply another case of the long side speaking out of school. It's akin to another "analyst" writing about the company without doing their proper due diligence.
As I said yesterday, if you're not intimately familiar with Herbalife's business model, you probably don't know what you're talking about:
This isn't a traditional P/E and net income situation. This Herbalife case is a specialty situation and if you do traditional analysis on this company without a comprehensive understanding of how the model works, you're likely to get burned because you're not looking at the forest for the trees.

It also speaks to the oft-ignored fact that there are very few analysts that have a fundamental understanding of how Herbalife works - and the ones that do, Ackman, Herb Greenberg, Matt Stewart, myself, and the likes - all contend that Herbalife is a worldwide confidence game.
For those of you that will likely accuse me of this in the comments, the answer is "yes," I'm telling you I likely know more about this company than you do.
As for the DealBook piece, the last thing it should be doing is propping up Herbalife's stock price.
Additionally, the fact that a grand jury subpoena (which would come after hours and hours and hours and hours of interviewing and investigating) hasn't happened yet doesn't mean that the company is off the hook. That's a farcical way of looking at things.
Perhaps Mr. Henning wants this case to go through investigation, indictment, arraignment, grand jury subpoenas, jury selection, voir dire, opening statements, direct and cross, expert testimony, closing statements, deliberation and verdict in less than a week? How about in 30 minutes or less or your pizza's free?
What the DealBook piece should have said was that although none of that stuff has happened yet, it's still possible that it may or may not occur. Those are the facts.
Then, later in the day, it was reported that Bill Ackman donated a whopping $30,000 to Attorney General Schneiderman's campaign!
Busted! Smoking gun! "Buying the investigation!"
Longs went absolutely bananas on Twitter, still convinced that Mr. Ackman is buying all of these investigations, as if the demonstrable evidence of Herbalife being a massive fraud isn't enough to do that on its own merits.
Except in 2010, when the donation was made, Bill Ackman had never even heard of Herbalife, let alone enlisted Mr. Schneiderman to investigate the company.
Charlie Gasparino was on the front lines of seemingly trying to push the company line, suggesting that somehow Bill Ackman may have bought this investigation for $30,000, which I'm sure AG Schneiderman probably has laying in his couch cushions, anyway.

So, it seems Mr. Gasparino might think Mr. Schneiderman can be bought for $30,000. Quite an insult to Mr. Schneiderman, if that's what he's implying.
Of course, what Mr. Gasparino has failed to mention every time he brings up a connection between some donation made years ago and the Herbalife case now, is the amount of money that Herbalife has spent lobbying against Bill Ackman. It dwarfs the amount of money in question from Mr. Ackman.
Remember this little diddy from Reuters?
Hedge fund manager William Ackman, who is betting $1.16 billion that Herbalife is a fraud, spent $264,000 last year on lobbyists to press his case against the company, according to government documents filed in recent weeks.

That amount is dwarfed by the nearly $2 million Herbalife spent in 2013 on federal lobbying as the nutrition and weight loss company fought the billionaire investor's claims it runs a pyramid scheme. In an illegal pyramid scheme members earn more for recruiting new members into the scheme than for selling the products outside the network.
Also, we're not looking at some other "interesting" donations made to Mr. Schneiderman, that make Mr. Ackman's donation look like the pennies floating in the Dunkin' Donuts tip cup at the train station.

And additionally, what about last week, where according to Michelle Celarier at the NY post, Herbalife hired a political advisory firm where Schneiderman's ex-wife is managing director. Probably just a coincidence, right? No need to mention that?
Last week, Herbalife raised the stakes, hiring political advisory SKD Knickerbocker Group, where Schneiderman's ex-wife, Jennifer Cunningham, a powerful state lobbyist, is a managing director. Cunningham, the former legal counsel to state Assembly Speaker Sheldon Silver, previously advised Schneiderman in his campaign for attorney general.

Cunningham will not be on the Herbalife account, Herbalife said.

"They [SKD Knickerbocker] are not lobbyists and do not communicate with state attorneys general or elected officials on [Herbalife's] behalf, nor will they in the future," the company said in a statement.

It declined to comment on the Schneiderman probe.
But again, I'm not surprised.
The headlines put out by Fox Business and DealBook have put a bid under Herbalife's stock, even making their rounds over here to Seeking Alpha by the middle of the afternoon yesterday. Like Herbalife itself, these headlines put a bid under Herbalife's stock. But, in the end, the fundamentals of this case should ultimately drive the outcome.
Another day that longs will buy on misinformation, another day I'll see puts as that much cheaper.
Investment thesis: I continue to contend that Herbalife is a worldwide confidence game that will ultimately be shut down by regulators. I am short the company.
Disclosure: I am short HLF. I wrote this article myself, and it expresses my own opinions. I am not receiving compensation for it (other than from Seeking Alpha). I have no business relationship with any company whose stock is mentioned in this article.