Nvidia: A tale of two businesses
Nvidia (NASDAQ:NVDA) is a fabless developer of visual computing chips, which comprises two segments with very different business dynamics:
On one hand, Nvidia's graphics processing units (GPU) segment is a mature business which grew revenues ~1% per year over the last 3 years, and which is slowly being eroded by the substitution of the PC through mobile technologies. As an investor, my expectations for Nvidia's GPU business are as unexciting as its recent past - this mature business will continue to represent a reliable "cash cow" for the company, but won't move the needle materially in terms of share price.
On the other hand, Nvidia's Tegra segment represents a challenge to enter the large, high-growth mobile technology market by leveraging existing GPU technology to create mobile chips. My investment thesis for NVDA is predicated on the success of this segment, which could spark a new period of growth and affect the share price materially.
The current Tegra line-up
As of the time of writing, Nvidia is mainly marketing two different kinds of Systems-on-a-Chip (SoCs):
Tegra 4: Launched in Q2 2013, this SoC has achieved limited success, in part because of a deliberate delay to pull the Tegra K1 forward. The Tegra 4 secured design wins mainly on tablets, including models by Microsoft, HP, Asus and Toshiba, as well as Nvidia's own "Tegra tablet." In Q1 2014, Nvidia launched the Tegra 4i, which also includes 4G LTE support. While the Tegra 4 is a competitive chip, it is approaching its first birthday and facing stiff competition from Qualcomm's (NASDAQ:QCOM) Snapdragon 800 series.
Tegra K1: Announced in January 2014 and scheduled for release in Q2 2014, the K1 represents Nvidia's first successful implementation of full-blown desktop GPU architecture onto a mobile chip. In theory, this allows mobile devices to achieve performance levels comparable to those of modern gaming consoles. While the K1 has yet to appear in commercial products, the performance benchmarks published since its launch in January look truly impressive. There are, however, two limitations which may hold the K1 back in smartphone applications:
Uncertainty around power consumption: it is presently unclear whether the K1's performance will come at the cost of significant power consumption, which would make it less attractive as a mobile phone chip.
Lack of integrated 4G LTE: given the availability of this option on competing Qualcomm chips, the K1 becomes a harder sell for implementation on smartphones.
To assess the potential for overall sales growth in 2014 for the Tegra segment, let's have a look at this year's smartphone and tablet launches and their hardware specifications.
Mobile technology releases in 2014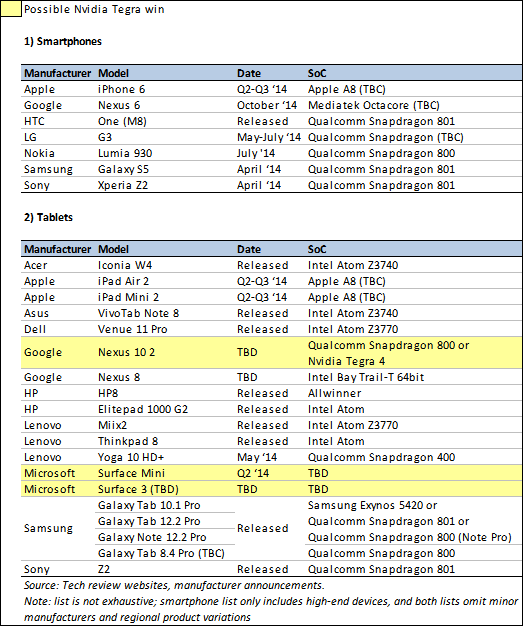 Based on this table, my thoughts on Tegra's 2014 are as follows:
In phones, the game is over: Every major manufacturer is scheduled to release a flagship phone in 2014, the specs of which are known and don't include Nvidia chips. Nvidia will have its existing slots (e.g. Xiaomi) and minor new design wins (e.g. Wiko) to fall back on, but 2014 will not be Tegra's banner year for mobile phones.
In tablets, the picture is not pretty: Most major tablets scheduled for launch in 2014 have already announced their specs, and only one device (Google Nexus 10 2) is considering a Tegra chip.
Microsoft tablets are a wild card: Microsoft's 2014 tablet release schedule is largely unknown - rumors on a Surface Mini and Surface 3 tablet launch are unconfirmed, but given Microsoft's previous use of Tegra 3 and 4, it seems reasonable to think that the K1 could be a contender for the next generation of Surface tablets.
In sum, it seems unlikely that 2014 will be the breakout year for Tegra, as virtually all of the following would need to happen simultaneously:
Google Nexus 10 2 packs Tegra 4 and becomes a Christmas sensation.
Microsoft Surface tablets (mini and 3) pack Tegra 4/K1 and see strong sales.
Tegra K1 secures additional design wins later in the year.
Strong pick-up in Tegra K1 sales for alternative applications (smart driving, defense, 4K TV).
A longer-term view
While 2014 may shape up to be yet another disappointing year for Tegra, Nvidia's technology advantage in SoCs is real. The proliferation of video games on mobile devices is a secular trend which drives demand for ever-more powerful chips, and Nvidia is well-positioned to exploit it. According to recent benchmarks, the K1 handily beats the nearest competing processor (Qualcomm Snapdragon 805). Furthermore, the story doesn't end with the K1 - Nvidia is pushing ahead with developing future generations of desktop GPU architecture, which it will be able to port directly to mobile. Already in 2015, we expect to see Tegra products based on the next-gen Maxwell GPU architecture, which is optimized for power consumption, thus resolving one of the (potential) shortcomings of the K1. The ability to leverage desktop GPU technology onto mobile represents a sustainable competitive advantage, which will allow Nvidia to maintain a technological edge over the competition. It is my expectation that phone and tablet OEMs will recognize this advantage and increasingly incorporate Tegra into their products. Therefore, while this will likely not happen en masse in 2014, I believe it is just a question of when rather than if.
Stock price implications
In February 2014, following its FY'14 earnings release, NVDA jumped from the $15-16 range it had been hovering around to a "new normal" of ~$18-19. This was both a recognition of Nvidia's mobile efforts, as well as a reflection of investors' relief that Nvidia was relatively insulated from declining PC sales.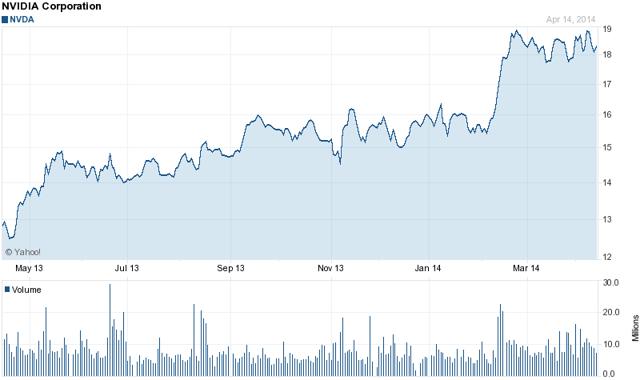 As a result of this move, part of the upside I described in previous SA articles has been realized.
Going forward, since the short-term outlook of Tegra is not shaping up to be as brilliant as I had imagined, I am less bullish about Nvidia than I was a few months ago. I expect that Tegra will contribute only moderate growth, while Nvidia's stable, cash-generative GPU business will continue to give the stock downside protection and limit volatility. My revenue scenarios for Nvidia based on the Tegra outlook are pictured below:
Given Tegra's not-so-great outlook on 2014, my revenue base case is much closer to the bear case than to the bull case. Feeding these sales projections through my financial model (together with cost, cash-flow and valuation assumptions), my resulting Nvidia stock price target range is as follows: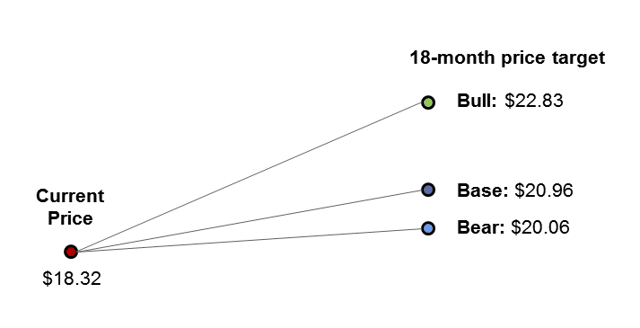 The range pictured above represents my short-term expectation. In case Nvidia were to score significant unexpected design wins for Tegra and open the floodgates of commercial implementation, the upside on this picture could expand dramatically. However, I don't expect this to happen in the next 12-18 months, and consider Nvidia a low-volatility stock for the time being.
Conclusion
Nvidia Tegra is a very promising technology (especially K1) with many potential end-markets, but hasn't yet gained a solid commercial foothold. Despite the fact that Tegra's 2014 shapes up to be underwhelming in the context of smartphones and tablets, the stock upside resulting from Tegra is real, and I fully expect markets to reflect this in the medium term. In the meantime, patient investors can take solace in the downside protection given by Nvidia's solid, cash-generative GPU business, in essence viewing their Nvidia holdings as an option on the success of Tegra.
Disclosure: I am long NVDA. I wrote this article myself, and it expresses my own opinions. I am not receiving compensation for it (other than from Seeking Alpha). I have no business relationship with any company whose stock is mentioned in this article.