The market was a roller coaster yesterday, having big gains in the morning, losing them after the first half of the session and then rising strongly to close up. All of this while Ukraine moved troops around in the eastern portions of the country to battle pro-Russian forces; which played a key role in the fear that crept into the market yesterday.
The economic data continues to come in mildly. We would hardly refer to it as a goldilocks scenario, but the fact is the data is almost never in-line with estimates and neither misses or beats are by a material amount. When data does materially beat, it is usually an outlier or the next month averages it out. There are a lot of factors still impacting key data points, but we think that this earnings season is going to be key in judging how the overall economy is doing, both domestically and internationally.
Chart of the Day:
It was key yesterday that the Nasdaq did not finish the session below the 4,000 point level. Technicals play key roles in trading and we have seen numerous times during this market volatility how important of a role the key technical levels play.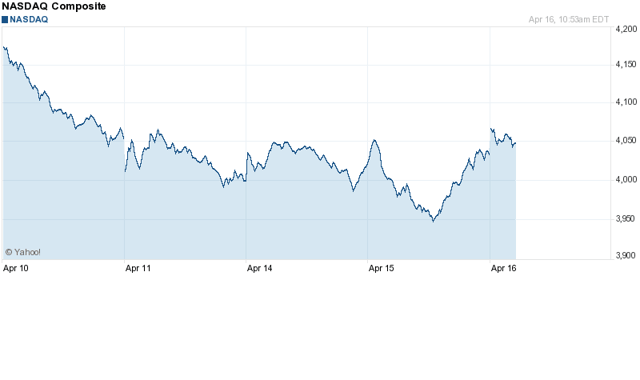 Click to enlarge
Source: Yahoo Finance
We have economic news today, and it is as follows:
MBA Mortgage Index (7:00 a.m. EST): Est: N/A Act: 4.3%
Housing Starts (8:30 a.m. EST): Est: 955k Act: 946k
Building Permits (8:30 a.m. EST): Est: 1003k Act: 990k
Industrial Production (9:15 a.m. EST): Est: 0.5% Act: 0.7%
Capacity Utilization (9:15 a.m. EST): Est: 78.8% Act: 79.2%
Crude Inventories (10:30 a.m. EST): Est: N/A Act:
Fed's Beige Book (2:00 p.m. EST): Est: N/A
Asian markets finished higher today:
All Ordinaries -- up 0.60%
Shanghai Composite -- up 0.17%
Nikkei 225 -- up 3.01%
NZSE 50 -- up 0.28%
Seoul Composite -- down 0.00%
In Europe, markets are trading higher this morning:
CAC 40 -- up 1.04%
DAX -- up 1.05%
FTSE 100 -- up 0.43%
OSE -- up 0.77%
No Trend In Banking
We have already had a number of large financial institutions report their quarterly results this earnings season, but in all truthfulness there has been very little to take away from the results of individual companies that would seem to translate across the industry. With Bank of America (NYSE:BAC) reporting this morning and appearing to blow the cover off of analysts' numbers with their adjusted EPS, we now have more questions than answers. Looking at the revenues it appears that Bank of America went about this quarter differently than its competitors, even the one which most closely resembles it - Wells Fargo (NYSE:WFC).
We would prefer that the stock did not break $16/share on today's close, but that could be a real possibility based on early trading. So long as we stay above $15.70/share we remain short-term bullish. For long-term investors these appear attractive prices.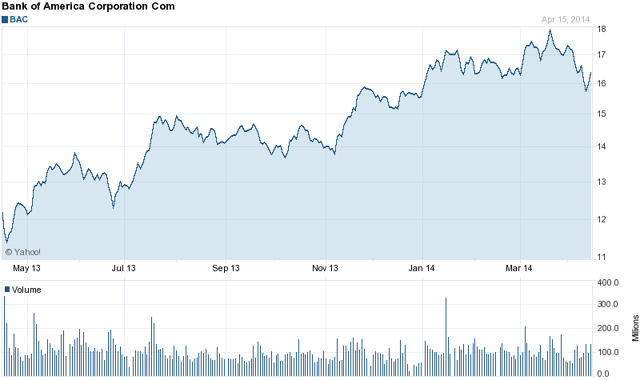 Click to enlarge
Source: Yahoo Finance
Citigroup (NYSE:C) had a solid quarter and in our opinion that is not one of the best run banks, as their latest oversight issues display. We did notice that the management team did appear to effectively manage the core banking franchise, and if they can do it our thinking is that Bank of America should have no problem in improving the key metrics and traditional revenue generators in its business. We have previously recommended Bank of America and think that this latest pullback could be a good buying opportunity as we see $1-2/share on the table in the short-term and 10-20% upside in the stock over the next 12-18 months.
Earnings Next Week
Next week we have earnings from both Boeing (NYSE:BA) and United Technologies (NYSE:UTX) which we expect to be quite solid. Readers know that we have been bullish of the aerospace sector for roughly three years; having taken our lumps early on in the trade only to see outsized gains in the last year and a half. Personally we are owners of Boeing and will look to hold through their quarterly announcement. For full disclosure, we purchased our shares after the big move downward after the company's last report which was a disappointment.
United Technologies is an industrial that is diversified but we think that the continued growth in their aerospace division will help drive the stock price through the $120/share level. This is not a new pick, but one we have been bullish on for about 15% (not including dividends). Although we are drawing attention to these two names we like for a short-term event, we still have a bullish outlook on both names 3 years out.
Disclosure: I am long BA. I wrote this article myself, and it expresses my own opinions. I am not receiving compensation for it (other than from Seeking Alpha). I have no business relationship with any company whose stock is mentioned in this article. Both BAC & UTX have previously been recommended.