Intel (NASDAQ:INTC) put up a solid first quarter with equally solid guidance for the balance of the year. Sales of targeted 40 million tablet processors remain intact; the Internet of things (IOT) growth at 32% shows promise; Data centers continue to grow nicely; and, it seems more likely than not that the personal computer business segment has bottomed. Technical progress on an integrated LTE SoC seems to be on course; partners have signed up to build devices on the new chips; and the years of decline may have finally ended.
Analysts are cautious. The consensus is for revenues of $53.15 billion for the year which is in line with flat guidance from the company. EPS estimates range from $1.70 to $2.12 with consensus at $1.86.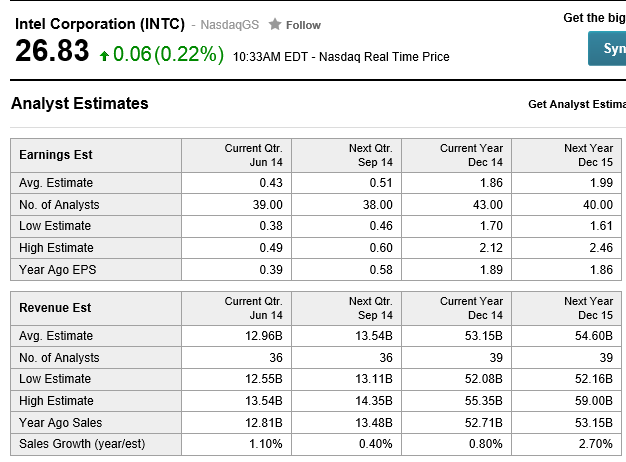 I think the year will be uneventful in its lack of downside surprises and I remain bullish on the name. In the earnings conference, CEO Brian Krzanich pointed out 70 two-in-one design wins in that fast growing segment; 130 Atom micro architecture wins with Bay Trail; and, a leading position in Chromebook processors. Samsung (OTC:SSNLF), Asus (OTC:AKCPF), Lenovo (OTCPK:LNVGF) and Dell (NASDAQ:DELL) have all signed up to produce devices using the 7260 LTE integrated SoC which seems to be a good start for Intel's efforts to get a competitive modem into the market.
I am a bit more bullish than the street with my financial model showing steady quarter by quarter improvement with full year revenues of $53.5 billion and net income coming in at $1.95 per share.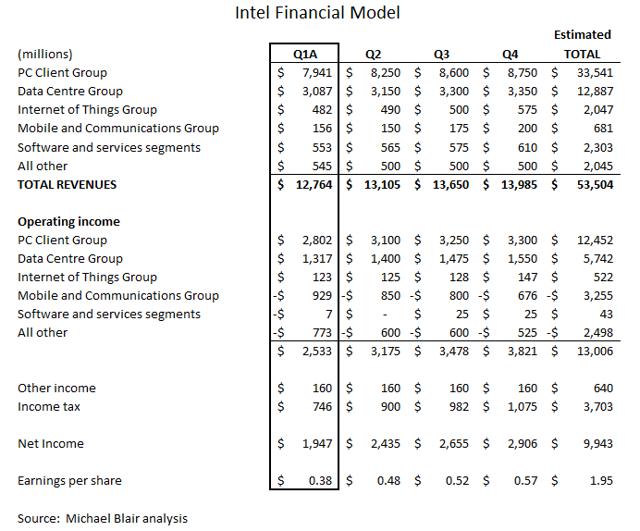 The contra revenue discussed in the earnings conference puts a lid on the revenues from mobile as the contra revenue "subsidies" are charged against revenue masking the running rate of mobile volumes somewhat. The theory of the case is that once established in mobile platforms, Intel will not have to provide contra revenue to garner future volumes. In my view that will depend on just how good the components are - if they really do have competitive chips, the contra revenue will disappear in 2015 and later years and the losses from the mobile segment could turn to profits in a couple of years.
At the same time, while small today the IoT segment is growing nicely and will make a measurable contribution in years to come.
With a reversal of Mobile and Communications Group losses which I estimate at $3.3 billion at the operating income line for 2014, a modest profit in this segment by 2016 could bring Intel profits into the $2.50 to $2.60 range and the stock will have a shot at $40 a share. I won't be disappointed if that takes a year or two longer to come about - as long as the company shows progress.
That is my bet in any event. I am long the name.
Disclosure: I am long INTC. I wrote this article myself, and it expresses my own opinions. I am not receiving compensation for it (other than from Seeking Alpha). I have no business relationship with any company whose stock is mentioned in this article.