As I continue to be fascinated by the ecosystem battle that is raging on, it is becoming very clear that there will not be one winner that will take the whole market. Instead, we will have a few strong players that have dominant ecosystems and specific apps will be dominated by players no matter what the ecosystem is. Some of those battles already have clear winners:
-Social: Facebook (NASDAQ:FB)
-Search: Google (NASDAQ:GOOG) (NASDAQ:GOOGL)
-Mobile O/S: Apple (NASDAQ:AAPL) and Google
-App stores: Apple and Google
-Maps: Google
-Online Commerce: Amazon (NASDAQ:AMZN)
-Physical Shipping: Amazon
-Online music: Apple
-Digital books: Amazon
-"Work" Software: Microsoft (NASDAQ:MSFT)
-Gaming consoles: Microsoft
You get the idea. Each of those products face serious competition and could eventually lose their lead but at this point, they are dominant.
The Biggest Battle Has Yet To Begin
When we think about financial services, it's easy to get an idea of the incredible potential. Just think of companies that are actually generating billions through payments:
-Credit cards [MasterCard (NYSE:MA), Visa (NYSE:V), Amex (NYSE:AXP), etc.]
-Credit card processors
-Online payment solutions [eBay's (NASDAQ:EBAY) PayPal, Square, etc.]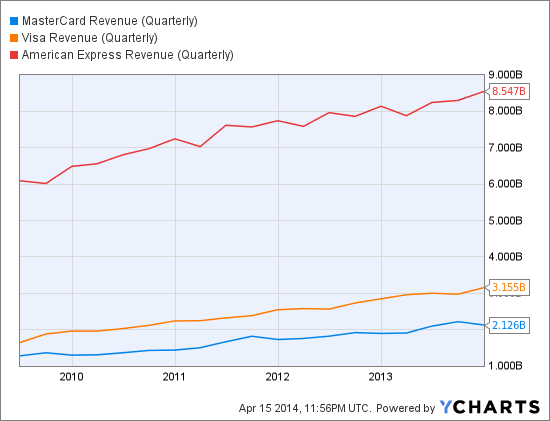 MA Revenue (Quarterly) data by YCharts
We do not know how this will play out but it does seem clear that over time, an increasing part of our online and offline payments will be made through our phone. This could be done directly from the O/S, from an app, from the web, etc. It's also unclear if there will be more than one dominant player in this arena. Already, all of the existing players have been gaining significant ground here in transforming themselves for this new era and it would be crazy to think they don't have a shot. However, I'd argue that 5-10 years from now, several of these players will be dominant in the payments arena. They will be able to leverage their existing ecosystems to gain a solid advantage over competitors. Users have already entered personal information and have established connections either through their contacts, messaging apps, etc.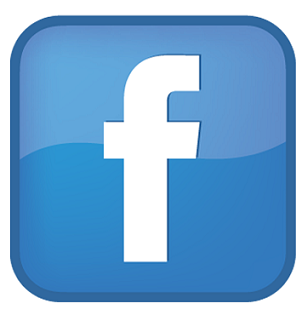 Let's take a look at how each player is doing:
-Apple: Apple is rumored to be making a big push into payments in its upcoming iOS version and with its fingerprint ID technology, making offline payments to become very easy. Apple has a strong market share in the US, which would be ideal to take the lead.
-Google: While the company has made some progress through the creation of Google Wallets and the gradual implementation of payments by Gmail, it does not seem as advanced so it's not shocking to hear that it has looked into acquiring Square, one of the leading payment technologies.
-Amazon: With hundreds of millions of customers having stored credit card information, the potential is clearly there. Amazon is also working on a smartphone, which will reportedly launch later this year, which could help and is also looking at payments as a major new segment.
-Facebook: As the world's most "social" company, Facebook does have an edge here and could clearly leverage its messaging apps (Facebook+WhatsApp) in order to get it started. The company has been working on getting licenses and I personally think that is the exact move that Facebook needs to do. Every time I make a bullish case for Facebook, I express my opinion that user growth is not a big factor in its long-term growth. Rather, I think Facebook can leverage its platform in other ways than advertising. It makes little sense to value Facebook exclusively in terms of advertising revenues when it has a billion users and millions of small companies that could be leveraged in other ways.
-Microsoft: At this point, Microsoft does not seem ready to make a move here. It's trying to catch up in a multitude of areas (mobile, cloud, etc) and while the new CEO has looked promising, payments is probably not near the top priority.
-Netflix – not a factor here
The Potential Is Significant
When you consider revenues of a few of these players, it's easy to see how attractive of a business this could become. Yes, it is technically difficult and the margins might not be as great as what they're used to (apart from Amazon), but it creates a bigger lock-in effect to their ecosystem.
Far From A Done Deal
Though unlikely, alternative digital currencies such as Bitcoin could become the way payments are made in the future. It's also possible that the ecosystem will not be enough to become significant players in the space although I personally doubt it.
Disclaimer: Long Facebook, Apple and Microsoft