Consolidation is underway for the regional airlines, and major changes are anticipated in this industry. The regional airlines will merge, shrink or cease to exist. A pilot shortage has forced them to cancel flights and ground jets-a side effect of federal regulations that have increased the minimum number of flight hours required for new pilots. There are also many other factors troubling regional airlines. Let's look at some of the issues as they relate to the largest U.S. regional, SkyWest (NASDAQ:SKYW).
The life of an airline pilot lost its glamour a long time ago. The cost of flight training can top $100,000, and the entry-level pay at regional airlines, which handle roughly half of U.S. flights, is between $17,000 and $22,000 a year. The resulting nationwide pilot shortage is putting a squeeze on the regional airlines. A recent report from the U.S. Government Accountability Office (GAO) found 11 of 12 regional airlines fell short of their hiring targets in the past year.
The shortage has deepened since last August when federal regulations raised the number of hours required to fly for an airline from 250 to 1,500. That makes training even more expensive, as aviation graduates typically fall short of the new requirements. Pilots take on massive debt to acquire the required training, and many flight schools across the U.S. are seeing little or no interest from those wanting to become a pilot. Getting a loan for the high cost of training has become difficult, if not impossible for some, and others just can't justify spending that kind of money for such little pay and poor working conditions.
Regional airlines carry 22 percent of passengers in the U.S. Most large hub-and-spoke carriers such as United Airlines (NYSE:UAL), Delta Air Lines (NYSE:DAL), and American Airlines (NASDAQ:AAL) own most of the planes regionals operate, and the contracts between the two make for thin margins, even for regionals that keep costs and pilot salaries low. SkyWest recently disclosed that its ExpressJet unit flies at a loss under its agreement with United.
The added hours required to become a pilot has reduced the pool of eligible pilots. The mandatory retirement age of 65 at the legacy carriers will also add to the shortage. The four largest U.S. airlines will lose at least 18,000 pilots because of mandatory retirement by 2022. That's approximately the same number of regional pilots flying today. U.S. airlines will need to hire up to 4,500 pilots each year over the next decade in order to keep up with the demand.
SkyWest Background
SkyWest, Inc., through subsidiaries SkyWest Airlines, Inc. (SkyWest Airlines) and ExpressJet Airlines, Inc. (ExpressJet), operates the largest regional airline in the United States. In addition, the Company provides ground handling services for other airlines throughout its system. The Company operates in two segments: SkyWest Airlines and ExpressJet. They both provide regional flying to its partners under long-term, fixed-fee code-share agreements.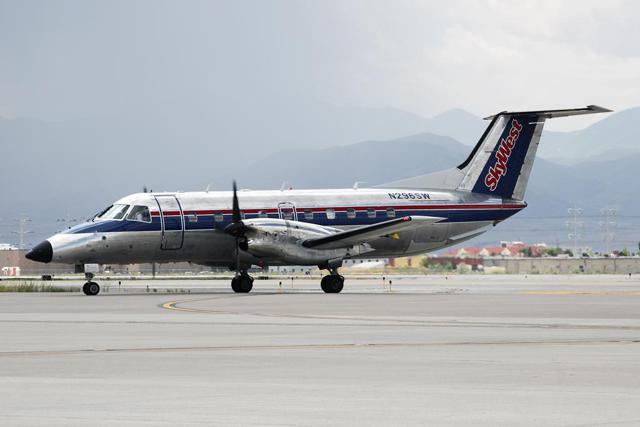 Broken Business Model
SkyWest recently disclosed that its ExpressJet unit flies at a loss under its current agreement with United Airlines. SkyWest's heavy reliance on 50-seat jets means that its business is facing significant threats. The 50-seat regional model simply does not work anymore. Express jet operates under an old legacy contract from its Continental days, which makes it nearly impossible to make money in today's environment. The following articles add an excellent recap of the SkyWest broken business: "Steer Clear of SkyWest, Inc." and "SkyWest: A Business Under Threat."
The weather has also had a huge impact on the airlines. In 2012, SkyWest had 12,000 cancellations for the entire year. The company disclosed that it had to cancel a stunning 15,000 flights in the first six weeks of 2014. That is 3,000 more cancellations than it had during the first six months of 2013.
The ExpressJet contract calls for performance bonuses and penalties, so if you fall below a certain liability there are penalties. ExpressJet's contracts in most cases do not allow for any compensation for weather cancellations. They have lost a significant amount of money this year-somewhere in the neighborhood of $50 million. The loss is estimated to continue to the tune of $24 million or more in Q1 of 2014 (referenced here).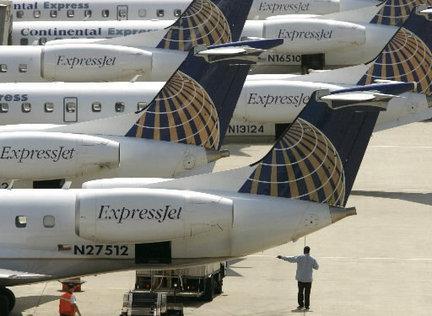 Increased Training Costs
The Airline Safety and Pilot Training Improvement Act of 2009 (the "Improvement Act") was enacted in August of 2010 and became effective August 2013. The Improvement Act adds new certification requirements for entry-level commercial pilots, requires additional emergency training, provides for increased availability of pilot records and mandates stricter rules to minimize pilot fatigue.
The implementation of the Improvement Act (and associated regulations) will increase the compliance and FAA reporting obligations have a negative effect on pilot scheduling, work hours and other aspects of the operations, and it will negatively impact the operations and financial condition. As a consequence of the implementation of the Improvement Act, it's anticipated that the crew costs will increase during 2014.
With the application of the new rules, the supply of qualified pilot candidates eligible for hiring by the airline industry has been dramatically reduced. If they are unable to secure the services of sufficient eligible pilots to staff their routes the operations and financial results will be affected.
Anticipated Increase in Maintenance Costs
The average age of the CRJ200s, ERJ145s, CRJ700s and CRJ900s for SkyWest is approximately 12.1 years, 12.0 years, 8.6 years and 6.1 years respectively. All of the parts on these aircraft are no longer under warranty, and they have started to incur more heavy airframe inspections and engine overhauls on those aircraft. The non-engine maintenance costs are expected to continue to increase on the CRJ200, ERJ145, CRJ700 and CRJ900 fleets. If the maintenance costs increase at a higher rate it will have a negative impact on SkyWest's financial results.
SkyWest is looking to replace their smaller airplanes. They currently have 260 CRJ200s, 242 ERJ145s and 45 Brasilia turboprops. They anticipate that over the next several years they will continue to replace these aircraft with large regional jets or turboprops. The fleet replacement strategy will require significant amounts of capital to acquire these large regional jets or turboprops. In addition, when SkyWest removes 50-seat jets from the fleet, doing so is not free. The company typically incurs lease return costs when its leases expire. This is usually not very expensive on a one-off basis, but with dozens of airplanes likely to exit the fleet each year lease return costs could add up.
High Long-Term Debt
As of December 31, 2013, SkyWest had a total of approximately $1.5 billion in total long-term debt obligations. Most of this long-term debt was incurred in connection with the acquisition of aircraft, engines and related spare parts. They also have significant long-term lease obligations primarily relating to the aircraft fleet. These leases are classified as operating leases and therefore are not reflected as liabilities in the consolidated balance sheets. At December 31, 2013, they had 570 aircraft under lease, with remaining terms ranging from 1 to 13 years. Future minimum lease payments due under all long-term operating leases were approximately $1.9 billion at December 31, 2013. At a 5.8% discount factor, the present value of these lease obligations was equal to approximately $1.5 billion at December 31, 2013. The high level of fixed obligations could impact their ability to obtain additional financing to support additional expansion plans or divert cash flows from operations and expansion plans to service the fixed obligations.
Flight Equipment
SkyWest fleet plan is shrinking over the next several years. This will impact future total revenues. The plan may be accelerated if ExpressJet continues to bleed cash. As of December 31, 2013, the fleet consisted of the following types of owned and leased aircraft:
Aircraft Type

Number of
Owned
Aircraft

Number of
Leased
Aircraft

Passenger
Capacity

Scheduled
Flight
Range (miles)

Average
Cruising
Speed (mph)

Average
Age (years)

CRJ200s

87

173

50

1,500

530

12.1

CRJ700s

69

68

70

1,600

530

8.6

CRJ900s

11

53

90

1,500

530

6.1

ERJ145s

-

242

50

1,500

530

12.0

ERJ135s

-

9

37

1,500

530

12.6

Brasilia Turboprops

20

25

30

300

300

16.5
The following table outlines the currently anticipated size and composition of the combined fleet for the periods indicated.
2014

2015

2016

2017

Additional aircraft deliveries

E175

25

15

-

-
As of December 31,

2014

2015

2016

2017

Anticipated fleet size

Total Bombardier Regional Jets

407

385

348

305

Total Embraer Regional Jets

241

197

197

179

Total Brasilia Turboprops

26

23

12

11

Total Combined Fleet

674

605

557

495
The above information including charts can be found here. Additional source information for this article can be found here.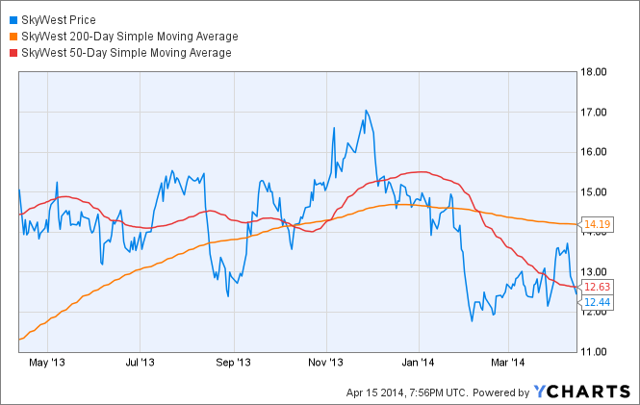 The Stock
Fifty-two week range of 11.56 - 17.29, Market cap of 665 million, P/E ratio of 11.49, Average Volume over three months is 390,987. Fifty-two million shares are outstanding with 84.25% institutional ownership.
Shares of SkyWest had a large increase in short interest in January. As of March 31st there was short interest totaling 1,0624,309 shares, an increase of 30% from the February 14th total of 791,066 shares. Based on an average daily trading volume, of 430,081 shares, the days-to-cover ratio is currently 2.9 days. Currently, 2.2% of the shares of the stock are short sold. Short interest summary can be found here.
SKYW has been the subject of a number of recent research reports. Analysts at The Street downgraded shares of SkyWest from a "buy" rating to a "hold" rating in a research note on Tuesday, February 18th. Analysts at Deutsche Bank downgraded shares of SkyWest from a "buy" rating to a "hold" rating in a research note on Thursday, January 9th. One equities research analyst has rated the stock with a "sell" rating, and five others have given a "hold" rating to the stock. SkyWest presently has a consensus rating of "Hold." Ratings summary can be found here.
SkyWest last posted its quarterly earnings results on Wednesday, February 19th. The company reported $0.17 earnings per share for the quarter, missing the consensus estimate of $0.19 by $0.02. The company had revenue of $804.37 million for the quarter, compared to the consensus estimate of $824.01 million. During the same quarter in the previous year, the company posted $0.27 earnings per share. The company's revenue for the quarter was down 0.8% on a year-over-year basis. Analysts expect that SkyWest will post $0.75 EPS for the current fiscal year. SkyWest fourth quarter and year end 2013 results can be found here.
Conclusion
The Regional Airlines face major headwinds. SkyWest unit ExpressJet will continue to bleed cash under its outdated contract with its legacy partner. SkyWest investors are in for a long road before it can fix its 50-seat-jet business. The company has revised guidance downward several times including for the upcoming quarter. The quarter results are due out approximately May 5, 2014. I would expect dismal earnings and would not be caught long in this name anytime soon
Disclosure: I am short SKYW. I wrote this article myself, and it expresses my own opinions. I am not receiving compensation for it. I have no business relationship with any company whose stock is mentioned in this article.