By David Russell
Ivanhoe Mines (IVN) has unchained itself from a restrictive agreement with Rio Tinto (RTP), and option traders have turned bullish in a reversal from yesterday.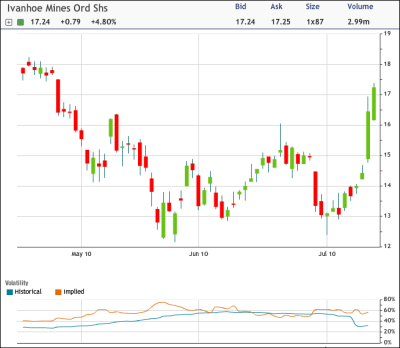 optionMONSTER's Heat Seeker tracking system detected the purchase of more than 6,000 July 17 calls on IVN. Most of them priced for $0.25 to $0.30 early in the session, then leaped as high as $0.70 after the stock rallied. The initial reaction among option traders yesterday was to sell calls.
IVN is up 4.8 percent to $17.24 in morning trading and has risen 32 percent this month. The stock has been a favorite among options traders for more than a year as management takes steps to initiate production at Oyu Tolgoi deposit in Mongolia.
It surged 14 percent on Tuesday after saying it had terminated an agreement with Rio that barred Ivanhoe from selling stock to other large strategic investors. The Rio Tinto decision came shortly after the companies headed to arbitration over a related issue. The news means that other large companies can invest in IVN, which is about 30 percent owned by Rio.
The calls purchased early in the session are now valued at about $0.60. Volume so far today is nine times greater than open interest in the strike.
Overall options volume in IVN at all strikes is seven times greater than average today, with calls accounting for 83 percent of the activity.

Disclosure: No positions