Ukraine is moving its armed forces around in the eastern portion of the country, obviously mobilizing to quickly move against any further attacks by pro-Russian forces. It riled markets yesterday but so long as their opposition remains small militias and not actual Russian military forces the market should be ok.
The precious metals markets are having a rough go of it lately and now we will see how strong the bull case is for them and more specifically for gold. The SPDR Gold Trust (NYSEARCA:GLD) moved sharply lower yesterday and if the bulls do not step in at the $1,300/ounce level then we could see further moves to the downside.
Chart of the Day:
It appears that the bulls thus far have done a good job pegging physical gold to the $1,300/ounce level, each time having come in to buy when the price moved south. The bears have some fire power after the drop this week so we are interested to see which side has a higher conviction at this time.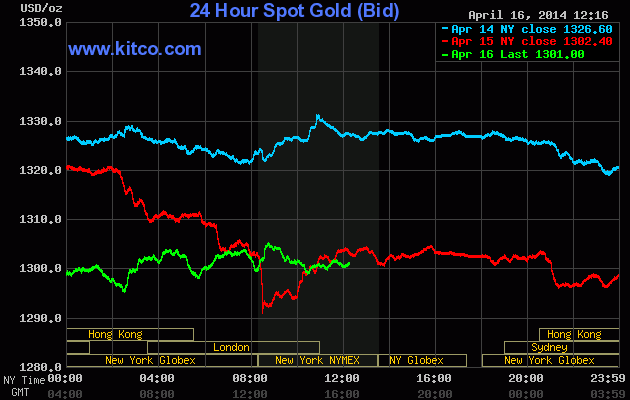 Source: Kitco
Commodity prices this morning are as follows:
Gold: $1,300.20/ounce, down by $0.10/ounce
Silver: $19.58/ounce, down by $0.091/ounce
Oil: $103.38/barrel, down by $0.37/barrel
RBOB Gas: $3.0498/gallon, up by $0.0077/gallon
Natural Gas: $4.551/MMbtu, down by $0.016/MMbtu
Copper: $3.0265/pound, up by $0.039/pound
Platinum: $1,438.00/ounce, down by $6.60/ounce
E&P Names On The Move
There are quite a few mid-sized E&P names that have been on the move as of late, but the Permian Basin has grabbed our attention recently and the roughly $28 billion market capitalization Pioneer Natural Resources (NYSE:PXD) caught our eye. The stock has been volatile as of late, but after finding support close to $180/share on multiple occasions over the past couple of months we added it to our watchlist for a possible breakout. With shares looking to break through the $200/share level, and maybe close above it, this session we would not be surprised to see another 2%+ move higher to test the 52-week high. It appears we are on course for that to happen and although we like the name long-term we do recognize the short-term opportunity here, especially with the momentum having returned to the energy sector recently.
We think the stock will in fact test its highs; meaning there are a few points on the table for the taking right now.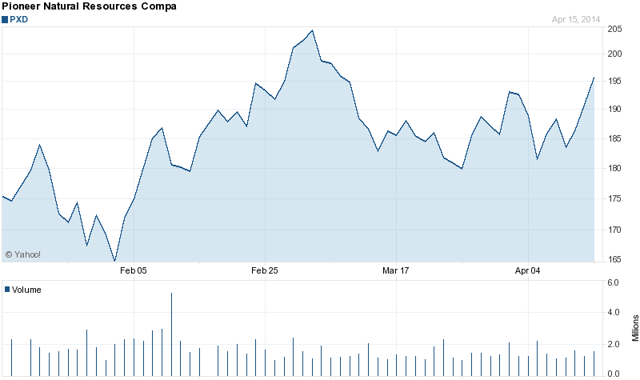 Source: Yahoo Finance
Another name that we had our eye on was Laredo Petroleum (NYSE:LPI) which we have also discussed in our market commentary in the past. The stock was setting up nicely to test the $28/share resistance level which we thought was a bullish sign, but before we could bring that to readers' attention Robert W. Baird initiated coverage on the name and has the stock up 6% and nearly a $1 over the $28/share level. Once the dust settles we still think that this one is a buy but we would not be chasing it today on the back of the coverage initiation.
The move through $28/share has occurred, after a small pullback look for an entry point as we think this one moves higher still.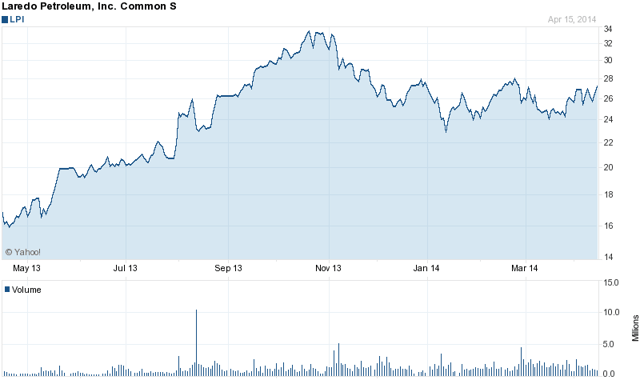 Source: Yahoo Finance
European Energy Name Rising Sharply
With BP (NYSE:BP) having been a pick of ours earlier in the year as a value play, we have been disappointed with the early gains we saw dissipating on the Russia/Ukraine news. The events to date have called into question the value of those assets as well as the long-term effects of having such large exposure to a country like Russia.
With that knowledge we knew it important to find a name which could offset this exposure in the short-term that also had promising prospects in Europe. The name we have been highlighting during each flare up has been FX Energy (NASDAQ:FXEN) and yesterday it announced more positive drill results (see press release here) that seem to indicate that they have a decent natural gas find. They will still have to prove up the area and show favorable economics, but right now investors are cheering.
Disclosure: I have no positions in any stocks mentioned, and no plans to initiate any positions within the next 72 hours. I wrote this article myself, and it expresses my own opinions. I am not receiving compensation for it (other than from Seeking Alpha). I have no business relationship with any company whose stock is mentioned in this article. BP has previously been recommended.