Introduction
Whether you are already in retirement or many years away from retiring, constructing an optimum equity portfolio that specifically meets your own unique goals, objectives and risk tolerances is vital. However, successfully accomplishing this task can be very challenging and even daunting for the average investor. Moreover, this is true whether you are a do-it-yourself investor, or whether you rely on the professional services of an experienced and licensed investment advisor.
There is a lot more to designing a successful stock portfolio than simply stock selection. Obviously, selecting the right stocks to include in your portfolio is of primary importance. However, in my opinion at least, once you select the correct stock (company) to invest in, the valuation you pay to buy the stock is the next most important step. Once these first two important steps are completed, the investor must then decide how big a portion of their overall portfolio that any single stock should comprise. Stated more clearly, what level of diversification should the investor apply?
At first blush, the three steps - Stock Selection, Valuation and Diversification - might seem rather straightforward. However, there is a great deal of variation and detail existing within each of those critical steps that are relevant regarding the proper designing of a successful and/or optimum equity portfolio. With this series of articles, I plan to examine each of these three steps and simultaneously reveal many of the more common details and nuances contained and available with each. My primary objective is not to point out the complexity associated with each; instead, my primary objective is to illuminate many of the more common options available to investors for the equity portion of their investment portfolios.
Since there is no one-size-fits-all or perfect option applicable to everyone, a strong working knowledge of most of the major available options is indispensable. This leads me to a brief discussion about not being too overly general with these considerations. In my experience and opinion, both Wall Street and academia have a penchant for classifying equities too broadly. Prime examples would be studies or recommendations based on classifying stocks as growth or value. Another common overgeneralization refers to studies and/or discussions classifying stocks too broadly as dividend paying or non-dividend paying.
In truth, there are numerous variations and nuances regarding the characteristics of individual stocks that preclude them from all being included in such overly broad categories. Within this series of articles I intend to illuminate many of the nuances and specific characteristics applicable to each.
Stock Selection Options: Part 1
In this Part 1 of this 3-part series, I'm going to present a brief look at the primary options or categories of common stocks that are available to investors. Moreover, I will utilize the F.A.S.T. Graphs™ fundamentals analyzer software tool to illustrate the relevant characteristics of each category based on historical earnings records. However, and this is important, the samples I will use are not offered as appropriately valued companies to purchase today. This will be covered in Part 2 when I discuss valuation. In this Part 1, I am simply illustrating the primary types or categories of common stocks available as reflected by variations in their historical earnings growth rates.
Six Primary Categories According To Peter Lynch
In his best-selling book "One Up On Wall Street" Peter Lynch presented six general categories of stocks that investors can choose from: Slow Growers, Stalwarts, Fast Growers, Cyclicals, Asset Plays, and Turnarounds. Although I believe that these six general categories provide great insight into the types of common stocks generally available for investors to choose from, some of these categories can be further broken down. For example, we could add moderate growth to slow growth, and very fast growth to fast growth, etc. Therefore, I feel it's important that the reader understands that there can be more specific subcategories beyond the general categories discussed by Peter Lynch or this article.
However, the important point, and primary objective of this article, is to provide the reader insights into the primary categories of common stock investments that are available to them. Moreover, although this will provide insights into the various categories of common stocks, it is also vital to recognize that each category may not represent an appropriate choice for all investors. On the other hand, if understood and handled properly, all of these categories can provide profit opportunities. Additionally, each of these categories also contains unique characteristics and levels of risk.
Therefore, each individual investor's own unique goals, objectives and risk tolerances should be a major determinant of whether any given category is appropriate for them or not. However, regardless of your personal situation, I believe it's extremely useful to be aware of the various options and their differences. If nothing else, this awareness can prevent the investor from making a strategic mistake when designing their equity portfolios. With the following examples, I'm going to provide brief commentary on the primary qualities, attributes and benefits that each category can provide.
Since earnings are a primary determinant of capital appreciation and dividend income (if any) I am going to present these following examples by utilizing a unique aspect of the F.A.S.T. Graphs™ research tool. To accomplish this, I'm going to turn off the valuation formulas thereby drawing each graph solely utilizing the formula P/E= Earnings rate. Consequently, the slope of the orange line on each graph will be equal to the company's earnings-per-share growth rate over the timeframe presented. By presenting the graphs in this manner the reader can see a vivid depiction of the difference between slow growers versus fast growers, as well as the differences with the other four primary categories. Moreover, these examples are based solely on earnings records with no consideration or analysis given to stock price or dividends (if any).
However, before I provide examples of the six primary categories referenced by Peter Lynch, I felt it would be useful to look at the S&P 500 in order to provide a benchmark or standard that the six primary categories could be measured against. One of the primary takeaways from this S&P 500 example is to note that the average company has grown earnings at approximately 6.8% per annum since 1995. Therefore, by knowing what earnings growth rate the average company has achieved, the reader should have a better perspective of what the other six categories offer.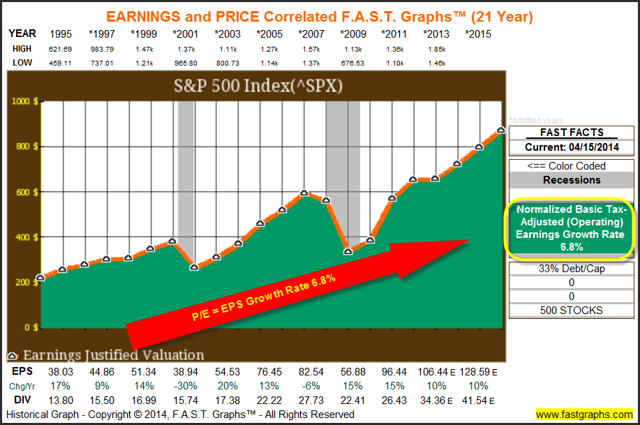 Slow Growers
In "One Up On Wall Street" Peter Lynch expressed a very important quality about slow growers. He told us that slow growers did not start out that way, most of them started out as fast growers that eventually ran into the law of large numbers or other growth disruptors or hindrances. The reader should keep this important point in mind, especially when we cover stalwarts and fast growers later in the article.
Another important attribute that Peter Lynch referenced, was that a sure sign of a slow grower is that it pays a generous and regular dividend. Consequently, it might logically follow that slow growers might be of primary interest to those investors, especially retired investors, most interested in achieving a high yield at the expense of long-term growth or total return. However, remember that the following examples do not include dividends, as the focus of this article is solely on earnings growth, which ultimately provides the source of dividends, if any. Utility stocks are perhaps the most common example of slow growers, but not the only examples. Consequently, I offer the following examples, some of which are utility stocks and one that is not.
American Electric Power Co., Inc. (NYSE:AEP)
American Electric Power Company, Inc. operates as an utility holding company. The service areas of the company's public utility subsidiaries cover portions of the states of Arkansas, Indiana, Kentucky, Louisiana, Michigan, Ohio, Oklahoma, Tennessee, Texas, Virginia, and West Virginia.
The reader should note that American Electric Power Co. specifically, and utility stocks in general, offer little in the way of earnings growth leading to capital appreciation. In Part 2 of this series I will point out and elaborate on why I believe that dividend income and yield are the primary reasons to invest in utility stocks.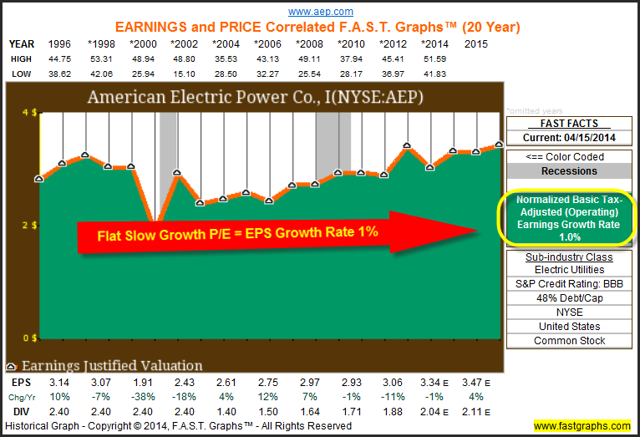 Consolidated Edison, Inc. (NYSE:ED)
Consolidated Edison, Inc., through its subsidiaries, provides energy services to residential, commercial, industrial, and government customers in the United States. The company's subsidiaries include Consolidated Edison Company of New York, Inc. (CECONY) and Orange and Rockland Utilities, Inc. (O&R). It also owns the competitive energy businesses.
Although profitable each year, like most utility stocks, Consolidated Edison, Inc. offers little opportunity for growth. Here we see a higher Standard & Poor's credit rating than we saw with our first example, indicating that quality considerations represent another important factor for investing in utility stocks for income.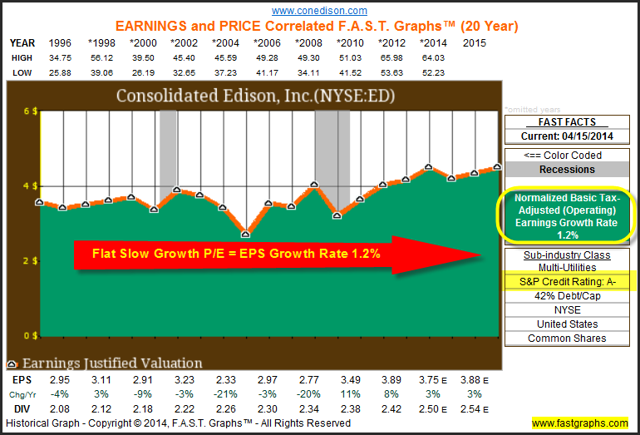 Duke Energy Corporation (NYSE:DUK)
Duke Energy Corporation operates as an energy company. The company's direct and indirect wholly owned subsidiaries include Duke Energy Carolinas, LLC (Duke Energy Carolinas), Duke Energy Progress, Inc. (Duke Energy Progress), Duke Energy Florida, Inc. (Duke Energy Florida), Duke Energy Ohio, Inc., and Duke Energy Indiana, Inc. The company's activities are subject to regulation by the Federal Energy Regulatory Commission (FERC).
In addition to another example of a utility stock with very little earnings growth, Duke Energy Corporation also experienced significant earnings stress coming out of the recession of 2001. In Part 2 we will see that this also resulted in a dividend cut and long-term dividend reset.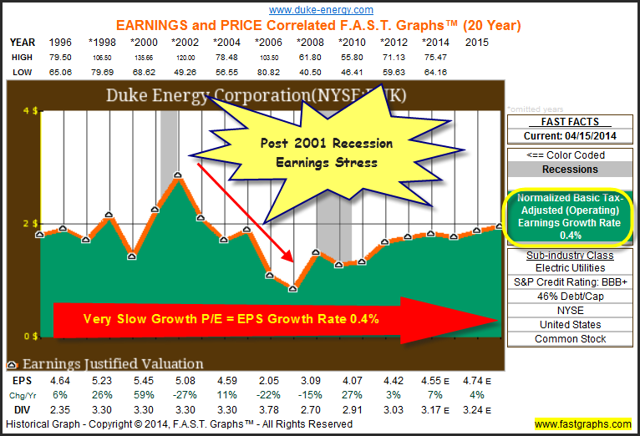 Wisconsin Energy Corp. (NYSE:WEC)
Wisconsin Energy Corporation, through its subsidiaries, generates and distributes electricity in the southeastern, east central, and northern Wisconsin, as well as in the upper peninsula of Michigan. The company's primary subsidiaries include Wisconsin Electric Power Company (Wisconsin Electric), Wisconsin Gas LLC (Wisconsin Gas), and W.E. Power, LLC (We Power).
I offer Wisconsin Energy Corp. as my last utility example for a very specific reason. Although many utilities possess the earnings growth attributes seen with my first three examples, this utility has a history of earnings growth significantly higher than most utilities. Consequently, I present it as an example that illustrates that specifics are more relevant than generalities. Stated more simply, all utility stocks are not the same.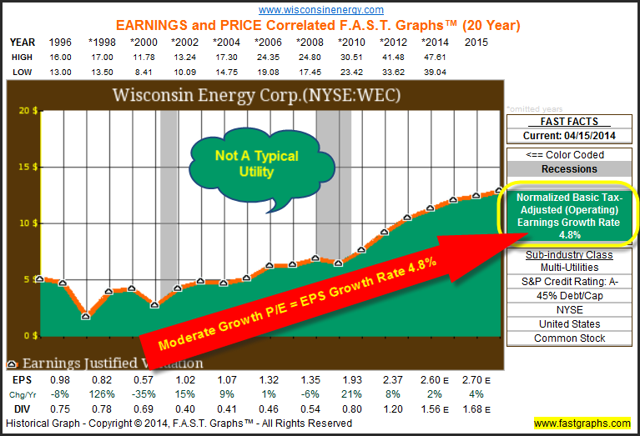 Campbell Soup Company (NYSE:CPB)
Campbell Soup Company manufactures and markets branded convenience food products worldwide. The company operates through U.S. Simple Meals; Global Baking and Snacking; International Simple Meals and Beverages; U.S. Beverages; and Bolthouse and Foodservice segments.
Campbell Soup Company represents an example of a non-utility stock with a long history of a low earnings growth rate. I simply offer this example to point out that utility stocks are not the only stocks with low historical earnings growth rates.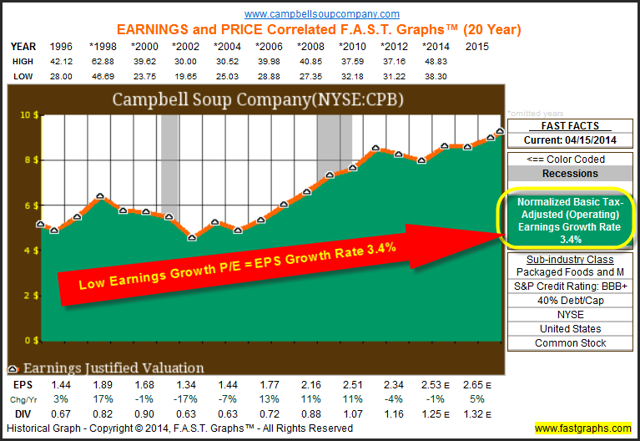 Stalwarts
Stalwarts generally represent high-quality blue-chip companies with long histories of paying and increasing their dividends. In "One Up On Wall Street" Peter Lynch referenced their recession-resistant natures and characteristics. However, as you will see with the following examples, he also referenced the fact that these "multibillion-dollar Hulks" as he called them, also tend to grow remarkably fast for companies of their size and status.
Consequently, in addition to the fact that these are among the highest quality companies on the planet (see the Standard & Poor's credit rating in the FAST FACT box to the right of each graph), as a common stock class, many are capable of producing above-average earnings growth leading to above-average capital appreciation. Furthermore, the fact that they are all Dividend Aristocrats or Dividend Champions provides an additional attraction. Stalwarts might be the one equity class that can represent foundational holdings for most every investor's portfolio.
Since each of my stalwart examples is literally a household name, I will not bore the reader with specific rhetoric on each. Instead, I ask the reader to focus on the steepness of the earnings curve on each example, and simultaneously, the consistency of their long-term earnings records.
The Procter & Gamble Company (NYSE:PG)
The Procter & Gamble Company provides branded consumer packaged goods. The company's products are sold in approximately 180 countries and territories primarily through retail operations including mass merchandisers, grocery stores, membership club stores, drug stores, department stores, salons, high-frequency stores and e-commerce. The company has on-the-ground operations in approximately 70 countries.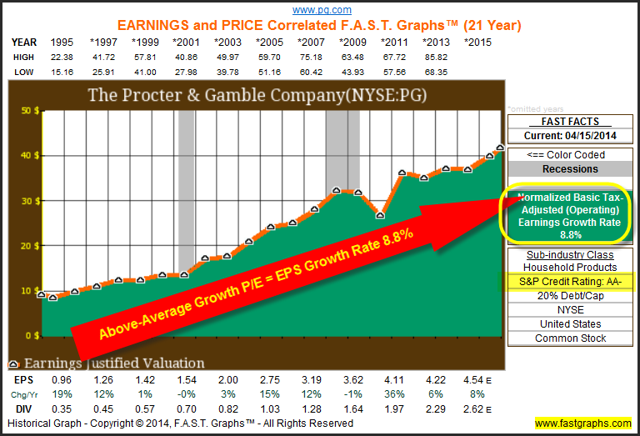 Wal-Mart Stores Inc. (NYSE:WMT)
Wal-Mart Stores, Inc. operates retail stores in various formats worldwide.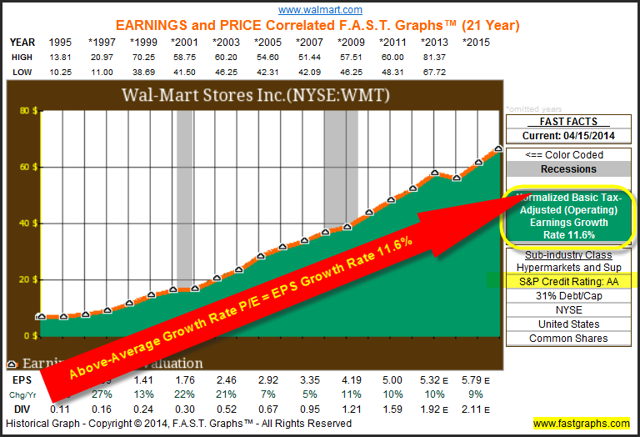 Johnson & Johnson (NYSE:JNJ)
Johnson & Johnson, together with its subsidiaries, is engaged in the research and development, manufacture and sale of a range of products in the health care field. The business of the company is conducted by approximately 275 operating companies located in 60 countries, including the United States, which sell products in all countries worldwide.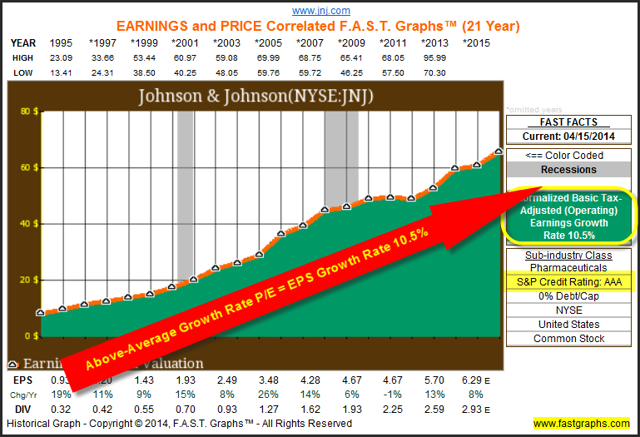 Colgate-Palmolive Co. (NYSE:CL)
Colgate-Palmolive Company operates as a consumer products company. The company's products are marketed in approximately 200 countries and territories throughout the world.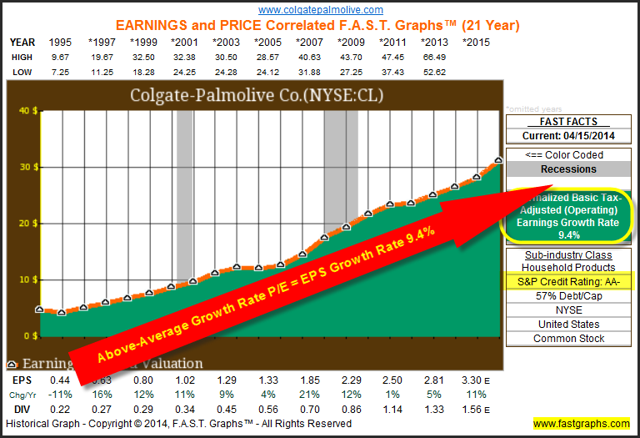 Fast Growers
Personally, I consider fast growers as companies that can grow earnings at rates of 15% or better, with some growing at 20% to 25% for long periods of time (10 years or more). Peter Lynch considered fast growers among his favorite investments. However, he also rightfully pointed out that there is a lot of risk associated with investing in fast growers, especially when they are small and young. And, Peter Lynch also pointed out that as they get bigger, fast growers face the risk of a significant devaluation when their earnings growth rates begin to slow down.
Because of their greater risk, fast growers may not be appropriate choices for retirees, but might be appropriate for those in the accumulation phase desirous of building a larger portfolio. Moreover, as long as growth continues at an above-average rate, fast growers can generate significant long-term returns. In some cases, they might even morph into above-average dividend growth stars of tomorrow. But, as Peter Lynch also pointed out, and I quote: "the trick is figuring out when they'll stop growing, and how much to pay for the growth."
Chipotle Mexican Grill, Inc. (NYSE:CMG)
Chipotle Mexican Grill, Inc., together with its subsidiaries, operates Chipotle Mexican Grill restaurants, which serve a focused menu of burritos, tacos, burrito bowls (a burrito without the tortilla) and salads, made using fresh ingredients.
Chipotle Mexican Grill, Inc. represents a quintessential example of the Peter Lynch admonition I quoted above. Therefore, I will provide two earnings history graphs to illustrate this important point. In the first graph below, we see that since 2005, Chipotle Mexican Grill, Inc. has grown earnings at a 39% annual rate and have accomplished this explosive growth rather consistently as earnings-per-share increase each and every year.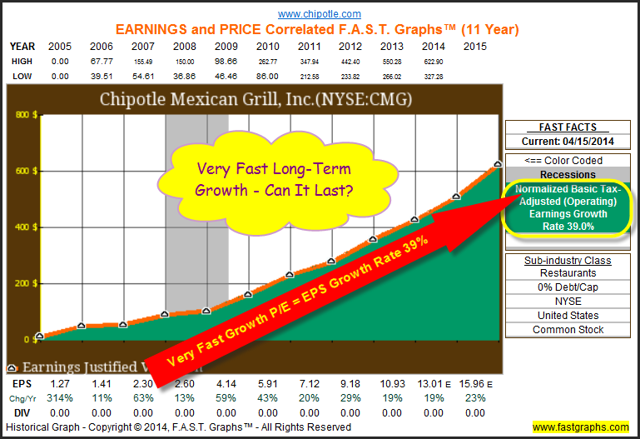 However, this next shorter graph representing earnings growth since 2011 reveals a significant shift or slow down of earnings growth. In my opinion, this is one of the most important factors to consider and watch out for when investing in fast growers. In this example, historical earnings growth has fallen from 39% per annum to 22% per annum, a significant slowdown.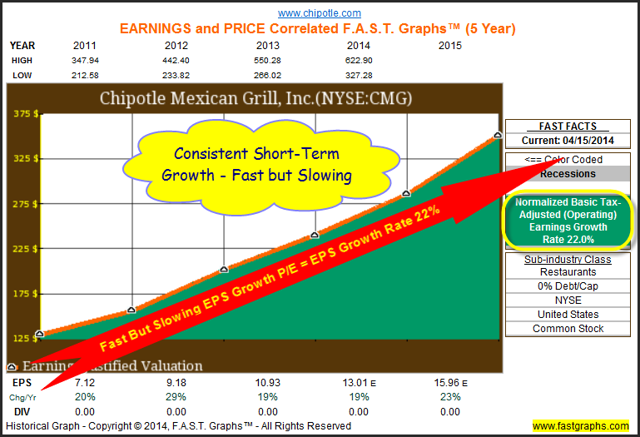 Stericycle, Inc. (NASDAQ:SRCL)
Stericycle, Inc. engages in managing regulated waste and providing a range of related and complementary services. The company operates in the United States, Argentina, Brazil, Canada, Chile, Ireland, Japan, Mexico, Portugal, Romania, Spain, and the United Kingdom.
With my second fast grower example, Stericycle Inc., I feature a company with a longer history of rapid earnings growth than we saw with Chipotle Mexican Grill. Additionally, we also see an example of consistent long-term earnings growth.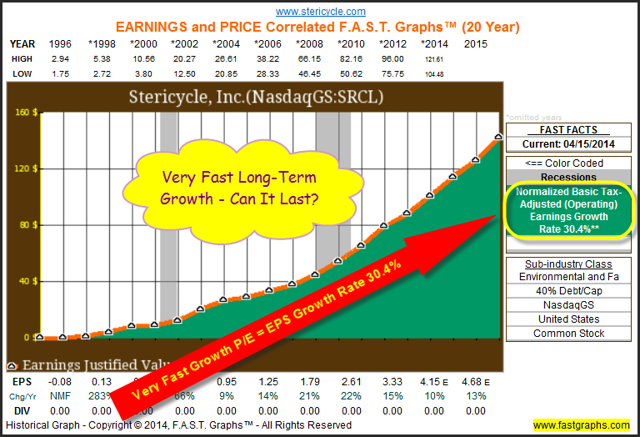 Nevertheless, as we saw with Chipotle Mexican Grill, earnings growth since 2009 has fallen by half. As Peter Lynch warned us, it's very important to focus on future earnings growth potential when investing in fast growers.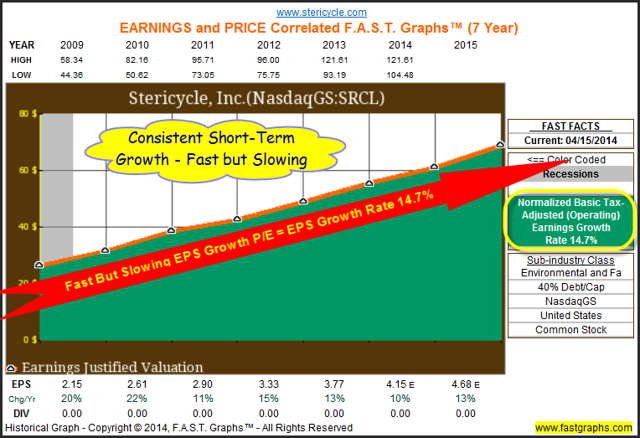 Cyclicals
Cyclical stocks represent an equity class whose earnings tend to rise and fall from one business cycle to the next. However, even though most cyclical companies share this common trait, they do not all follow the same exact pattern. The only thing we can safely state about a cyclical stock is that their earnings growth rates will be erratic. However, and this is an important point, their specific earnings patterns can be very unpredictable.
Consequently, Peter Lynch felt that timing is everything when investing in cyclical stocks. He believed that you had to be able to detect when business would begin to wane, and simultaneously, when business might pick up, perhaps for an extended period of time. The bottom line is that cyclicals are challenging stocks to invest in, and rarely are they good candidates to hold over the long run. If you time it right, you can generate outsized returns by investing in cyclical companies. But as Kenny Rogers taught us in The Gambler: "You've got to know when to hold 'em - Know when to fold 'em - Know when to walk away - And know when to run."
Interface Inc. (NASDAQ:TILE)
Interface, Inc. engages in the design, production, and sale of modular carpet, also known as carpet tile. The company markets modular carpet in approximately 110 countries under the established brand names Interface and FLOR. Its principal geographic markets are the Americas, Europe and the Asia-Pacific.
Interface Inc. represents a quintessential example of what I feel a cyclical stock represents. By examining the long-term earnings record of this cyclical stock, we see long periods of earnings expansion and contraction that Peter Lynch talked about. As previously stated, when investing in cyclicals, timing is everything.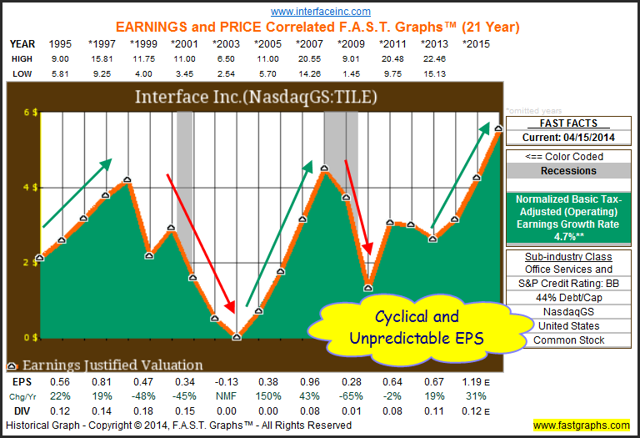 Briggs & Stratton Corporation (NYSE:BGG)
Briggs & Stratton Corporation produces air cooled gasoline engines for outdoor power equipment. The company designs, manufactures, markets, and services these products for original equipment manufacturers (OEMs) worldwide. It also markets and sells related service parts and accessories for its engines.
I offer my second example, Briggs & Stratton Corporation as a classic example of how unpredictable the earnings results of a cyclical company can be. Although I am not expressing price action in this article, the reader might imagine how volatile and unpredictable the long-term price movements associated with this company would be. In Part 2, I will include a stock price overlay with the graph.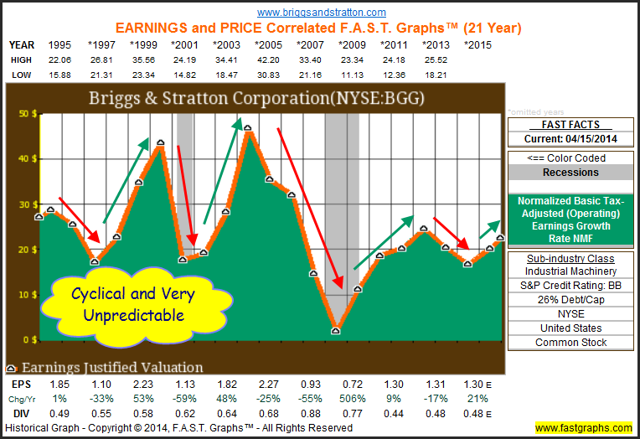 Turnarounds
When Peter Lynch talked about turnarounds he had this to say:
"Turnaround candidates have been battered, depressed, and often can barely drag themselves into Chapter 11. These aren't slow growers; these are no growers. These aren't cyclicals that rebound; these are potential fatalities such as Chrysler."
Clearly, based on Peter Lynch's views at least, investing in turnarounds is certainly not for the faint of heart. On the other hand, significant amounts of money can be made by investing in a turnaround company that succeeds. Personally, the highest rate of return I ever earned on a single stock was by investing in Chrysler after Lee Iacocca came on board. There was an interesting acronym that alleged that Iacocca stood for "I Am Chairman Of Chrysler Corporation of America."
Assuming that this company would survive, I purchased stock for only pennies a share. In a short time, I watched the stock rise to, if memory serves me correctly, over seven dollars per share and then I sold only to see the stock price continue to increase many fold higher. Nevertheless, I made a lot of money on that transaction and today have no regrets.
Crown Holdings Inc. (NYSE:CCK)
Crown Holdings, Inc. engages in designing, manufacturing, and selling packaging products for consumer goods. The company's products are sold through its sales organization to the soft drink, food, citrus, brewing, household products, personal care, and various other industries.
Crown Holdings Inc. represents another turnaround company that I had experience with. In this particular case, the company then known as Crown Cork and Seal was confronted with an unusual and unfortunate event. Many years prior to my purchasing the company, they made an acquisition that included an asbestos company that they sold within 90 days of the original acquisition.
Nevertheless, and notwithstanding the fact that they only briefly owned the asbestos component, the trial lawyers vigorously went after the whale in the pond taking the company to the brink of bankruptcy. The following graph shows what happened to their earnings during this fateful time. However, the graph also illustrates the potential value that a turnaround can deliver. Once they got past the asbestos litigation, earnings substantially recovered. Although I sold out of this stock, one of the best times to have invested in it would have been early 2002.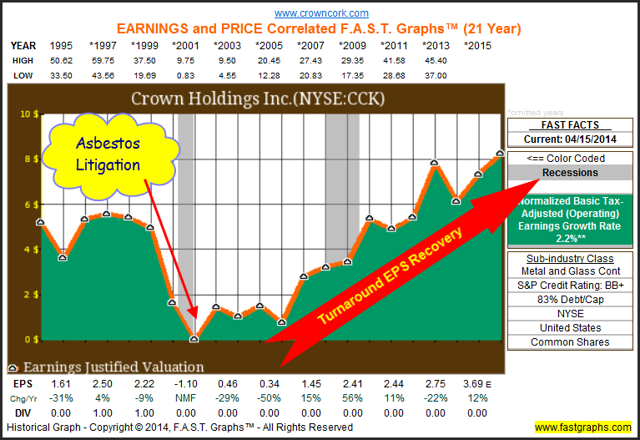 Bank of America Corporation (NYSE:BAC)
Bank of America Corporation, a financial institution, offers a range of banking, investing, asset management, and other financial and risk management products and services to individual consumers, small- and middle-market businesses, institutional investors, large corporations, and governments.
Like many other large financial institutions, Bank of America's stock and earnings were devastated following the financial crisis. Clearly, it's only salient feature after the Great Recession was as a turnaround play.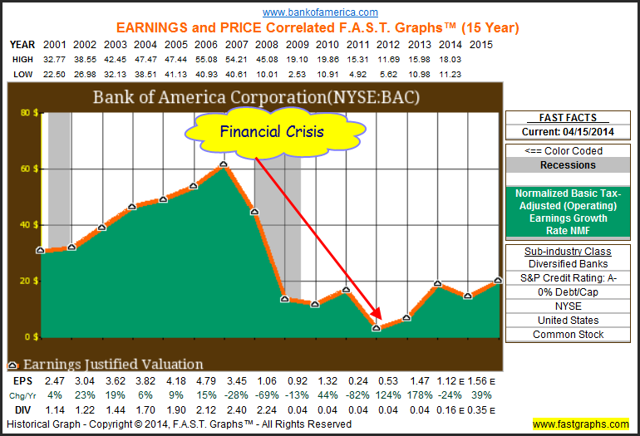 The following graph shows the earnings recovery that has been underway at Bank of America since the beginning of 2012. However, as seen in the performance reports associated with the below graph, we discover that Bank of America shareholders would have achieved a compound annual return of 60% per annum since 12/30/2012, which is almost 3 times higher than the 20.2% return on the S&P 500 over the same timeframe. Clearly, there can be incredible opportunities with investing in the right turnaround play.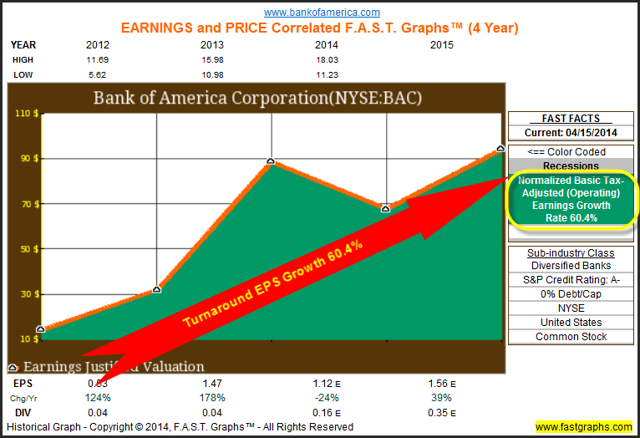 Asset Plays
Asset plays may be one of the more speculative equity classes. In theory an asset play represents an opportunity to invest in a resource-rich company where the value of their underlying assets is not being reflected by the market. These assets could be real estate holdings, commodities or even stockpiles of cash. The opportunity associated with investing in asset plays is that somehow the underlying assets value might someday be unlocked.
Additionally, the primary characteristic that I do not like about asset plays, is that the true value of their underlying assets may not be represented or reflected through their operating earnings power. Consequently, I consider asset plays more of a speculation than a true investment. The underlying assets may be valuable, but unless the value of those underlying assets or resources can be unlocked, investors can suffer with long-term underperformance. On the other hand, there are those that would argue for the safety of investing in enterprises with a high level of underlying asset value representing a sound foundation of true worth.
The following represent two examples of asset plays, one in gold and the other in timber and real estate. The primary takeaways that these earnings graphs offer, is that earnings may not be the ultimate valuation consideration. Nevertheless, I believe it takes great patience to invest in asset plays.
Randgold Resources Limited (NASDAQ:GOLD)
Randgold Resources Limited explores and develops gold deposits in Sub-Saharan Africa. The company holds interests in the Loulo and Gounkoto mines in western Mali; Tongon mine located within the Nielle exploitation permit in the north of Côte d'Ivoire; and Kibali mine located in the Democratic Republic of Congo. As of December 31, 2013, it had proven and probable reserves of 15Moz of gold. The company was founded in 1995 and is based in St. Helier, the Channel Islands.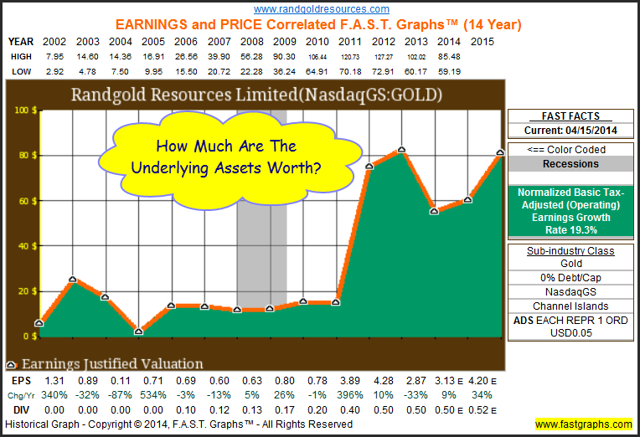 Plum Creek Timber Co. Inc. (PCL)
Plum Creek Timber Company, Inc. is a publicly owned real estate investment trust (REIT). The trust owns and manages timberlands in the United States. Its products include lumber products, plywood, medium density fiberboard, and related by-products, such as wood chips. The trust also focuses on mineral extraction and natural gas production, communication, and transportation. Plum Creek Timber Company was founded in 1989 and is based in Seattle, Washington. The Timber Company operates independently of Georgia-Pacific LLC as of December 16, 1997.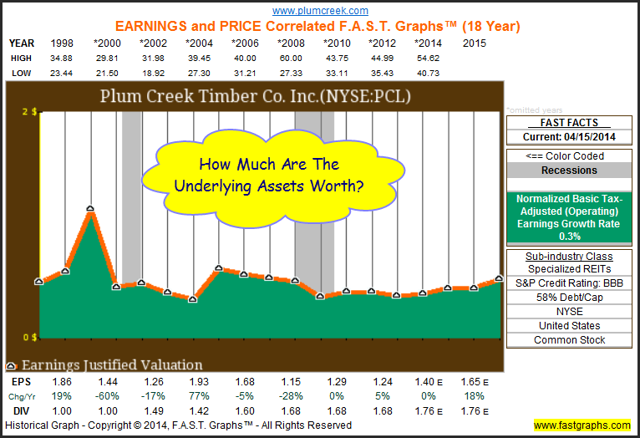 Summary and Conclusions
As regular readers of mine will attest, I believe in building common stock portfolios one company at a time. In the same vein, I don't believe in basing investment decisions on generalities. There are tens of thousands of publicly traded companies available to invest in. But most importantly, their differences are too diverse to attempt to group them into over-generalized categories. Consequently, I believe in analyzing individual common stock prospects based on their own unique and specific merits. In other words, I rarely have a view of the overall market, the economy, politics or any other generality.
With this article, I did present six general categories of common stocks that were presented in Peter Lynch's best-selling book "One Up On Wall Street." However, I also tried to show that even within these six general categories there are a lot of differences between the individual companies that can be placed in them.
In Part 2, I will move on to discussions regarding the second vital step relating to investing in common stocks - valuation. With this article I focused solely on the attributes of the businesses I discussed. Therefore, all the graphs were drawn based on historical earnings growth alone. In the next article on valuation I will introduce the vital investment metrics - price and dividends - to illustrate their importance as valuation guides.
Disclaimer: The opinions in this document are for informational and educational purposes only and should not be construed as a recommendation to buy or sell the stocks mentioned or to solicit transactions or clients. Past performance of the companies discussed may not continue and the companies may not achieve the earnings growth as predicted. The information in this document is believed to be accurate, but under no circumstances should a person act upon the information contained within. We do not recommend that anyone act upon any investment information without first consulting an investment advisor as to the suitability of such investments for his specific situation.
Disclosure: Long ED,PG,WMT,JNJ,CL at the time of writing. I am long ED, PG, WMT, JNJ, CL. I wrote this article myself, and it expresses my own opinions. I am not receiving compensation for it (other than from Seeking Alpha). I have no business relationship with any company whose stock is mentioned in this article.