SEMI, the global industry association for companies that supply manufacturing technology and materials, reported that semiconductor equipment sales dropped to $31.58 billion in 2013, representing a year-over-year decrease of 14 percent. here
Gartner, a market research company, reported that worldwide semiconductor capital equipment spending totaled $33.8 billion in 2013, an 11.5 percent decline from 2012. here
Both SEMI and Gartner collect revenue numbers from their clients and total them up. However, because the US is the largest economy in the world, revenues and market shares are typically based in US Dollars, which has been the case for the semiconductor industry (and most others) since its inception.
However, sales by foreign companies are reported in their local currencies and then someone converts them to US Dollars for comparative purposes. How they are converted to dollars varies from company to company or by trade groups or analysts. Nevertheless, revenues in foreign currency need to be converted to US Dollars to make nice looking pie charts.
Unfortunately, SEMI and Gartner, thinking inside the box, publish these numbers, and the results impact millions of investors and billions of dollars (or local currency) in stock transactions (remember the old EF Hutton commercial). Analysts subscribe to these numbers and the folly is further perpetuated by their reports and notes.
So, with more than 30 years of analyzing the semiconductor industry as President of The Information Network (probably longer than anyone at SEMI or Gartner and longer than some stock analysts have been alive), I'd like to illustrate how I think outside the box and how important it is to the industry and the markets.
Below is a table published a few weeks ago by Gartner for 2013 revenues. According to Gartner, "the top 10 vendors, now at 70 percent, compared with 68 percent in 2012. The top five vendors command nearly 57 percent of the total market, up 5 points from the prior year. The advance of these large players symbolizes losses of smaller players in the competitive race and an increasing market dependence on a few vendors in the equipment market."
My initial response is how somebody can make such a statement. It is inaccurate and a disservice to "smaller players." Read further for my explanation.
Table 1
Top 10 Worldwide Semiconductor Manufacturing Equipment Vendors by Revenue (Millions of U.S. Dollars) -
INSIDE THE BOX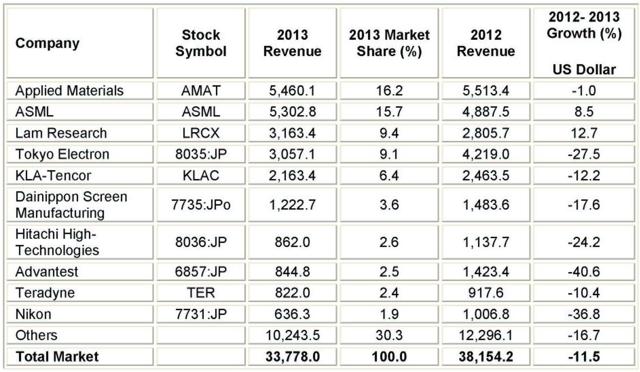 Here's the problem. The Dollar appreciated against the Yen in 2013 by 22.5 percent, according to statistics we use from the US Federal Reserve - here. The Euro gained 3 percent.
In Table 2, I converted the sales reported in US Dollars for these companies back to local currency, and then compared 2012-2013 growth, hence the additional column on the right.
For U.S. companies, growth in both columns is the same - Applied Materials (NASDAQ:AMAT), Lam Research (NASDAQ:LRCX), KLA-Tencor (NASDAQ:KLAC) and Teradyne (NYSE:TER). However, Japanese companies took a huge hit in 2013 in US Dollar terms - Tokyo Electron, Dainippon Screen Manufacturing, Hitachi High-Technologies , Advantest and Nikon.

To my point, for example, Dainippon Screen revenues decreased 17.6 percent in US Dollars but actually grew 0.8 percent in local currency.
So how can someone from Gartner say that "the top 10 vendors, now at 70 percent, compared with 68 percent in 2012" without even a whisper of currency exchange rates. We are talking apples and oranges. Yet, how many stock trades were made on the basis of that statement.
Table 2
Top 10 Worldwide Semiconductor Manufacturing Equipment Vendors by Revenue (Millions of U.S. Dollars) -
OUTSIDE THE BOX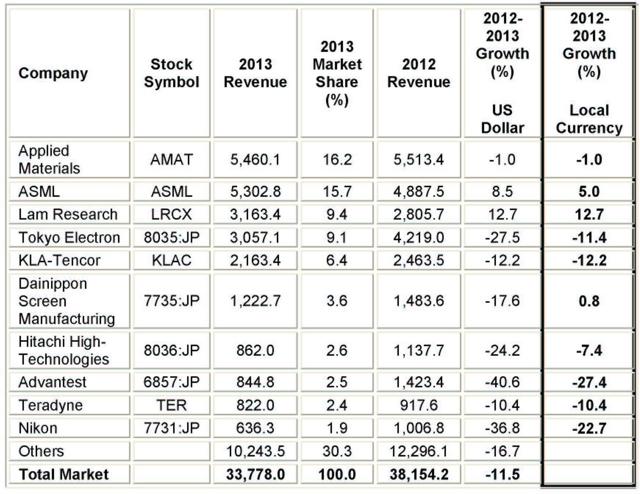 So, I estimate that the semiconductor equipment market really dropped 7.5 percent less than reported by Gartner or SEMI, i.e., -4 percent, not -11.5 percent. This is in terms of unit shipments that are independent of currency exchanges. In other words, 4 percent less equipment was sold worldwide in 2013, not 11.5 percent less.
During down periods equipment manufacturers would not typically raise selling prices of their equipment for obvious reasons. A product mix may result in increased average selling prices, however. For example, if ASML (NASDAQ:ASML) sells more immersion DUV scanners priced at $30M than i-line scanners priced at $5 million, its aggregate ASP will increase for the same total number of scanners sold.
Reporting revenue decreases of 11.5% for the semiconductor are misleading and harmful. Why does this matter? It makes companies such as Applied Materials look really good, when in fact I am quite negative about them. As an illustration, a valid comparison is AMAT's revenues versus Lam Research's revenues. Both companies compete head-to-head in their bread-and-butter product line and both are in the U.S. with no currency adjustments. AMAT's growth decreased 1.0 percent while LRCX's growth increased 12.7%. As I pointed out in previous Seeking Alpha articles, when you bring in a guy running a $1 billion company and ask him to run a $5 billion company, then make him CEO to run a $10 billion company, something does not make sense.
Another example is that Table 1 shows revenues that are aggregates of a company's individual sectors. AMAT, for example, is in more than a dozen sectors such as etch and deposition (and subsectors of those such as metal, oxide and poly etch), but only the aggregate number was published. Yes I know Gartner makes its fortune collecting numbers from individual vendors and selling the aggregate back to them, but a little knowledge (Table 1) is a dangerous thing.
For example, in the Metal Dry Etch Sector, from one of our clients, we have been told that Gartner has reported in the market share database it sells that Applied Materials gained a 5 percent share of the market. There are three participants in the Metal Etch Sector, Applied Materials, Lam Research and Hitachi High Technologies. From Table 1 it appears that Applied took market share from Hitachi High-Tech because it can be inferred that AMAT's revenues dropped only 1.0 percent whereas Hitachi High-Tech's revenues decreased 24.2 percent. In fact, Hitachi's revenues grew 3.2 percent in its Process Equipment division in local currency but dropped 17.6 percent in US Dollars, whereas the negative growth shown in Table 1 is attributed to decreases in its Metrology and Inspection division. But Table 1 makes no disclaimer, and merely paints a broad brushstroke about the entire semiconductor equipment industry.
The old adage "keep it simple, stupid" does not apply in this market and industry.

Disclosure: I have no positions in any stocks mentioned, and no plans to initiate any positions within the next 72 hours. I wrote this article myself, and it expresses my own opinions. I am not receiving compensation for it (other than from Seeking Alpha). I have no business relationship with any company whose stock is mentioned in this article.