By: Sridharan Raman, senior research analyst at Thomson Reuters
Gilead Sciences (NASDAQ:GILD) should be considered a biopharma company as opposed to a biotech. With the successful launch of Sovaldi, a revolutionary Hepatitis C drug, Gilead will see another drug, which will add to its already strong earnings. Gilead used the purchasing power of a country to price its drug, which means it could cost $84,000 for this treatment in the United States. However, that hasn't stopped patients and doctors from using this drug.
Based on initial surveys, Sovaldi seems to be wildly popular, and the earnings estimates for Gilead are likely to cruise past estimates. The fact that the company has an 8% positive StarMine Predicted Surprise only strengthens the Thomson Reuters research team's belief that the company will beat estimates when it reports earnings.

Source: Thomson Reuters Eikon
Strong cash flows
As you can see in the chart below, Gilead has been consistently generating strong earnings, and encouragingly, strong cash flows. They've seen four consecutive quarters where the free cash flow has exceeded $600 million. That's a sign of strong earnings quality and indicates these earnings are probably sustainable in coming quarters. This strong cash flow is despite the fact that Gilead has doubled its R&D spending in four years to more than half a billion dollars. That R&D spending is likely to generate the next breakthrough drugs for Gilead that will help it continue to grow earnings.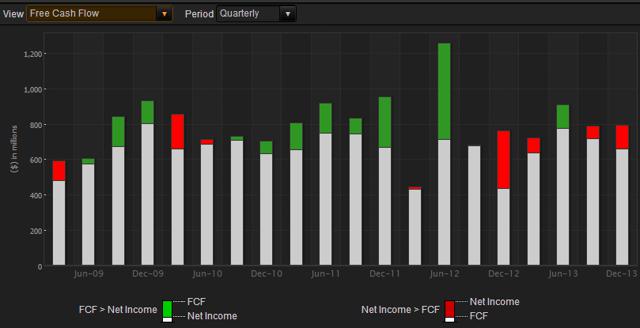 Source: Thomson Reuters Eikon/ StarMine
Earnings estimates get shot in the arm
Analysts have been raising earnings estimates for Gilead, and in the last 90 days, the Thomson Reuters I/B/E/S consensus estimate rose by 20 cents to 85 cents a share. The StarMine SmartEstimate, which puts more weight on the most recent estimate and the best analysts, is even higher at 92 cents a share. We see three Bold Estimates for Gilead, which means these three analysts who have been accurate in the past with their estimates, have stuck their neck out with an estimate that is far above the consensus. We should pay attention to what these analysts have to say.

Source: Thomson Reuters Eikon/ StarMine
Strong Pipeline
In the last earnings conference call, Robin Washington, CFO of Gilead mentioned that for every billion dollars in sales for Sovaldi, the company margins would improve by 75 to 100 basis points. That shows the kind of expectations for Sovaldi sales, which will likely drive earnings for years to come. Although there may be competitors, this space seems large enough where Sovaldi will likely benefit from being the first to the market. The continued strength in R&D expense will likely help the pipeline of products yet to come. Gilead seems to have separated itself from the pack of upstart biotech companies, and is likely to beat estimates this quarter when it reports earnings on April 22nd.
Disclosure: I have no positions in any stocks mentioned, and no plans to initiate any positions within the next 72 hours.
Business relationship disclosure: Alpha Now at Thomson Reuters is a team of expert analysts that are constantly looking at the financial landscape in order to keep you up to date on the latest movements. This article was written by Sri Raman, senior research analyst at Thomson Reuters. We did not receive compensation for this article, and we have no business relationship with any company whose stock is mentioned in this article.