In the past few days, three oil companies have reported substantially better than expected well results, driving their stock prices higher as analysts raise their estimated net asset values. The companies with some of the biggest moves and news are Athlon (NYSE:ATHL), Goodrich (GDP) and Spartan (OTC:PTORF).
Here is a chart of ATHL and PTORF performance subsequent to news release: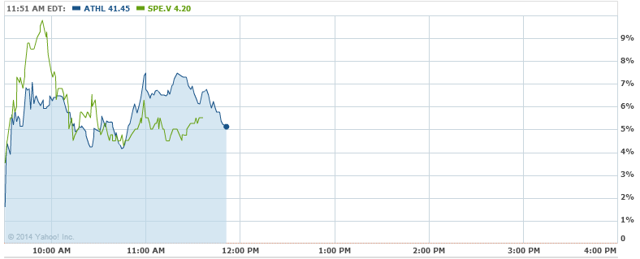 And here is a chart of GDP over the past 5 days (it is visibly obvious when the new well result was announced):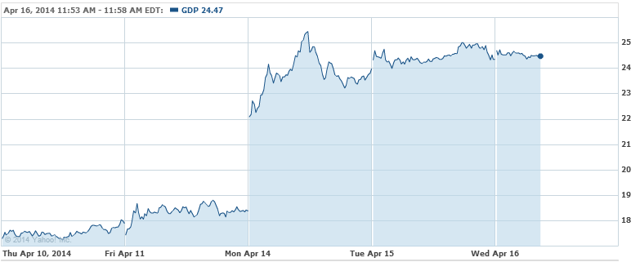 Athlon on April 15th announced horizontal well results in the Permian basin. In particular, a well in the northern part of the basin exceeded expectations, coming on at over 1,000 boepd when analysts expected a ~700 boepd initial production rate. The stock traded up over 6% in intraday trading on April 16th, and could continue to trade up as analysts re-evaluate their NAV estimates for Athlon. Athlon has a substantial acreage position in this area, so better than expected results could meaningfully increase the potential value of its assets.
Goodrich on April 14th announced a horizontal result from the Tuscaloosa Marine Shale (NYSE:TMS), achieving peak production of 1,270 boepd. This was substantially better than the previous two well results announced earlier this year, which the company said had operational issues. Analysts (including myself) had been concerned the TMS might have fundamental issues, which had driven the stock from a previous high of $28 to as low as $12. It has since rebounded to over $24 on the back of this recent well result. More results are coming, and if they are good, the stock could potentially reach or exceed its previous high. I had previously disclosed a small position in Goodrich, which I have since closed out.
Goodrich's well result had a direct read through to Halcon Resources (NYSE:HK), which even though it has not yet announced a TMS well result, is in close proximity to Goodrich's land. Here is a chart showing HK's and GDP's price performance over a 5 day period - it is visible when the Goodrich result was announced.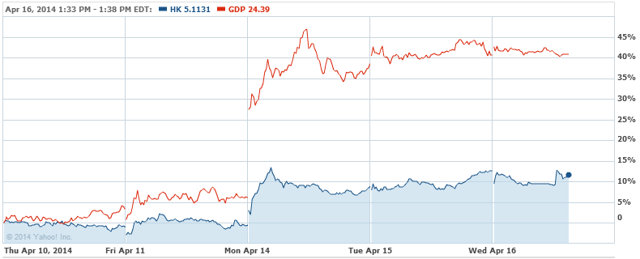 Halcon has a substantial position in the TMS, but is a much larger company than Goodrich. HK stock moved up ~10% in response to the result, versus GDP moving up ~40%. It also probably didn't help that the result was a Goodrich well and not a Halcon well. Incidentally, I had the opportunity to briefly meet with Floyd Wilson, Halcon's CEO, at the recent IPAA conference in NYC in early April. He is confident the TMS will work and believes Halcon has sufficient liquidity, operating expertise and scale to successfully exploit the play.
The third company to report substantially higher than expected well results recently is Spartan Energy - it also trades on the Toronto Venture exchange under the ticker SPE. Spartan's results outperformed the most - Spartan was drilling wells it expected to produce 60 boepd, and on average they produced 110 boepd! Spartan, similar to Halcon, is led by experienced management who have grown and sold oil companies and earned substantial returns for their shareholders. It should not be too surprising that they would be able to achieve operational excellence, but the stock still traded up intraday as much as 9%.
Spartan is still a relative unknown in the US, despite a management with a similarly compelling track record to Halcon's Floyd Wilson. But if they continue to surprise the market with operational outperformance, that might change. Spartan recently completed its acquisition of Renegade Petroleum, which had substantial, under exploited assets. There is likely running room on these assets for management to make improvements that drive shareholder value.
In short, 3 companies, 3 sets of outperforming / surprising well results, 3 stocks up in a down market (4 if you include Halcon, which traded as a read-through on Goodrich's result). Obviously the challenge is to predict which companies will be next, but perhaps some of these companies will continue to outperform. Spartan seems to be the most likely candidate, given the recent acquisition and management's track record.
Disclosure: I am long PTORF. I wrote this article myself, and it expresses my own opinions. I am not receiving compensation for it (other than from Seeking Alpha). I have no business relationship with any company whose stock is mentioned in this article.