For the year to date, shares of DryShips (NASDAQ:DRYS), Diana Shipping (NYSE:DSX), Navios Maritime Holdings (NYSE:NM), Eagle Bulk Shipping (NASDAQ:EGLE) and Genco Shipping (NYSE:GNK) have fallen 27%, 12%, 23%, 29 and 27%, respectively. This is because the dry bulk market had been suffering the low seasonal demand, which is a normal for the first quarter of every year. The stocks may see a little more depreciation in the short term, but their long-term future is bright.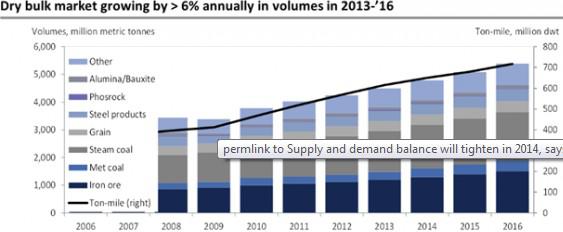 Source: marketrealist
Growth of dry bulk shipping stocks is dependent upon the trade of raw materials across the globe. The global dry bulk trade expanded 6.6% in 2013 on a volume basis. The trade is expected to grow over 6% annually between 2013 and 2016. Iron ore and coal imports are key factors that drive shipping rates. Both iron ore and coal represent 60% of the global dry bulk trade volume.
Iron ore is the most important raw material for steel production. Top 5 iron ore producing countries are China, Australia, Brazil, India and Russia. Australia, China, Brazil and India alone, account for around 80% of the world total output. Global iron ore consumption was over 1 billion tons in 2001, which increased to more than 1.8 billion tons in 2010. China contributed to 90% of the increase. China is the world's largest iron ore consumer, and the world's second largest producer. China's own iron ore is very costly and of low quality; as a result it is heavily dependent on the imported iron ore.
China's dependence on foreign iron ore is expected to reach record levels this year. The country accounted for about 72% of the iron ore imported globally last year. Its iron ore imports are forecast to rise 6% this year to a record 870 million metric tons. China's dependence on foreign ore would rise to 949 million tons, or 77% of its total consumption in 2016 from 72% last year. Australia estimated that it will ship 687 million tons of iron ore this year, 19% more than last year.
Looking at coal, World coal demand is expected to increase by 1.2 billion tons in the next five years, and more than 80% of it is expected to come from China and India. Like iron ore, China is also the world's largest purchaser of coal. China's coal imports are estimated to increase from 289 million tons in 2012 to 400 million tons in 2017. Besides China, coal demand is also increasing rapidly in India. India is expected to become a bigger importer of coal than China within the next five years. Between 2012 and 2017, India's imports of coal will increase from 137 million tons to 265 million tons.
Increasing iron ore and coal imports from China will increase the demand for dry-bulk vessels. According to projections from Clarkson Capital Markets, Chinese demand for coal and iron ore will drive the demand for dry-bulk vessels by 4.5% this year and 5.4% in 2015. That growth should easily outstrip the rate of construction of new ships, which Clarkson projects will increase some 4.3% in 2014 and 2.8% in 2015. Due to rise in demand, rates of charter vessels will also increase. Capesize vessel rates are projected to reach $24,301/day in 2015 from recent rates of around $8,400. Rates of Panamax, Supramax, and Handysize classes of vessels will also jump at least 65%.
Increasing iron ore and coal imports will benefit almost all the dry bulk shippers. I have evaluated the financial performance of some major dry bulk shippers to help investors to choose the best one.
| | | | |
| --- | --- | --- | --- |
| | DSX | DRYS | NM |
| Market Cap. | 940.30 M | 1.28 B | 844.64 M |
| EPS | -0.26 | -0.58 | -1.09 |
| Price/Earnings | N/A | N/A | N/A |
| Forward P/E | 20.61 | 5.44 | 10.75 |
| Price/Sales | 5.79 | 0.86 | 1.63 |
| Price/Book | 0.76 | 0.49 | 0.70 |
| Current ratio | 4.01 | 0.55 | 2.27 |
| Total/Debt Equity | 34.46 | 147.24 | 125.45 |
| Total Cash per share | 2.95 | 1.45 | 1.84 |
Source: Yahoo finance
The chart represents that Diana is more liquid and less volatile than DryShips and Navios Maritime. Diana's current ratio is much higher than DryShips and Navios Maritime. A higher current ratio means the company is more capable of paying its obligations. Also, its total debt/equity ratio is 34.46x, the lowest among the three. Lower values of debt-to-equity ratio are favorable indicating less risk. A lower debt/equity ratio means that a company is using less leverage and has a stronger equity position.
Looking at Price/Book and Price/Sales ratio, DryShips seems a cheap stock to buy. Diana's Price/Sales and Price/Book ratios are much higher than DryShips and Navios Maritime, which I believe is a reflection of its financial strength. Currently, Diana has a two year forward price multiple of 20.87x, the highest amongst the three. This determines that investors expect stronger growth in Diana.
Bottom Line
Rising iron ore and coal demand from China and India will drive the demand for dry bulk vessels. More iron ore and coal imports mean more demand for vessels, as a result, shipping rates will rise. In the next few months, these companies will deliver solid returns to their investors. However, If I have to choose one among three, I will prefer Diana Shipping over DryShips and Navios Maritime due to its strong financial position.
Disclosure: I have no positions in any stocks mentioned, and no plans to initiate any positions within the next 72 hours. I wrote this article myself, and it expresses my own opinions. I am not receiving compensation for it (other than from Seeking Alpha). I have no business relationship with any company whose stock is mentioned in this article.