ConocoPhillips (NYSE:COP) is set to deliver production growth ranging from 3% to 5% per year for several years to come. The growth is primarily to be driven from the United States, particularly in the Bakken oil fields and Eagle Ford shale. Moreover, the company has a lot of international exposure such as a significant offshore exploration project in Senegal, Oil sands assets in Canada and smaller projects in Europe and Asia.
In addition, ConocoPhillips' has managed to increase its 2013 cash margin by $2.91 per BOE, representing an increase of 11% from 2012. The improved volumes mix - more liquids particularly from Lower 48 and Canada - is the reason behind improved margins. Going forward, I believe that the cash margin will further improve as a result of further improvement in the volume mix.
Reserve Replacement
ConocoPhillips managed to post an organic reserve addition of approximately 1.1 billion barrels of oil equivalent, representing an organic reserve replacement ratio of 179 percent. The region wise reserve addition can be seen in the figure mentioned below.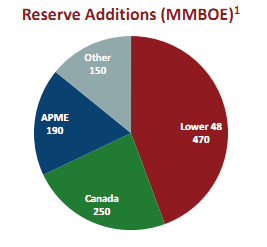 Source: Investor Presentation
Lower 48 Region
ConocoPhillips witnessed strong growth in its Lower 48 operating segment last year. It increased oil and gas production by 7% in the region. It is worth mentioning here that liquids now represent over 50% of the total hydrocarbons produced from the Lower 48 region as compared to 45% at the end of 2012.
Bakken Shale Play
ConocoPhillips' oil production rose 24% last year, and the production in the Bakken itself rose 60%. Going forward, ConocoPhillips is determined to invest nearly $4 billion in the development of its acreage in the Bakken play aimed at increasing the production from around 24,000 BOE per day in 2012 to over 55,000 BOE per day by the end of 2017.
Eagle Ford
Eagle Ford is the leading shale that ensures bright growth prospects for the company. The EIA estimates proved oil reserves in the play to be around 125 billion barrels of oil and 8.4 trillion cubic feet of gas. Going forward the company plans to spend $8 billion for developing its acreage in the Eagle ford which will result in increased production to over 130,000 BOE per day by 2017, representing almost double rate of production from around 65,000 BOE per day in 2012.
Permian Basin
ConocoPhillips currently holds approximately 194,000 net acres in the Permian Basin, which accounts for almost 15 percent of the entire production of the US. The company has allocated around $3 billion for the development of its acreage in the Permian Basin, which is expected to yield production of about 70,000 BOE per day by 2017.
Oil sands
The Canadian assets are one of the most important production growth drivers for the company. During 2013, ConocoPhillips' Canadian operations constituted nearly 17 percent of its worldwide liquids production and 20 percent of natural gas production. Going forward, the company plans to further exploit the potential of these assets and plans to spend around $5 billion for developing its oil sands assets, which are expected to add approximately 100,000 barrels of oil equivalent per day by the end of 2017.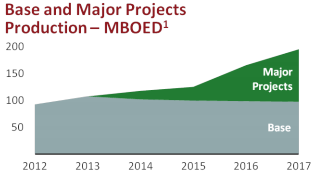 Source:
During 2013, the company's bitumen production averaged 109 million barrels of oil equivalent, 88% of which is accounted from the FCCL partnership while the remaining 12% is derived from the Surmont project. In a joint venture with Cenovus Energy, ConocoPhillips owns a 50 percent stake in the FCCL partnership. The FCCL operates three major development projects i.e. Foster Creek, Christiana Lake and Narrows Lake. These projects are expected to increase the total gross production capacity of FCCL to 750 MBOED from the current production of 200 MBOED.
Similarly, the Surmont oil sands project is also well positioned to ensure long-term production growth. At current, the project is contributing around 27 MBOED of bitumen production which is expected to reach 136 MBOED. The growth is expected from the successful completion of Phase 2 of the project, which is expected to be completed in 2015.
Final Words
ConocoPhillips has improved the operating efficiency that resulted in higher cash margin by approximately $3 per BOE. The higher liquid based production is the reason behind improved margins. I believe that the cash margin will continue to expand primarily due to further improvement in the volume mix.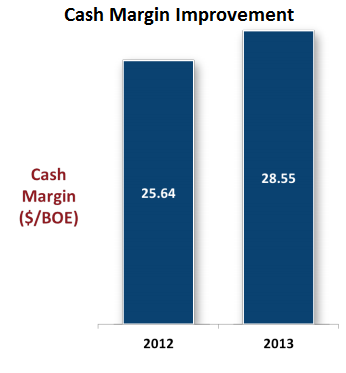 Source: Investor Presentation
With development of existing projects and new projects startups, ConocoPhillips is set to deliver visible production growth and is expected to reach around 1.9 MMBOED by the end of 2017. In addition, it is worth mentioning here that almost 95% of the increased production comprises of liquids. Since liquids ensure higher cash margins ConocoPhillips will be delivering higher production supported by improved cash margins.
Moreover, given the growth prospects mentioned above, the current dividend yield of 3.9% seems to be attractive. Given the forward P/E of 11.26, ConocoPhillips has been trading at a discount to its peers.
Disclosure: I have no positions in any stocks mentioned, and no plans to initiate any positions within the next 72 hours. I wrote this article myself, and it expresses my own opinions. I am not receiving compensation for it (other than from Seeking Alpha). I have no business relationship with any company whose stock is mentioned in this article.