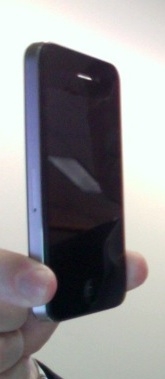 By Carl Howe
20 db attenuation from a hand touching an antenna? Demand a recall! File a class action lawsuit!! Off with their heads!!!
Readers of tech news know that I'm talking about the Apple iPhone antenna firestorm, whose flames were fanned by Consumer Reports retracting its recommendation of the iPhone 4. The blog notes the following:
It's official. Consumer Reports' engineers have just completed testing the iPhone 4, and have confirmed that there is a problem with its reception. When your finger or hand touches a spot on the phone's lower left side—an easy thing, especially for lefties—the signal can significantly degrade enough to cause you to lose your connection altogether if you're in an area with a weak signal. Due to this problem, we can't recommend the iPhone 4.

We reached this conclusion after testing all three of our iPhone 4s (purchased at three separate retailers in the New York area) in the controlled environment of CU's radio frequency (RF) isolation chamber. In this room, which is impervious to outside radio signals, our test engineers connected the phones to our base-station emulator, a device that simulates carrier cell towers (see video: IPhone 4 Design Defect Confirmed). We also tested several other AT&T phones the same way, including the iPhone 3G S and the Palm Pre. None of those phones had the signal-loss problems of the iPhone 4.
Kudos to Consumer Reports for doing real testing and introducing facts into the discussion. However, their video describing their testing was unhelpful in actually determining which RF degradation they were measuring, what frequencies they were doing testing at, and what the RF degradation means to actual use. All we got was that there were some numbers on a meter displayed and they flashed red at one point. Compare that video with the in-depth analysis done at sites like Anandtech.com, and the Consumer Reports testing falls short of providing enough documentation to trace the root cause. RF industry engineer bloggers such as Bob Egan have noted some of these methodological shortcomings publicly as well.
I haven't found anyone here at Yankee Group who has reproduced the death grip problem with our iPhone 4s. I just did a TV interview where I demonstrated the proper way to short out the antenna and did all the appropriate gripping. While I am sure I can cause a 20 db signal drop if I position my hands the right way, I can do that much more easily by stepping into the elevator. After more than two weeks of use, I'll simply echo what others have said; the iPhone 4 seems actually better at making calls than prior iPhones in real world use, not worse.
But let's step back from the technology for a minute and look at this from a business point of view. Consumer Reports is in the business of making recommendations of products for consumers. They withdrew their recommendation for iPhone 4, just as they have done for other consumer products such as 8 models of Toyota cars and for some brands of car seats. That's just what they do, and they are doing it based on the best information they have available to them.
However, in my opinion, the iPhone 4 recommendation withdrawal is an overreaction. Why? Because:
20 db signal drops aren't going to kill anyone. Unlike recommendation withdrawals for safety issues in cars, the worst case outcome of an iPhone 4 reception problem is a dropped call. It's not a life or death scenario, nor should Consumer Reports be implying that this is.
Problem workarounds are trivial. The so-called "death grip" required to induce the signal loss documented by Consumer Reports isn't exactly a natural way to hold a mobile phone, requiring the user to hold the very bottom of the iPhone between their thumb and finger and squeeze hard. The solution is amazingly simple: move your thumb, and it magically works better. For those who can't be bothered, a case (or as Consumer Reports recommends, a piece of duct tape), eliminates the issue. Holding the phone naturally will largely avoid the problem entirely.
Consumers already have the ultimate recourse: product refund. iPhone 4 is a consumer product, and Apple has already told consumers that if they are not satisfied, they can return their iPhones for a full refund. So far, there haven't been many takers, but that's a perfectly viable option for anyone who thinks their iPhone 4 really is inferior to other options.
This is not to say that Apple has no work to do here. Even if this antenna issue isn't a big technical problem, it is an Apple brand problem. When black iPod nanos were being scratched because consumers were stuffing them into tight jean pockets, Apple bundled inexpensive cases with iPod nanos to convince consumers to protect them a bit better. Until Apple can add a clear, non-conductive coating for the external iPhone 4 antennas (which should eliminate much of the sweaty palm death grip problem), it would be well-served to do the same for iPhone 4 customers. Yes, it would cost Apple about $150 million or so to provide free bumpers to each of the 5 million iPhone 4 owners so far (my estimate), but the brand value it would save would be far greater.
My bottom line: if you don't like your iPhone 4, buy a case or take it back. Recalls and lawsuits may make lawyers happy, but if you want the best mobile phone made today, check out Consumer Reports' ratings. The top rated phone in their list is the iPhone 4, even if they can't recommend it.
Final note: Yankee Group clients should check back next week for my report on iPhone subscribers. It has data from our consumer survey about how those subscribers differ from traditional mobile phone and smart phone buyers. The results will, I think, surprise you.