Wal-Mart Stores, Inc. (NYSE:WMT) operates retail stores in various formats worldwide. The company operates through three segments: Wal-Mart U.S., Wal-Mart International, and Sam's Club. It operates discount stores, supermarkets, supercenters, hypermarkets, warehouse clubs, restaurants, apparel stores, drug stores, and convenience stores, as well as various retail websites such as walmart.com and samsclub.com. As of March 20, 2014, it operated 11,302 stores under 71 banners in 27 countries; and e-commerce websites in 10 countries. Wal-Mart Stores, Inc. was founded in 1945 and is headquartered in Bentonville, Arkansas.
Some people have the false notion that since Wal-Mart is trading at a seemingly attractive valuation, 13x forward earnings, it makes the business purchase worthy. When we dig just a little deeper, we will actually see that the company has been reporting quarter over quarter results that heed warning.
Revenues are continuing to push higher, but are now starting to flatten out; highlighted in the last quarterly report by missing analyst estimates. Net income also declined for the first time in two years, where free cash flow is now sitting at a multi-year low.

Not that this is an immediate threat to share repurchases or dividends, but I think people should be aware of this factor. In any event, despite better than expected retail sales, Wal-Mart continues to show weaker comps than previous years. In fact, same-store-sales dropped all of last year, potentially attributed to market share erosion by competition (e.g., Amazon (NASDAQ:AMZN)). Although management did say that SSS should increase by 1% over the next fiscal year, that has yet to be seen. Personally, I think that brick and mortar stores will continue to see slightly less consumer activity than in previous years.
Allocating Cash
While I do think share repurchases are a good way to give back to shareholders, it is not a prudent way to allocate capital by having continued repurchases near all-time highs. If the stock is likely expensive, then the business really isn't generating much for the shareholder. A good example of this is Berkshire Hathaway (NYSE:BRK.A) (NYSE:BRK.B), which only exercises devoted capital when it believes shares are cheap.
Valuation
For Wal-Mart, earnings seem to be fairly predictable, so I think it would be okay to use a discounted cash flow model. EPS (TTM) is $4.88, analysts are assuming about 8.34% annualized growth, and no trailing growth to be on the conservative side. This issues a share value of about $62; so to be fair, it probably undercuts the real value quite a bit. But remember, it's better to look for a cheaper share price than hope for speculative bids. So between the theoretical estimated price and its current trading level, there exists a 24% gap. On the other hand, if we do add the trailing growth and Wal-Mart does follow through with strong numbers, it is probably worth closer to $75-80. Still, this shouldn't be seen as attractive, in my opinion.
Market Perspective
Most investors holding Wal-Mart view it either as a dog, or just a slow churning cash cow. With a relatively low 2.5% dividend and current $78 share price, there isn't major incentive to be a buyer here. In the chart below, the stock does look relatively overbought and there current exists a bearish divergence over the last several months.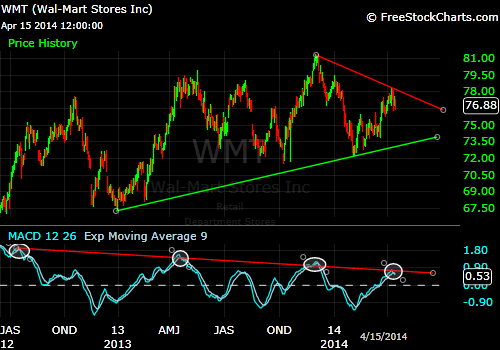 Overall, the technicals look pretty neutral. However, with broader market pressure, the MACD will likely break 0 and generate bearish volume.
Conclusion
Seeing continued insider selling between $75-80 clearly indicates that management does not want exposure at these levels. If the price exhibits a short-term bounce, I think it would be safe to short the stock, riding it back to $72 or so. But overall, I would have to rate Wal-Mart as an non-buy/avoid idea right here at $77-78.
Disclosure: I have no positions in any stocks mentioned, and no plans to initiate any positions within the next 72 hours. I wrote this article myself, and it expresses my own opinions. I am not receiving compensation for it (other than from Seeking Alpha). I have no business relationship with any company whose stock is mentioned in this article.