By Steven Carroll, Independent Commentator
What isn't doubted is that opportunities arrive as pessimism begins to set in - and we've now had almost a full year since the market realized that tapering wasn't going to be all candy and ice cream for the emerging markets. The hot money that went in may recede in a sudden tide, creating the kind of challenges that impacted Asian markets in the currency crisis (one of many possible outcomes). As we can see in the chart below using EEM, the MSCI Emerging Markets product, as a proxy, there had already been notable underperformance from the EM equity markets by that point.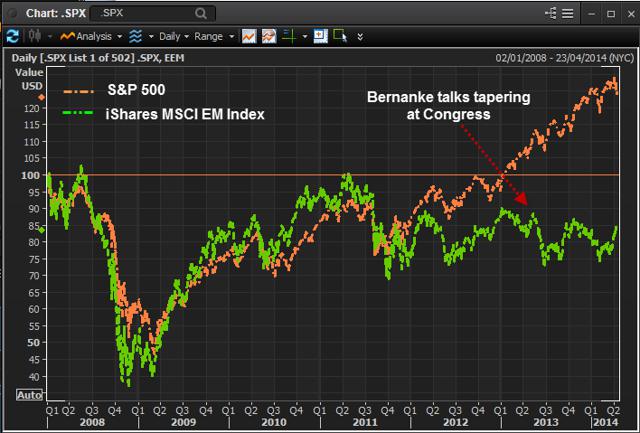 Source: Thomson Reuters Eikon
A proxy for emerging markets
In general, I'm not a big supporter of investing in individual emerging market equities - both because of the generally lower level of corporate governance and regulatory supervision, but also because of the liquidity risk if funds were to move out of emerging markets in a major way. As a result, I look for exposure in markets with a long history of investment - but with more reassuring (though after the last few weeks, hardly perfect) regulatory systems - in this case, the U.K.
Standard Chartered (OTCPK:SCBFF) has broad-ranging exposure to emerging markets. It's a former market darling, now having returned to the valuation range of mere mortals. The geographical segmentation of its assets gives you a good understanding of its main markets -- namely, all those places in the Middle East, Africa, North, South and South East Asia that are going to drive global growth over the next few decades, irrespective of some current speed bumps.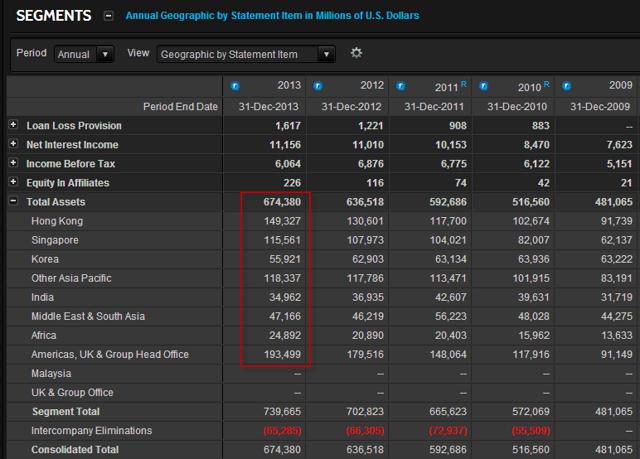 Source: Thomson Reuters Eikon
An old India hand
Standard Chartered is an interesting stock - coming about as a merger of Standard Bank of South Africa and the Chartered Bank of India, Australia and China, originally supporting the trade of cotton, indigo, tea, sugar, tobacco, diamonds, etc. You get the point - this isn't a late arrival in emerging markets looking to buy market share (did someone say Citibank?). This is a London-listed bank with its very bones in the development of trade between the developed and emerging world.
The bank has traditionally traded at a large premium to the slower-growth banks listed in London - none of which offer its position in the developing world. As the love affair with emerging markets is put on ice, exposure to a secular growth story with strong management and a great track record is now under 10x earnings.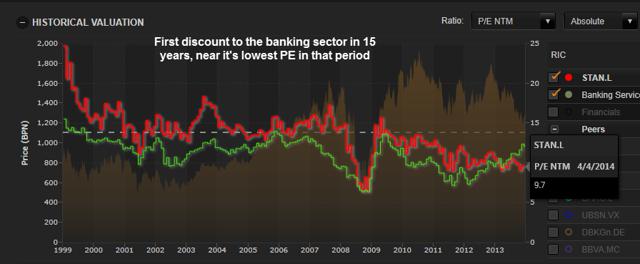 Source: Thomson Reuters Eikon
Pessimism as a good thing
Of course, I have no idea what's going to happen to emerging markets, nor how Ukraine or any of the next 10 geopolitical wobbles will play out. I do, however, like when pessimism is embedded in a share price: you understand its business model, and you can see the growth opportunity in its markets. To quantify that pessimism, the market is implying -2.7% EPS growth every year for the next five.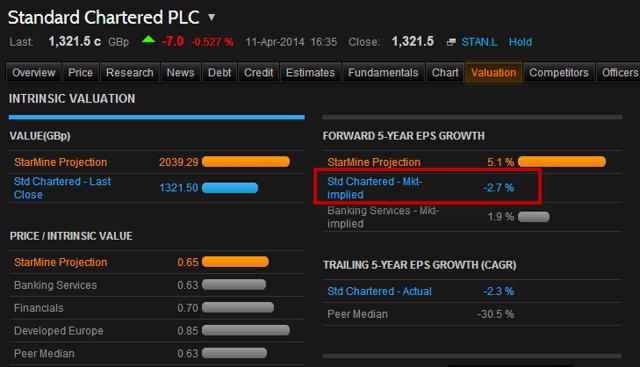 Source: StarMine in Thomson Reuters Eikon
Banking on markets and demographics
Warren Buffett has dozens of great analogies about Mr. Market - but I always liked his one about the market offering you a price every day and you not being obliged to do anything with it.
For the first time in 15 years, SCBFF is cheaper than most of its peers, despite a significantly more impressive track record (trailing five-year growth is down 2.3%; its peer median is down 30.5%). If you want a stock to stick in the bottom drawer and let markets and demographics weave their magic, this is an interesting option.
Disclosure: I have no positions in any stocks mentioned, and no plans to initiate any positions within the next 72 hours.
Business relationship disclosure: Alpha Now at Thomson Reuters is a team of expert analysts that are constantly looking at the financial landscape in order to keep you up to date on the latest movements. This article was written by Steven Carroll, independent commentator and analyst. We did not receive compensation for this article, and we have no business relationship with any company whose stock is mentioned in this article.