The Value of Hands-On Research
Investors are often right to be skeptical of the idea that their personal experience with a company is a reliable guide to its overall performance or share price. As statisticians like to remind us, "The plural of anecdote is not evidence".
Yet in the case of restaurant companies, a little bit of Peter-Lynch-style One Up on Wall Street empiricism still goes a long way. This is particularly the case with companies like McDonald's (NYSE:MCD), where consistent execution and clarity of concept are a key part of the overall value story. Moreover, in the case of MCD, a sample is within 10 minutes' drive for most people Americans.
In this and two future pieces, I'll offer investors three ways to test for themselves the promises of McDonald's management to restore McDonald's competitiveness, and thus help them gain some inkling as to when the worst may be over for shareholders of MCD.
No investor Happy Meal here!
In the last year, MCD has performed miserably. The S&P 500 as a whole delivered just over 18% in the last 12 months; a basket of international consumer discretionary spending companies comparable to MCD - for example the S&P International Consumer Discretionary ETF (NYSEARCA:IPD) - brought in about the same. McDonald's? It's down almost 2% over the same period. If you're feeling generous (and ignoring taxes), throw in the 3.3% current dividend, and you'll get the "return" on MCD to about zero.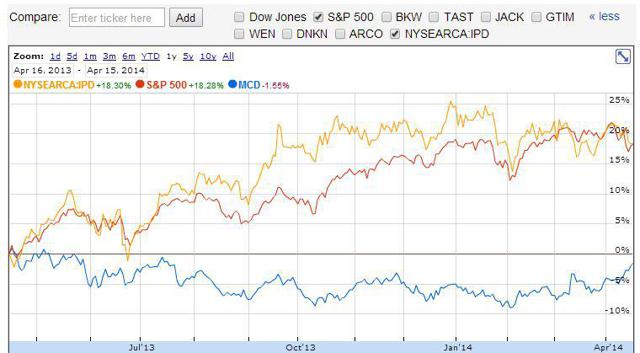 Source: Google Finance 4/15/2014
So how can an investor know if and when this icon of American eating is turning things around? Well, sitting in front of your computer can tell you a lot about McDonald's. You can learn, for example, that last month it changed its executive structure, with COO Tim Fenton leaving and not being replaced, while the roles of CFO Pete Bensen and Global Chief Brand Officer Steve Easterbrook are expanding. Relatively new CEO Don Thompson has also created the role of chief digital officer and brought in Atif Rafiq, with experience at Amazon and Yahoo, to fill it. Soon enough (around the Annual Meeting on 19 May), you'll have the 2013 annual report.
Run Some (Menu) Numbers
Yet I would suggest that whatever digital, printed or audio material you find online about McDonald's, if you want to know when the worst is over, there is value in trusting your senses and visiting a few stores. As noted, I'll be addressing two other items to watch for signs of at MCD in future pieces, but let's start simply. At minimum, with a store visit or two you'll be able to detect whether McDonald's is delivering on its promise to simplify its menu.
In January, the soon-to-depart Tim Fenton told analysts, "We stumbled last year with too many products too fast and created complexity…We overcomplicated the restaurants." Fenton promised fewer products, but better execution. So far, this promise hasn't been seen in stores. Visit one: McDonald's in the US currently offers 15 types of hamburgers, 14 varieties of wraps, 13 styles of chicken sandwich, six different salads, Filet-O-Fish, McRib, and Chicken McNuggets,. That's 53 main items for lunch and dinner, to which one can add the complexity of 17 different desserts, apples slices, and specialty items like Fruit N' Yogurt Parfait. Throw in fries, and that's a lot of complexity! And then there's breakfast, with 15 sandwiches, six other offerings, hash browns, and a breakfast burrito. Meanwhile, McCafes are offering 19 variants of coffees, shakes and smoothies.
After expanding its menu by 70 percent since 2007, the number of MCD menu items peaked at about 145 items last year. But a nationwide menu of 115 main menu items for the chain is still crazy. It directly harms operations, and makes one core promise of fast food - speed - disappear. The company does not reveal sales by individual item, but it also seems hard to believe that this complexity has led to an incremental gain in sales.
Actions Speak Louder than Words
Meanwhile, McDonald's actions are speaking louder than its words, and unfortunately they're revealing the company remains committed to a more complicated menu than that which served them well in the past. In January, for example, while they announced that they were cutting menu items and slowing the pace of new product introductions, MCD leadership said that they are revamping its kitchens and adding expanded prep tables to give workers more space to assemble food. In other words, McDonald's is making space for more (likely more costly) labor.
As noted, there are many parts to the McDonald's story, and menu complexity is only one. But it is one that is easy to check. So why not can rise from your computer right now, and go see if the menu at your local McDonald's seems "simple" to you (or to the staff that serves you).
In future pieces, I'll reveal the two other things that you'll want to see fall in to place for MCD comps to return to the glory days of The Golden Arches.
Disclosure: I am long MCD. I wrote this article myself, and it expresses my own opinions. I am not receiving compensation for it (other than from Seeking Alpha). I have no business relationship with any company whose stock is mentioned in this article.