Roche Holdings (OTC:RHHBY) recently released its Q1 2014 results and reported a slight decline of 1% in its revenues. However, this decline is primarily attributable to the strengthening of Swiss franc against major currencies such as the U.S. dollar and Japanese yen. Excluding the effect of currency movements, Roche's top line growth stood at 5% driven by the continued success of its major cancer drugs, including Avastin, Herceptin and Rituxan/MabThera. Additionally, the launch of new products such as Perjeta and Kadcyla helped. While revenue growth for the pharmaceutical segment stood at 4%, that of the diagnostics division jumped by 7%, as Roche extended its market leadership in professional diagnostics. The earnings results reaffirm the company's full year outlook. Roche expects to grow its sales by low to mid single digits in 2014 and EPS growth is likely to exceed its sales growth.
Roche has several promising drugs in late stage trials in its pipeline. The company has distinguished itself due to its focus on biotechnology research and development (R&D) and leadership in oncology (cancer therapeutics). It stands to gain due to the shift towards targeted therapies and is already working on promising drugs that can replace its major blockbusters.
Our current price estimate for Roche stands at $36.80, which is roughly in line with the market price. We are in the process of reviewing this estimate in light of recent results, and will have an update ready soon.

Sales From Major Cancer Drugs And New Launches Offset The Decline In Pegasys and Xeloda

Roche has one of the strongest and most profitable drug portfolios in the cancer therapeutics market. Three of its major drugs, Rituxan/MabThera, Avastin and Herceptin, are used for treating a variety of cancer forms including blood cancer, breast cancer and colorectal cancer. The combined sales from Oncology drugs accounted for around 62% of Roche's total pharmaceutical revenues during 2013. The proportion remained the same in Q1 2014, evidence that their performance remains strong. Any decline in sales of off-patent, maturing products is being compensated by the growth in the current portfolio and new launches. Avastin continued its strength and grew its sales by 9%, driven by adoption in ovarian cancer treatment in Europe and growing use for treatment of colorectal cancer. The chart below shows first quarter growth for Roche's major drugs.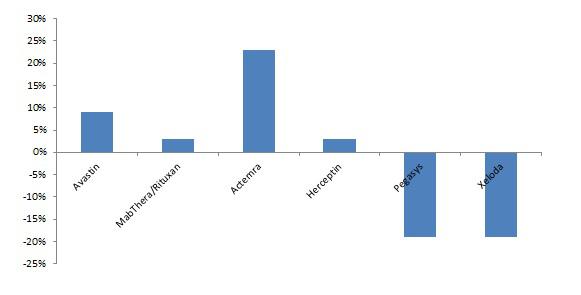 Additionally, Roche's newly launched Perjeta and Kadcyla contributed a great deal to first quarter revenue increase. In fact, the two drugs combined accounted for roughly $220 million in incremental revenues, which almost rivals the incremental revenues that came from Rituxan, Avastin and Herceptin. While Perjeta saw its sales jump by by 274%, Kadcyla saw a growth of 474%. The launch of these products has strengthened Roche's HER2 franchise, which stands for human epidermal growth factor receptor 2 and is related to certain aggressive types of breast cancers. This is one of the most common cancer types in women, and Roche stands to gain from the continued launch of products in this therapeutic area.
While cancer drug Xeloda and Hepatitis C drug Pegasys saw their sales plummet by 19% due to patent expiry, the growth in the other drugs more than made up for it, thus resulting in 4% increase in overall pharmaceutical revenues (excluding the effect of currency movements).

Minimal Impact From Japan's Consumer Tax Increase

The consumer taxes in Japan have increased starting April 2014, and this could have an impact on consumer spending. However, the company's management believes that the impact on Roche will be less compared to other companies due to its innovative products. In fact, Roche expects the demand to continue to grow and is in the process of building up its inventory for the region. Given that Japan accounts for less than 10% of the company's pharmaceutical revenues, and the growth for both pharmaceutical and diagnostics divisions has been impressive in the region, we expect the impact of consumer tax increase to be minimal.
Disclosure: No positions.