Bank of America (NYSE:BAC) reported some decent numbers in today's earnings release, which obviously gives further hope for the bulls who insist this stock is very undervalued and will rocket higher in the months ahead. I am not sure what the future will be for BAC, but let's just say that today's price action is not what the bulls were looking for.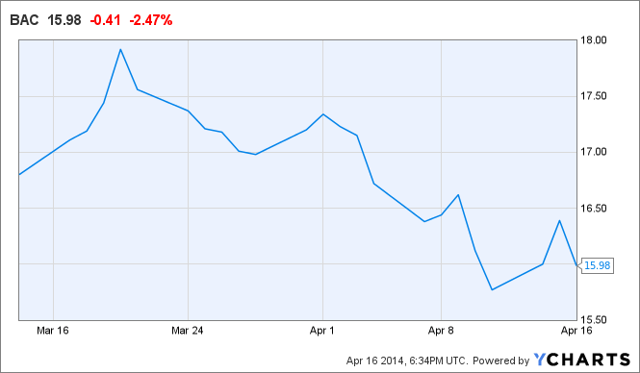 Click to enlarge
Profit taking? Maybe, and that appears to be a good idea for those who have made a nice amount of money since the $5.00 range. My suggestion would be for shareholders to take profits right now before the share price erodes further.
Thinking of buying right now? Probably not a great idea because of the issues that are still confronting the bank have NOT disappeared, and actually have just cropped up with yet another wrinkle in this saga.
More Litigation And BAC Increases Cash Reserves To Pay
While there was something for both bulls and bears in the earnings report, the fact remains that the litigation issues that has plagued the bank for 6 years are still keeping a lid on the share price.
Looking at this article might help shed some light on this issue:
"Bulls on the stock will likely point to strong fee income (best FICC trading so far), rapidly declining LAS expenses, stable core NIM, and fully compliant capital/liquidity ratios. Bears could point to continued mortgage litigation overhang, limited new BAC saves showing (core revenue down 4% YoY, core expense ex LAS only down 1%), and slowing reserve release tailwind. Net-net, shares could see near-term pressure as questions remain over the path to 2015/2016E consensus of $1.60/$1.85"...... in the view of analyst Richard Ramsden of Goldman Sachs.
This report sheds even more light on the fact that BAC shares remain at a discount to book value as well.
Legal expenses took a substantial bite out of Bank of America's first-quarter earnings, resulting in a net loss of $276 million to start the year.

The loss follows a profitable fourth quarter of 2013, which saw the bank taking in $3.4 billion. For the first quarter of 2013, BofA reported net income of $1.5 billion.

The results for the first quarter include $6 billion in litigation expenses related to a major settlement the Federal Housing Finance Agency (FHFA) over legacy securities claims. Also figuring in were additional reserves for previously disclosed legacy mortgage-related issues.
I have been saying for a while that the easy money has been made in shares of BAC and the puny dividend (raised to about 1.25%) is not soliciting retail support to hold the shares either.
Of course, there are other issues that could stand in the way aside from mortgage litigation issues, and poor shareholder value at current levels.
The Yield Curve Is Not Helping BAC
If Bank of America wants to get back to lending money, it still has an uphill battle to face as the yield curve spread has narrowed instead of widened. That means that money lending could be less profitable, and BAC lags in mortgage lending as it is.
The reverse was supposed to happen when the Fed began tapering QE, which of course would have been a net positive for BAC, as it could lend the same but make more money. Now the bank has to decide if it wants to "stick its neck out" to take on more risk by lending more but at even lower profit levels.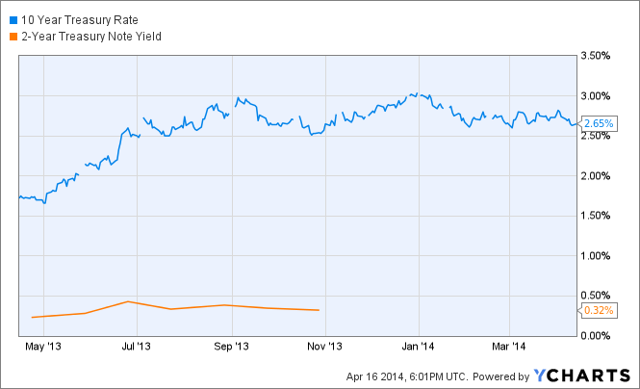 Click to enlarge
The spread has tightened by about 35 basis points from January alone. Combining that with weaker numbers of mortgage applications and new housing starts, could very well mean that profits to be made by BAC will be squeezed in the quarters to come.
Homebuilding across the country lifted slightly in March but still fell short of expectations, while permits for new housing tumbled.

According to figures released Wednesday by the Census Bureau and HUD, March housing starts were at a seasonally adjusted annual rate of 946,000, 2.8 percent above February's revised estimate but below a consensus forecast of 970,000 predicted in a survey of economists.
The US Justice Department Is Still Investigating
A report cites that the Justice department is still investigating Merrill Lynch, until a settlement is reached (if one is):
Bank of America Corp has held talks with the U.S. Justice Department to resolve a civil fraud probe into Merrill Lynch's sale of flawed mortgage securities ahead of the financial crisis, people familiar with the negotiations told Reuters.

On Wednesday, the No. 2 U.S. bank reported it took a $6 billion charge to cover litigation expenses, a figure that far exceeded the legal settlements the bank has announced recently.

The sources did not say whether Bank of America and the government have discussed a specific settlement amount to resolve the Merrill probe.

The investigation stems from a government task force the Obama administration created in early 2012 to probe the sale of shoddy home loans repackaged for investors.
Current shareholders might not want to shut their eyes to these events.
The Bottom Line
New money can find less riskier investments than BAC in my opinion. The problems persist, and the stock could remain under pressure for quite some time.
Read, Decide, Invest (or not)
Disclaimer: The opinions of this author are not recommendations to either buy or sell any security. Please remember to do your own research prior to making any investment decision.
Disclosure: I have no positions in any stocks mentioned, and no plans to initiate any positions within the next 72 hours. I wrote this article myself, and it expresses my own opinions. I am not receiving compensation for it (other than from Seeking Alpha). I have no business relationship with any company whose stock is mentioned in this article.